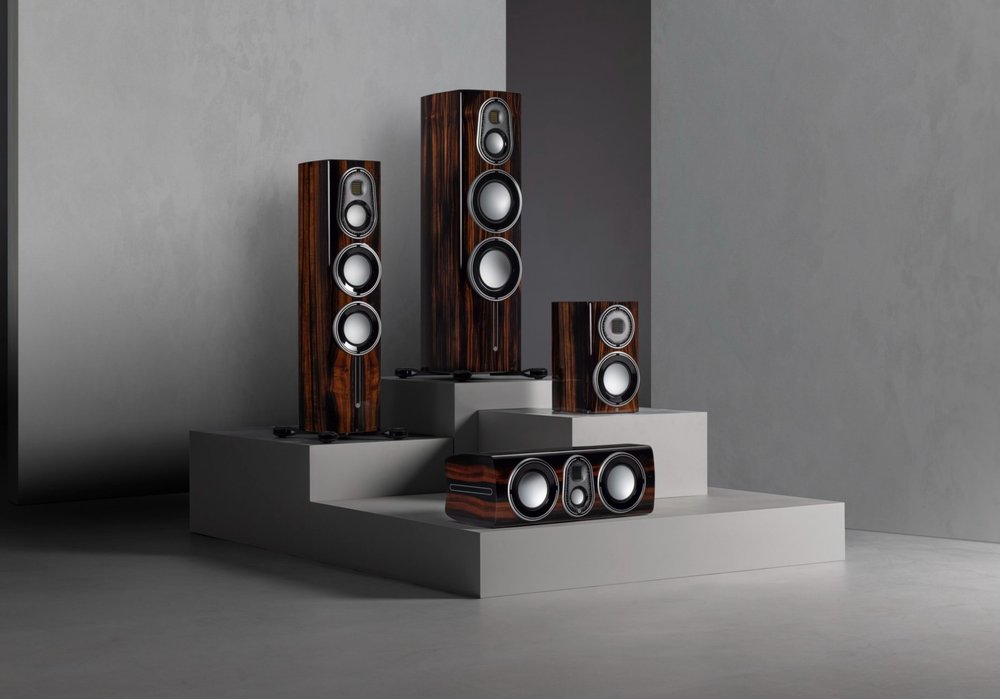 Essex, UK, 16th August 2022—Monitor Audio is proud to announce the launch of the innovative, advanced and beautifully-built Platinum Series 3G. Our flagship range encapsulates our desire to deliver accessible excellence. Superior, innovative acoustic technologies, smart engineering, and obsessive attention to detail ensures the Platinum Series 3G is capable of the most accurate, clear, and lifelike sound, from a design that will stay significant for a lifetime.
The launch of the Platinum Series 3G coincides with Monitor Audio's 50th Anniversary year, and we have channelled all those decades of expertise into its development. The series builds on our stated vision of bringing the listener closer to sonic and visual perfection, cementing Platinum Series 3G as true objects of desire. A visceral experience for the ears as well as the eyes, the range deepens the connection between listening and making audio human.
Platinum Series 3G offers a choice of four premium models designed to satisfy both two-channel or multi-channel home theatre system configurations. The series consists of the Platinum 100 3G stand mount, Platinum 200 3G mid-sized floor stander, and the formidable flagship floor stander, the Platinum 300 3G. Each speaker works independently in a high-performance two-channel system, or, with the addition of the Platinum 250 3G centre-channel, as part of a high performance AV system. However you choose to configure them, they will immerse you in a truly high-fidelity experience. They allow both music lovers and film aficionados to experience utter perfection.
Acoustic Innovation
Re-defining what is achievable for high-end home audio, each model in the Platinum Series 3G features the new 3rd generation Micro Pleated Diaphragm (MPD III) high frequency transducer. Developed by Monitor Audio's acoustic engineers when creating the company's ground-breaking 'Concept 50' prototype, this breathtakingly accurate tweeter was unveiled earlier this year for our 50th Anniversary celebrations.
The MPD III introduces innovative technology that reduces distortion and flattens the frequency response, while the optimised waveguide provides highly controlled directivity, improving both soundstage and sensitivity. This all leads to a larger, clearer, and more coherent sound, allowing the Platinum Series 3G to create the ultimate immersive experience: Music and film are delivered with incredible precision and clarity, introducing the listener to levels of accuracy and detail they hadn't noticed before.
In addition to the MPD III high frequency transducer, other new acoustic features include:
The RDT III cone, employed on all Platinum Series 3G midrange and bass drivers. Super light, yet super strong, the RDT III cone works like a perfect piston, and when coupled to the latest optimised and contoured cone surround and black spider it allows the Platinum Series 3G mid and bass drivers to boast the lowest distortion of any speaker in Monitor Audio's history.
Dedicated DCF (Dynamic Coupling Filter)-equipped midrange driver, for a smoother frequency range and much improved overall clarity within the midrange, making vocals and minute details incredibly precise and lifelike.
The all-new centre-channel mid-range driver for the Platinum C250 3G, to deliver the punch, impact, and precision needed to deliver the dynamics of any music or film score to propel the listener within a fully immersive lifelike soundscape.
Large-diameter bass drivers, resulting in wider dynamic range with greater control, along with impressive levels of tight, impactful bass.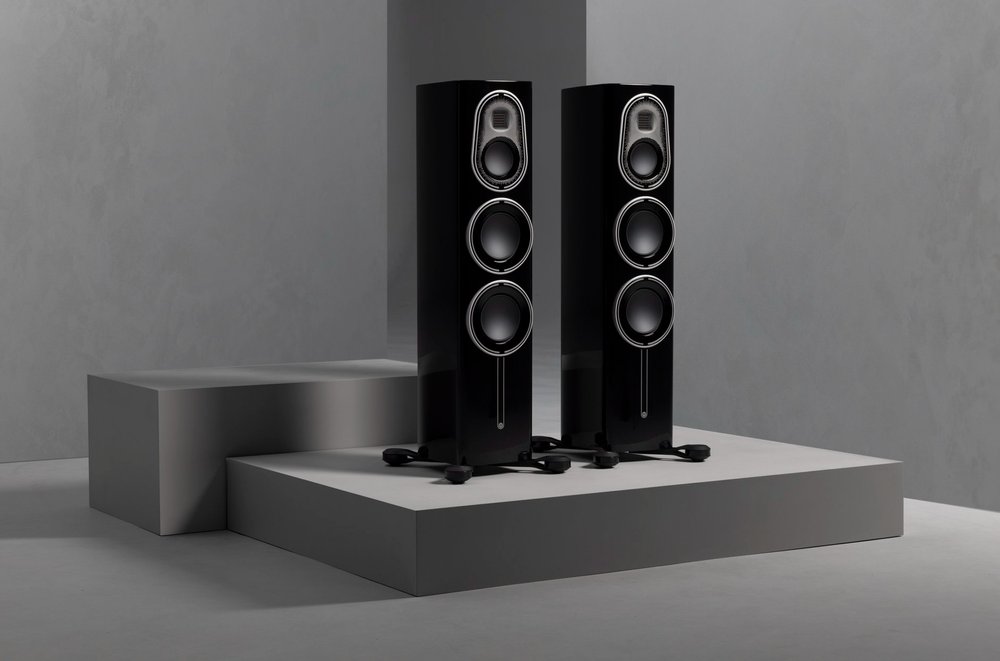 System Design
Other acoustic improvements include refined crossovers, which utilise elliptical filters to greatly improve directivity. The crossover and drivers have been painstakingly engineered with state-of-the-art virtual simulation and prototyping techniques.
Beyond the technology, every detail has been painstakingly considered. The all-new cabinets are available in three beautifully rich, contemporary finishes: Piano Ebony, Piano Black, and Pure White Satin. The unique curved front profile reduces diffraction, while also looking elegant, as do the new aluminium driver frames, which beneath the surface boast tension rods that secure the drivers to the cabinet. This results in a cabinet that is almost completely inert and vibration free. Precision engineered outrigger feet complete the acoustic system design approach and form a solid platform for floor standing models, while also offering an elegant aesthetic.
*
Platinum Series 3G perfects the art of high-fidelity sound, with a system package that exemplifies cutting-edge, acoustic innovation, and premium design. The result is spine-tingling levels of performance.
Summary of key features
3rd generation MPD III high-frequency transducers reduce distortion, flatten frequency response and lead to wider, cleaner more consistent and lifelike sound.
RDT III cone produces piston-like control even with the most extreme performances, providing a more precise, lifelike tonal balance and lower distortion.
Newly optimised mid-range drivers ensure a completely smooth frequency transition with the tweeter—ideal for AV/Theatre applications.
Carefully engineered crossovers ensure the most exact and controlled sound performance across full frequency spectrum.
Advanced cabinet design ensures total acoustic eco-system that works in harmony to deliver comprehensive and accurate delivery of lifelike sound
Four models are available in three luxury finishes: Piano Black, Piano Ebony and Pure Satin White
---
About Monitor Audio
Founded in 1972, Monitor Audio's mission is to make audio human. From the very first speaker, the iconic MA1, the brand developed, innovated, designed, and refined, with a pioneering approach that saw patent after patent filed. It's an ethos that hasn't changed at all. In fact, Monitor Audio is one of very few high-end audio brands still developing new, cutting-edge technologies today.
Monitor Audio Group is the parent company of Monitor Audio, Roksan, and Blok.