Audio show enthusiast and writer Mike Harkins travelled from his home in Austin, Texas, to the Canadian province of Quebec to visit the Montréal Audiofest, where he found the temperature in March to be a bit nippy. Welcome up North, Mike.
Mike took down notes and took pictures at the show which he graciously allowed us to publish for our readers. Enjoy.
After a two-year hiatus, the Montréal Audiofest 2022 took place on March 25-27 at the Hotel Bonaventure in downtown Montreal. Indoor public spaces in Montreal are restricted to mask wearers and crowded public events like these can easily spread the dreaded virus, so I appreciated seeing everyone in a mask. It was this author's first venture out of my COVID cocoon to an audio show since 2019's grand finale Rocky Mountain Audio Fest in Denver.
Spring may have officially sprung elsewhere, but in Montreal, the colder-than-average temperatures showed that winter was still very much in control there. (On opening day, the high was 10°C—balmy by Montreal winter standards—ed.)
The Hotel Bonaventure is located on the building's 10th floor, just below roof-level, although the main corridor and lobby of the hotel intersect with parts of the roof, where there are outdoor gardens with large trees, a duck pond, and a large, heated swimming pool. Ducks in the rooftop duck pond seemed to enjoy the weather and the abundant food supply. Swimmers who braved the frigid outdoor weather seemed to find the pool a treat, but looked eager to jump into a warm towel as soon as they left the water.
Fortunately, Montreal's Underground City, a labyrinthian underground network of interconnected train stations, restaurants, commercial and residential complexes, performing arts venues, and hotels, protected us visitors from the above ground chill when we ventured out to nearby dining establishments. Still, despite the cool weather, I could not help but play tourist and see some of the attractions. As a US citizen, I was required to get tested for COVID-19 to get into Canada, then again to re-enter the US—a hurdle that was worth it to be able to see and hear Montreal's excellent audio show.
The nice thing about the floor arrangement of the Hotel Bonaventure is that one only had to go up or down a short flight of stairs to see and hear the exhibits in the regular rooms. And the larger rooms were located a full floor below the lobby level—easily accessible via an escalator. I found this a refreshing arrangement compared to the multi-floor one, where typically one's audio show journey is constantly stymied by long waits at elevators.
The show featured several talks and conferences, as well as several musical events. Anne Bisson, a local favorite jazz singer/pianist, performed at the show. She also had her own booth where she signed her CDs and records and talked with attendees. Being on her home turf, her show on Friday, March 25, featured several of her friends and some piano and vocal accompaniments by her son, Samuel Jacques, who also happens to be in the audio trade. His specialty is room acoustical treatment, an area that is getting a lot of attention these days—for good reason. It is often a weak link in the home audio environment.
There was also a recording studio room at the conference, where several artists recorded their sessions then played them back in Dolby Atmos to visitors. The entire room was huge, about 60 feet by 50 feet, so it had a nice reverberation that gave the place a live-acoustic feel. I didn't get a chance to hear a final mix in Dolby Atmos, but I hope the recording engineer was good at filtering out the ever-present bass I heard that seeped through the walls from the other large, adjoining rooms.
As expected, there was a large presence at the show of English- and French-Canadian manufacturers, distributors, and dealers. But products from the UK, France, the US, and the far east were also well represented. Here are a few products that caught my eyes and ears:
Polk Audio's new Legend Series model L800 loudspeakers feature a unique set of midrange and tweeter drivers that are configured to eliminate crosstalk between both channels to enhance stereo imaging.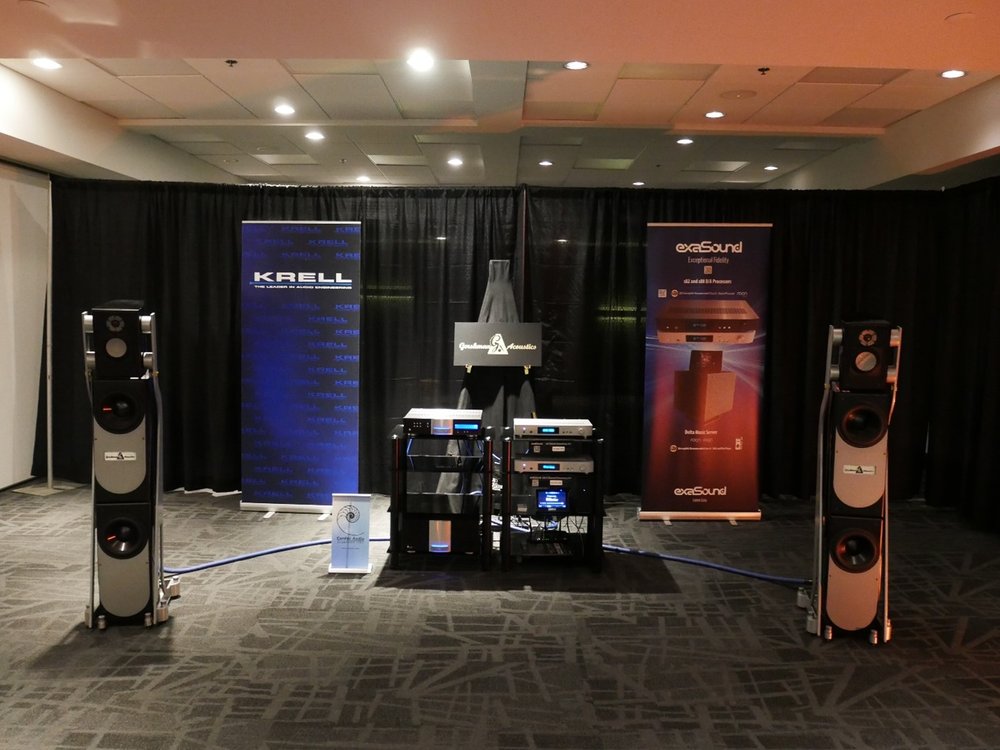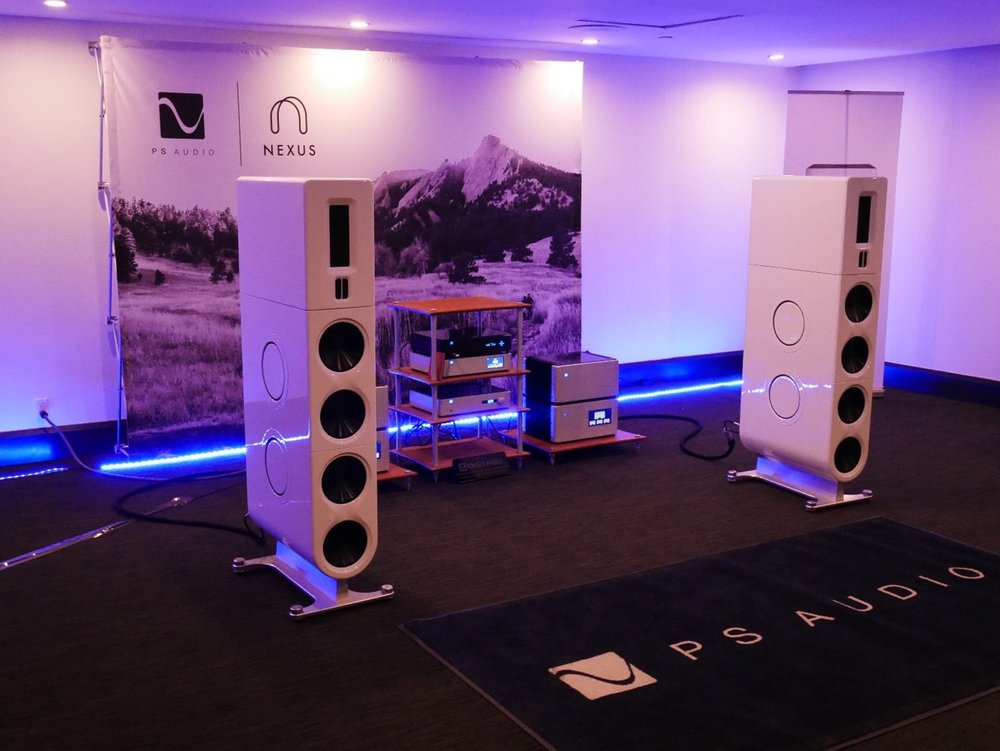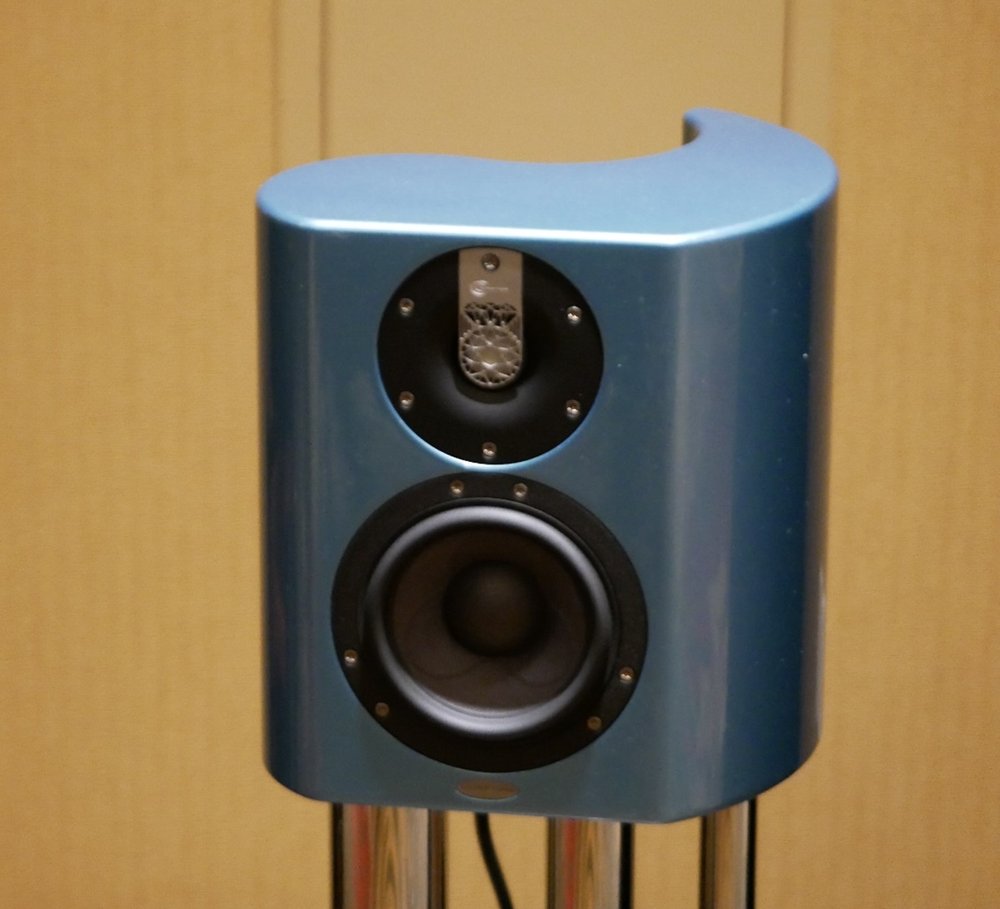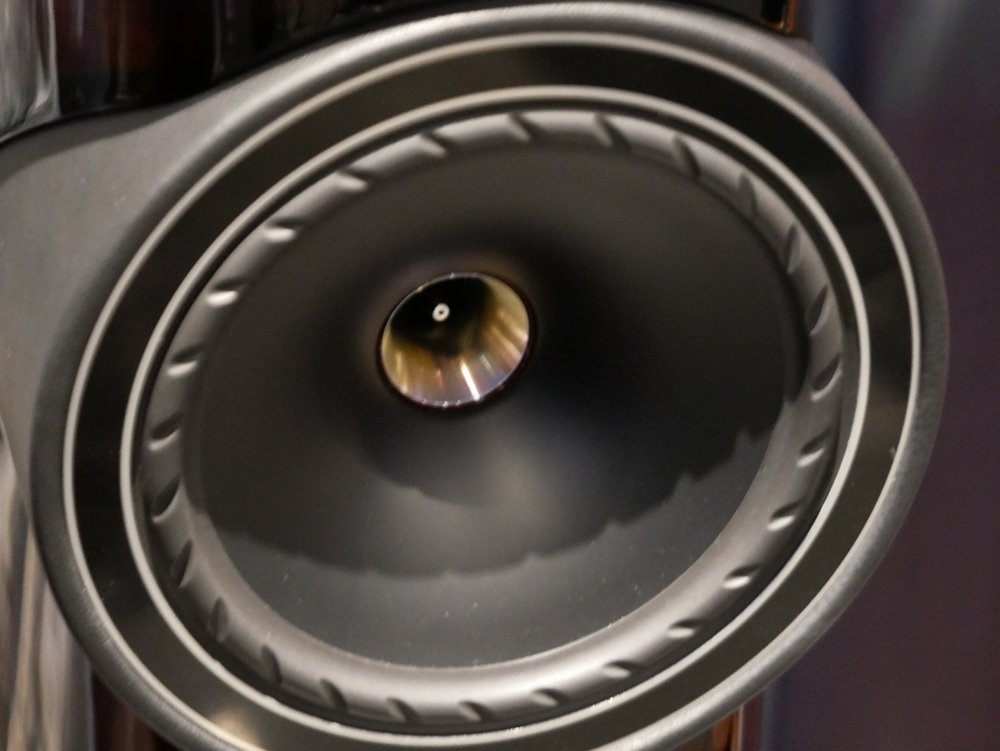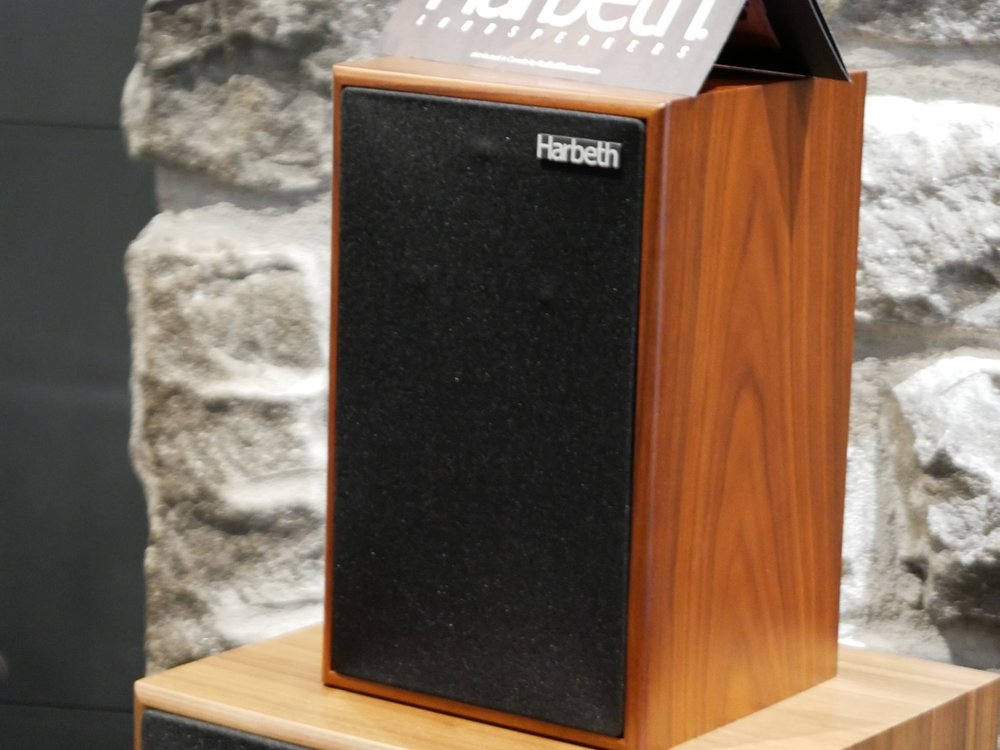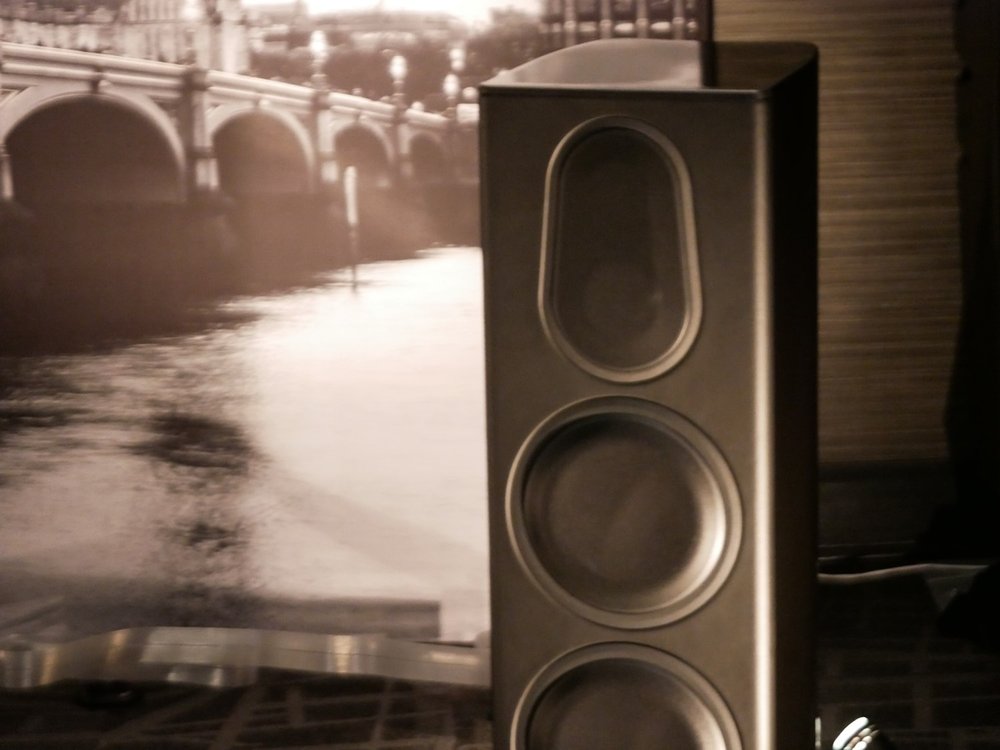 Monitor Audio's Platinum series speakers are shown here near the River Thames, a nice backdrop in the company's exhibit room. This flagship model required no subwoofer to move the air needed to reproduce authentic bass slam. It also offered a large and spacious soundstage.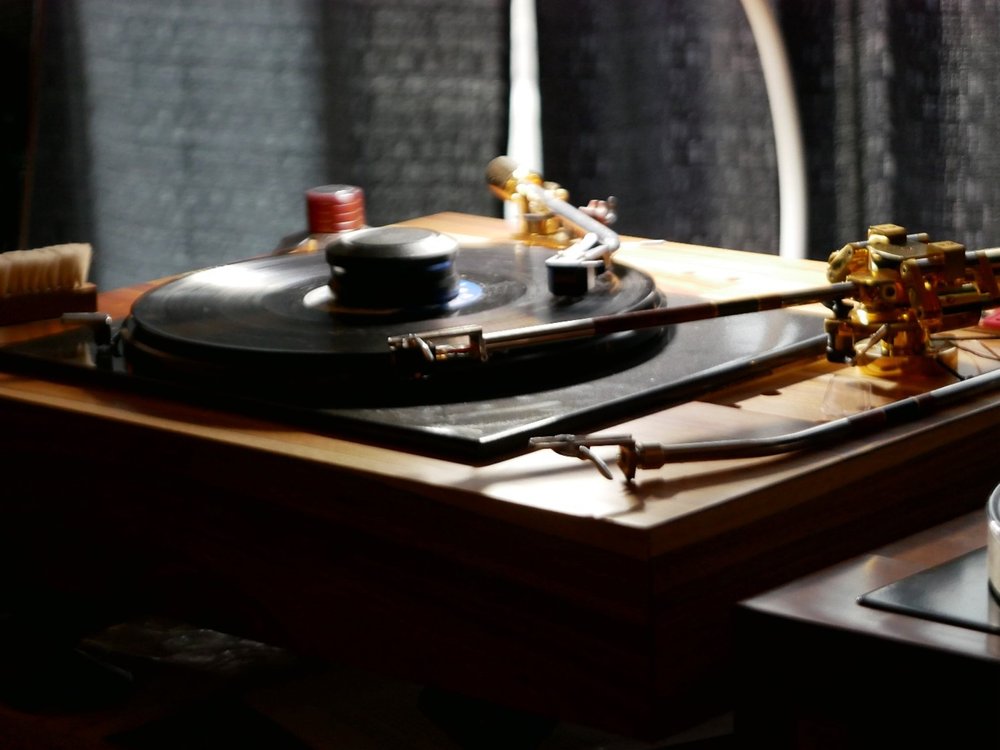 Wrap-up
The Montréal Audiofest had a lot of stuff on display—headphones, tubes, amps and preamps, analog and digital sources, cables—to suit all tastes. Accessories of all types were also well represented, including power conditioners, speaker and equipment stands, furniture, record cleaners, and everything that an audiophile would need to keep his home setup in tip-top shape.
And, like I mentioned, a wonderful advantage to going to shows like these is the specials!—merchandise on sale at bargain show prices. In my case, I picked up a couple of HQ CDs from Anne Bisson. And I found a pair of ISO-Acoustic speaker stands that were perfect for my Legacy Calibre XDs at home—just what the doctor ordered!
I'm glad to see audio shows such as the Montréal Audiofest returning. Although the Montreal show was not the biggest I've been to, it allowed me to see a lot of interesting products. It was also a relief to not get bogged down in traffic jams at elevators. Plus, the show had several unique demonstrations and performances that enhanced the show's value for me and others. Fantastic job, Montréal Audiofest! I'll be sure to swing back on what will hopefully be a warmer spring day.