By any measure, jazz pianist Jean-Michel Pilc is an audiophile. But like many who've grown fond of good audio gear, he's hit a few bumps along the way.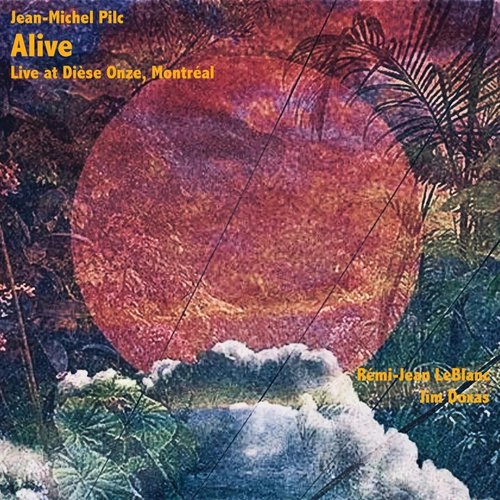 "I used to be a big audiophile. I had Linn and Naim gear but a long time ago I got into a divorce," he says in a recent interview from his home in Montreal. "Then a cat stepped on my Linn Sondek turntable and destroyed the cartridge. I said, `Okay that's a signal to sell and help my bank account.' Finally, I became a jazz musician and I didn't have any money left so of course I stopped being an audiophile."
"But I still have some good stuff here. Rega turntable, Rega Speakers, a new Ortofon black LVB cartridge and a Marantz CD player. It sounds good. I still like vinyl better (than digital), but the Marantz sounds really great. It's all given me lots of joy. I think it sounds good for a system that's not overly expensive you know."
Along with being a musician who knows what listening to music on High End gear sounds like, Pilc is also something of a recording engineer, or at least a musician dedicated to recording his own gigs.
"I record all my gigs. I'm a bit of a nut. I don't know if it's a collecting thing or what? People collect stamps, I collect music. But I also know that sometimes concerts are really good, and I feel like it's too bad a lot of people will ever hear it."
One of his recordings with the trio of bassist Remí-Jean LeBlanc and drummer Jim Doxas has recently been released on the Montreal-based Justin Time label as Jean-Michel Pilc, Alive—Live at Dièse Onze, Montréal.
"I just recorded it as usual. I don't even think about it. I press the button and forget. But that night was special. The title is appropriate, because we had been confined (due to COVID) for so long, I felt like I was coming to life. I felt like the public was reacting in the same way. They were hungry for music. We were hungry for music. I could feel that the music was special from the beginning. There was an intensity and emotion to it that doesn't happen every time, far from it.
"The two sets were really different but were marked by that special quality or vibe or energy or love, however you decide to call it—being very different and yet completing each other. And that doesn't happen often. Sometimes you do a great first set and then you go to the second set and it's not there anymore. It's almost like the first set took all of you. Sometimes it's the opposite, the first set is so-so and in the second set everybody comes to life."
As his recorder, Pilc uses a portable Roland recorder. It has integrated mikes and he likes both its durability— "It's fallen down like ten times and has never stopped working. It's like a stone"—but also the warmth of sound that it captures.
"It's basically what people did in the 60's. You remember Mingus with Parker and Gillespie in Toronto at Massey Hall, or Bill Evans at the Vanguard? At the time those were Nagras, stereo machines that were like ten times heavier than what I use but they just put up one machine with two mikes or even one mike when it was mono. When you listen to Ahmad Jamal's At The Pershing that's how it was done.
"The sound (made with the Roland) is what it is but it's very decent, especially for trio. I don't want that to be known too much because people will stop buying the records, saying the recording engineer sucks. (Laughter). The day I'm not here anymore people will be able to listen to some of these concerts and say, `Wow that was great!' Maybe my kids will make money out of it like Ravi Coltrane with his dad's recordings. Yes, I'm comparing myself to Coltrane but I'm an egomaniac, that's one of my defects. (Laughter)."
Arriving in New York from Paris in 1995, Pilc formed a trio with bassist Francois Moutin and drummer Ari Hoenig and began gigging out and recording for A-Records, Dreyfus and Motema. Along the way he has played with such jazz luminaries as Roy Haynes, Michael Brecker, Dave Liebman, Marcus Miller, Chris Potter, and John Abercrombie. He worked with Harry Belafonte, as his musical director and pianist, and has performed a duet with the legendary opera singer Jessye Norman.
He's also a distinguished educator who was on the faculty of NYU from 2006 to 2015, before moving to The Schulich School of Music of McGill University in Montreal in 2015. He continues to play and record solo and with NYC-based groups such as Pilc-Moutin-Hoenig and his US Trio with Sam Minaie and Jerad Lippi. On Alive, Pilc penned the title cut and the tune, "11 Sharp." The album is filled out by the Hammerstein-Romberg number "Softly as In a Morning Sunrise," and a pair of Miles Davis covers "Nardis" and "All Blues" The concert was recorded in its entirely and the remainder of the music, including two more Davis originals and a rendition of The Beatles "Eleanor Rigby", is available in digital form only on most streaming sites. While some musicians feel that doing other people's music, doing what in common parlance is known as a "cover" is anathema to their art, Pilc sees it another way.
"The word cover never pops in my brain except when other people use it. It's completely nonsensical. I'm an improviser," he says. "I'm somebody who molds material. I feel like "All Blues," "Nardis" and "Eleanor Rigby" are beautiful pieces and I'm very grateful to Miles and Paul McCartney for writing them. Those are works of genius. At the moment I am playing them, I don't know that they are covers. They are just something I hear in my mind and that I want to play on. When you listen to "Eleanor Rigby," (on Alive) you're going to notice that I start improvising and its very bluesy and suddenly (he sings the changes from "Eleanor Rigby") and I'm like, `Oh it's a quote' and then suddenly the tune wouldn't leave me, the tune wanted to be played. I let the music decide. So, the result is very different from the original because I didn't think about the original at all. To me a cover is just an improvisation using material that already exists. It's the same as a sculptor who uses a model. It's just a source of inspiration."
In all his recordings, Pilc shows great imagination and technique as a pianist. More than most though, his ideas and emotions seem intimately and very immediately connected to his hands, often ebbing and flowing between elation and hopelessness in a single composition.
"When I listen to the great musicians, for example Monk or Vladimir Horowitz or Bill Evans or Art Tatum, the one thing they have in common is that in the end, you don't really listen to the piano anymore," he says. "You listen to the music. People tend to be obsessed by the pianistic thing. When they listen to Art Tatum, they're like, `Wow, that guy has a technique!' And that's true, of course. But like Oscar Peterson said once about Art Tatum, what struck me most (about Tatum) was not his virtuosity—that's obvious, he was one of a kind—but it was the emotion, the storytelling, and the harmony that he used. When I listen to Tatum, it's not the piano that I hear, it's a symphony. That wave of sound that takes me. Same with Coltrane and the saxophone.
"The music that I hear is inside of me. The piano is my tool. It's a piece of wood. As I say to my students, if you put fire to a piano, it's going to burn. It's not going to suffer. It's an object. I am the instrument of music. Music has to use me to produce something: a sound, emotions, feelings."