He was home making lunch for the kid when the call came.
"I was a stay-at-home dad," says Ivan Doroschuk, of the baritone voice and dwarven video. "I'm in Victoria, B.C. (where he's lived for 20 years) and the phone rings and it's (Montreal promoter) Rubin Fogel. I hadn't spoken to him for 10 years. He goes 'Listen, a friend of mine is going to call you in about 10 minutes, I want you to talk to him'".
That friend would be Rick Shoor, a US agent with the Retro Futura Tour, a music entertainment business that bills itself as "America's premier 80's concert tour". It was 2010, and a decade since Ivan had even considered dusting off Men Without Hats, the synth-pop/new wave hitmakers from a previous century. He had been done with the Dance, retreating to domestic tranquility. And here was a "blast from the blue" inviting him to join the bill of the Rifflandia Festival in Vancouver.
"And I was kinda 'The time is right'", the singer says. "My son was old enough, knew who I was. His mum had finished her degree. And the music was starting to be played in pop culture again." However, there would be an obvious buy-in. The concept: Nostalgia. The number: 80s.
"It was totally that. There was no new album anyway. I didn't have a bunch of new music, wasn't looking for a venue for my new stuff. I had nothing. I didn't even have any gear (laughs). I had to get back into shape, grow my hair again, start practicing…
"And I totally accepted that it was going to be an '80s thing."
Indeed.
He had a flashback to his own'80s, when "The Safety Dance" had gone #1 and "I could remember playing at The Ritz in New York, and we had two records out and people were shouting for songs off the first one… and I'm like '(the album) Living in China? Whadda you know? We've got this new stuff. You're so 1983'.
"Every young artist is like that. By the time you're touring, that music has been living in you for already 3 years. But when we took on the Retro Futura Tour, there was no question that it was a retro thing. And there were some bands on the tour playing their new record, and people were booing."
And he understood that. Rifflandia led to a smash success appearance for the band at the influential South By Southwest conference in Austin in 2011, and to a tour with Human League and the B-52s across the US for an emerging market of nostalgists for a previous generation's music.
But not only was the old audience still dancing—a new one started dancing, too.
*****
You remember "The Safety Dance"; in any case, you don't need to. A #1 Top Ten hit on various charts in 1983, the song remains an instant-party touchstone in 2022, with four(!) keyboard riffs and an equally iconic video, with dwarf-jester (Mike Edmonds) and ein Mädchen (Louise Court) gamboling through the English countryside. There were other hits, including "Pop Goes the World", a Top 20 in 1987, and the cool early '90s guitar album Sideways, before Ivan parted ways with the biz.
"I had been chewed up and spit out a couple of times," Doroschuk says of what initially seemed like retirement and turned out to be hiatus.
"There was no room for '80s music in the '90s anyway. I didn't get tarred and feathered and chased outta town, but almost."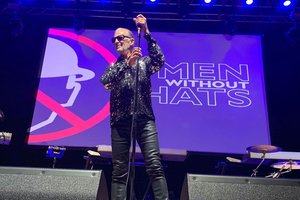 Gamboling back into town in the second decade of the new millennium, one had to consider the grinding realities of rebooting a touring career at not-age-23. Ivan remembered walking down Prince Arthur (Montreal street famed for live venues and clubs) about 20 years ago, and seeing Boule Noire, a famed Québécois dance/R&B artist, carrying his own piano out of the trunk of his car into one of the little clubs. "And yeesh – that's a scary picture," he says. "I mean, that guy's a national treasure. One of the reasons I'm doing what I'm doing."
And "That's exactly where I was 9 years ago. The year before we were opening for Human League and the B-52's. And then we had to take it down a notch and sell ourselves, by ourselves. And I ended up in a van in the middle of February in Detroit outside a club, the guys were packing up, and I said to myself 'Wow. I'm almost 60. Is this really, really what I want?'"
It was. And what crowds want, Ivan gives them. There isn't a city in the world where "The Safety Dance" doesn't occasionally rattle the rafters of a bar or club. Go to Vancouver; hell, go to Vanuatu. Or the nearest MWH show. Now, there are hundreds or thousands of 50- and 60-somethings in the crowd, but also their children and even grandchildren. Ask a female late-teen you know. They know the song, and not ironically. Ask me or my daughter how I know.
So, as the tours developed, the band (including brother Colin Doroschuk) started playing it twice a night. "I have to admit," says Ivan. "This is something I learned from Wang Chung." (And who hasn't wanted to say that?)
"First night of the tour, we did our set, and then I went out to watch them (Wang Chung). And they opened with'Everybody Have Fun Tonight'—their most popular song, the one everyone was waiting to hear. I thought, wow, that's a bold move!"
"So we started doing that. We'd open with the short, single version of "Safety Dance", and close with the long version, the 12-inch. And in our last show, in Michigan a couple of months ago, for the encore we played that slow version of it."
Three times. Because it's been a long time since that song, strictly speaking, belonged to him.
"No—and I've said this before, I feel like some kind of traveling curator presenting this artifact. It's much bigger than I am. I get asked all the time, 'don't you get sick of it?' But I make so many people happy with that song, it's impossible to get sick of it. Impossible. I've got fans from 50 years ago, bringing their kids, their grandkids. Everybody's just groovin'".
Groovin' to a DNA-encoded roster of hits you hide in your genetic crawlspace with the Hulkster lunchbox and legwarmers. Human League, B-52's, Howard Jones, Modern English, Limahl; certainly, the tours are retro… but think of them more as being in a historical context, in the best possible sense. Back when the world was new, '50s and '60s tours were all package deals.
Chuck Berry, with Fats Domino/Lavern Baker/Clyde McPhatter. The Everly Brothers with Danny and The Juniors/Buddy Holly and The Crickets/Eddie Cochran/Paul Anka. And, oi: Roy Orbison/Chris Montez/Tommy Roe and… the Beatles. This was how bands were introduced to the world: 30-minute sets, all killer/no filler.
And the world will again be new. For Again (Part I), released late last year, Ivan was going to record some solo songs, a few covers in piano/cabaret arrangements. Instead, he heard something in the cover of the Tragically Hip song "Blow at High Dough" and decided to rev the material up, Hats-style. There developed a fully arranged synth/electro EP also featuring covers of Lou Reed, the Stones, Mott The Hoople and… "The Safety Dance".
There will be an Again (Part II): 12-14 original songs, completely mastered, cover printed, due March 22, and a tour of the UK and more. "The first time around, we were like Elvis with Colonel Tom, we never left the States. Never made it to Europe, never made it to the UK. This time, Peru, South Africa, Scandinavia, Europe multiple times, on top of crisscrossing the States multiple times for a decade."
When the gears began churning in earnest, Ivan recalls meeting Andrew Loog Oldham, the legendary Rolling Stones manager/producer/hustler, in Vancouver.
"The first thing he said to me was 'You made it!' And I thought for a second and replied, 'Yeah, I did. Not all of us do'".