One of the leading music business stories of the 21st century is the continued discovery, sonic restoration, and release of previously unknown recordings—either from the studio or the stage. As the constant advance in digital technology has reclaimed live tapes once thought to be sonically inferior, and refreshed forgotten or leftover studio recordings, record labels, artist estates, and even the artists themselves have begun to clear and approve previously unheard material for legitimate release—increasingly as an added incentive to a reissue. Among the many recent examples of this are a 2019 remastered Fleetwood Mac Rumors reissue bundled with an entire live concert from the `77 Rumors tour and over 30 tracks of outtakes, alternate takes, and demos. A 2020 reissue of Wilco's Summerteeth adds a marketing twist, with the LP and CD versions offering different live shows.
One of the biggest drivers of this trend is Record Store Day which entices music collectors and fans by promising reissues and limited editions made up partially or entirely of previously unreleased content. How long they can keep this up is anyone's guess. But in July at the second of this summer's two RSDs (and yes, RSD may be getting too complicated and too frequent for its own good but that's another column), one of the previously unreleased titles worth seeking out, at least for jazz fans, was Bill Evans, Behind the Dikes, The 1969 Netherlands Recordings featuring the great jazz pianist and his longest-lived trio of drummer Marty Morrell and bassist Eddie Gomez.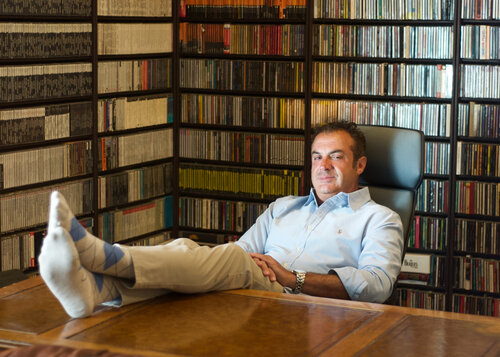 With several notable exceptions like crazed Charlie Parker fan Dean Benedetti who hauled a disc cutter and later a tape deck into jazz clubs and recorded only Bird's solos, most undiscovered, unreleased jazz recordings have come from radio broadcasts, tapes from live shows or on rare lucky occasions, a studio album that for whatever reason went unreleased. The release of the 1969 Hilversum recordings by Elemental Records in legal form (inferior sounding bootlegs had circulated for years) gave me an excuse to catch up with the project's producer and my old friend Zev Feldman, a humble, mild-mannered but supremely resourceful dude whom I once dubbed "Indiana Jones of Jazz." Over the past decade Feldman has become a cause célèbre for being an intrepid explorer who finds and releases either unknown or previously bootlegged jazz treasures.
"On some levels, I look at it like it's about righting the wrongs of the past," Feldman said over the phone from his home in Los Angeles. "There have been bootlegs of much of the stuff I do. But the musicians never got paid. Family members [of the estate] never got paid. The sound was terrible. And worst of all, most came with shoddy packaging—shitty jobs, something that was less than desirable.
"Only a very small percentage of fans have ever heard any of the music in my projects. Only the super collectors. So for the majority of the people in the world, it's a chance to get it new. But more than that, you're going to get it in a definitive edition. I'm trying to be honest to the music and to the fans out there who pony up the bucks. I can't do these projects if people don't buy them."
As co-president of California-based Resonance Records, Feldman, who has also done projects for other labels including Elemental, Real Gone, Blue Note, Verve, and Reel-To-Reel, continues to dig out unreleased jazz recording sessions and concerts. Along the way, because of leads he has followed up, and the affection for Evans in European audiences, he's developed a specialty, now seven projects deep, in the music of the late pianist. Mild-mannered but emotionally complex and often drug dependent, the brilliant and inventive Evans is most famous as the keyboard voice on Miles Davis's epochal Kind of Blue. Widely influential in the constantly expanding world of jazz piano for his use of block chords and evocatory harmonies, Evans's eloquent interpretations of well-known repertoire gave him an accessibility that eluded an equally brilliant contemporary like Thelonious Monk. The liner notes of Behind the Dikes mention the poles of Evans's genius, "emotion and constraint, simplicity and structure." While I've never been able to quite understand it, there's a minority out there who feel Evans's music is too repetitive—that it all sounds the same. Seems to me they aren't listening closely enough. Subtlety was Evans greatest gift. His endless capacity for nuance and melodic invention is often breathtaking.
In the kind of clean, expansive sound that's typical of Dutch Public Radio productions (though Morrell's drum kit occasionally distorts), Behind the Dikes is available in both 2-CD or 3-LP versions. Each documents two separate performances, one in which Evans plays with just his trio and another with the 50-piece Metropole Orkest—all of it funded by Dutch Public Radio. Although the only known recorded performance of a Duke Ellington tune by Evans is the draw for collectors, the rest is Evans at his marvelous, understated best. Along with superb versions of classics of his repertoire like 'Waltz for Debby," he puts his spin on jazz classics like "`Round Midnight" and "My Funny Valentine" and then, using one of his most unique talents, he reharmonizes and stretches like taffy the arrangements of two film soundtrack hits, "Alfie" and "Love Theme from Spartacus." Another highlight is his performance with the Orkest of Gabriel Faure's Pavane, Op. 50. a piano piece named after the Spanish dance.
Having just finished the eight CD or 12-LP boxed set reissue of Lee Morgan Live at The Lighthouse, Feldman continues his superhuman multi-tasking with an upcoming 40 projects already in motion. Asked for names, he reels off A-list artists like Albert Ayler, Charles Mingus, and Chet Baker, as well as two more Evans projects that are soon to be released.
"There's tapes and great content out there, you just have to find it," Feldman says. "Then you've got to work your due diligence. You gotta negotiate. And then there's the curation of the presentation itself—the sound, the packaging, the photographs, the investigative music journalism. It's really exciting and has literally been life-changing for me. And there's so much more that I want to do, even classical music. I'm going to keep raising the bar."