All photos by Jonson Lee.
Prices listed are in $US.
When I left the house to attend this year's T.H.E. Show, which ran June 9 to 11, I was struck by the weather. "What a lovely cloudy morning in Southern California," I thought. That's because it never gets cloudy in Southern California. In fact, it had been gray here for the past several days, which just doesn't happen. I took that as a good omen; music sounds better to me during heavier weather.
As I arrived at the show's venue, the Hilton Orange County in Costa Mesa, already the place was getting crowded. As soon as I got my media badge at T.H.E. Show's administrative office, I wasted no time in seeking out the most beautiful and best-sounding equipment I could find. After all, this is why we go to a show like this. Where else can we see, hear, touch, and even smell such luxurious pieces of technological art? (To paraphrase Captain Kilgore from Apocalypse Now: "I love the smell of a good wood finish in the morning".)
A bit of a preamble: I've been reporting on T.H.E. Show for PMA Magazine for 3 years now and every year I've been selecting PMA's Top 3 Rooms of the show (T.H.E. Show 2021, Part 1, T.H.E. Show 2022, Part 1).
This year my approach was different. To put all rooms on a level playing field, I would have had to, as I've done in the past, play the same recordings of my own choice in every room. But what I realized is that the music selected by the exhibitor is often part of the demo itself, meant to highlight the system's strengths. So, this year I decided to enjoy the demoes on their own terms, and pick my favourite ones from the bunch I visited. All to say that I did my auditioning pretty much like everyone else—by listening to music streamed by the exhibitor from a streaming service.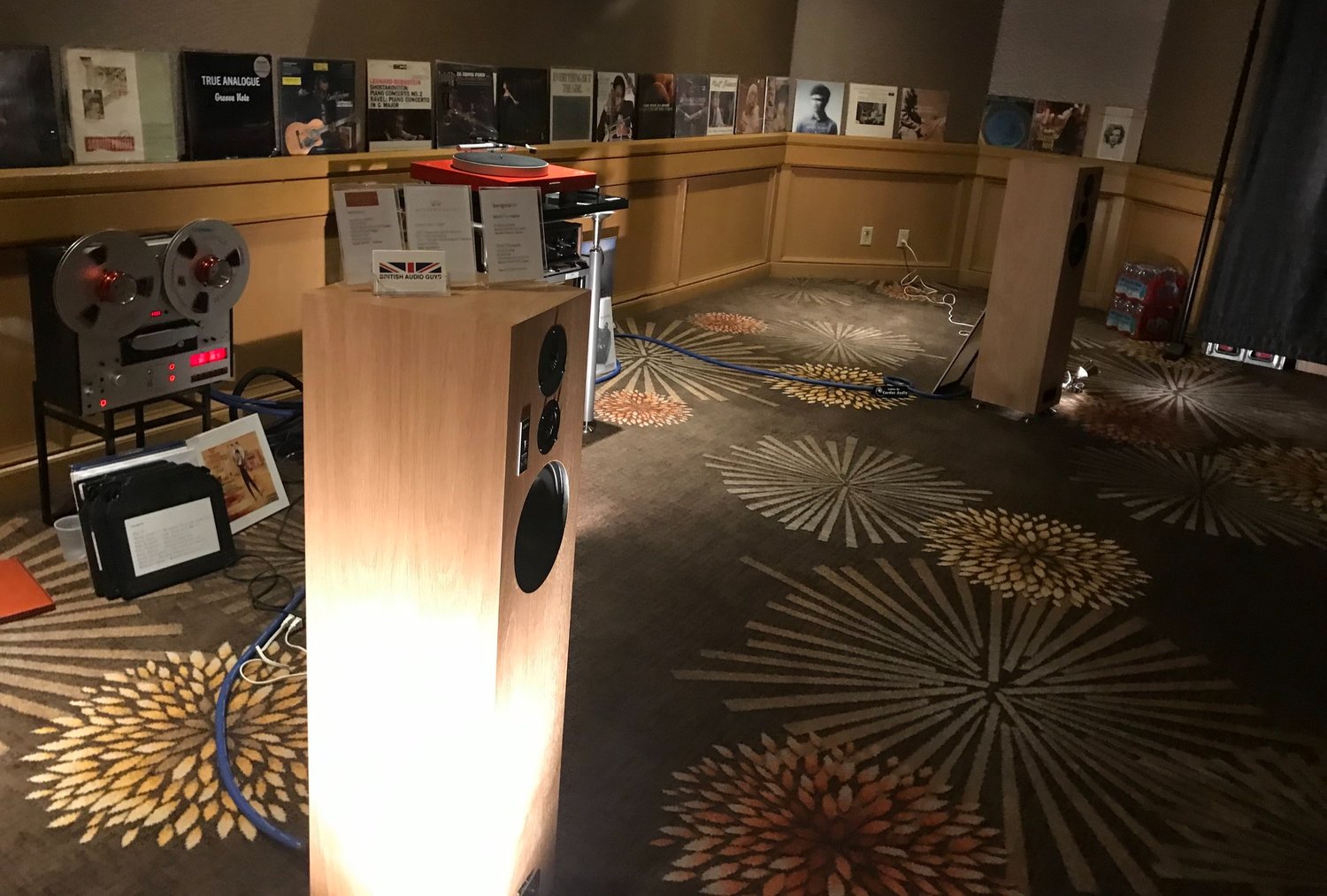 British Audio Guys ("On a Higher Note"):
Bergmann Audio Mode Turntable with Thor Arm and Hana ML Cartridge: $17,000
Sonorous ATR 10 MkII Tape Deck: $32,500
Moonriver Audio 505 Phono Stage: $6000
Moonriver 404 Reference Integrated Amplifier: $6000
Graham Audio LS8/1f Loudspeakers (Show Debut – First Pair in the US): $9700/pr
Cardas Audio Cabling: $various
Among the presenters at last year's T.H.E. Show, Philip O'Hanlon from British Audio Guys was surely one of the more stylishly-dressed ones, and this year, wearing a flashy white suit, he may have outdone himself. His room was the most analogue-equipped I visited, complete with a Sonorous ATR 10 MkII reel-to-reel tape player. The system produced a warm sonic presentation that was sweet and highly involving—it just sucked me into the heart of the music, which is the first thing a hi-fi should do.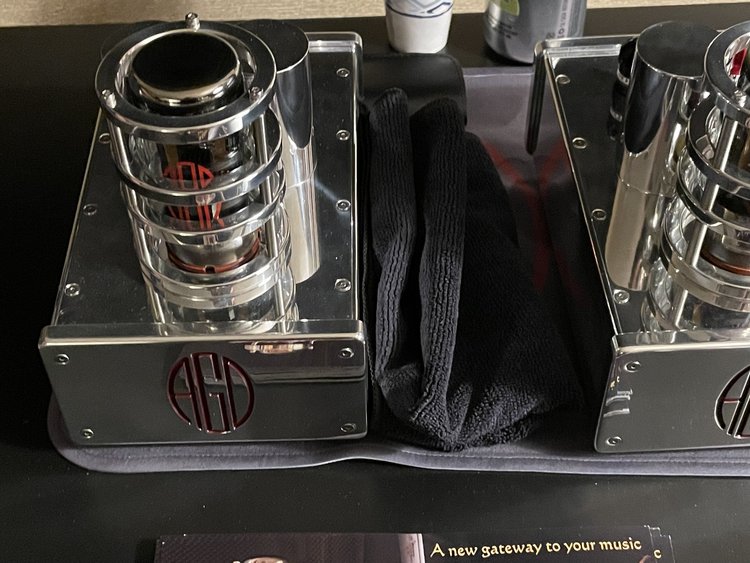 AGD Productions:
Sausalito MKII Speakers: $29,000/pr
AGD Solo Monoblocks: $22,500/pr
AGD Andante Preamp and DAC: $14,000 (w/ polished finish)
AGD and Ocean Way Cabling: $various
"What an eye-catcher!" was the first thing I said when I spotted the system in the AGD room. What struck me was the MOSFET power stage enclosed in a glass tube atop each AGD monoblock. Beautiful. Thankfully, the sound matched the looks. The Harry Potter soundtrack played in the room delivered crystal clear highs, a colourful midrange, and well-defined bass that plumbed the deep depths.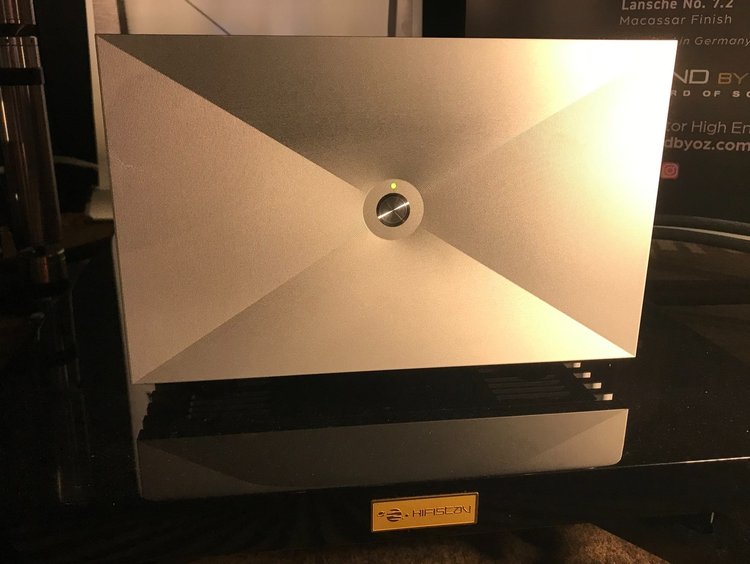 High End by Oz:
Lansche 7.2 Speakers: $110,000 /pr
Thrax Heros mkll Class A Hybrid Monoblock Amps: $47,000 /pr
Thrax Dionysos Tube Preamp: $27,000
Thrax Maximinus MK II DAC: $38,500
Albedo silver Cabling: $various
Of all the rooms I visited, the High End by Oz room had the most expensive pair of speakers on display, the six-figure Lansche 7.2. As someone who's heard some horrible-sounding high-priced systems, I'm the first to scream that a higher price doesn't necessarily mean better performance. But the sound quality I heard in this room reminded me that sometimes it does. This system sounded rich, sophisticated, and delivered a wide soundstage and a timbral authenticity to instruments that made them sound lifelike.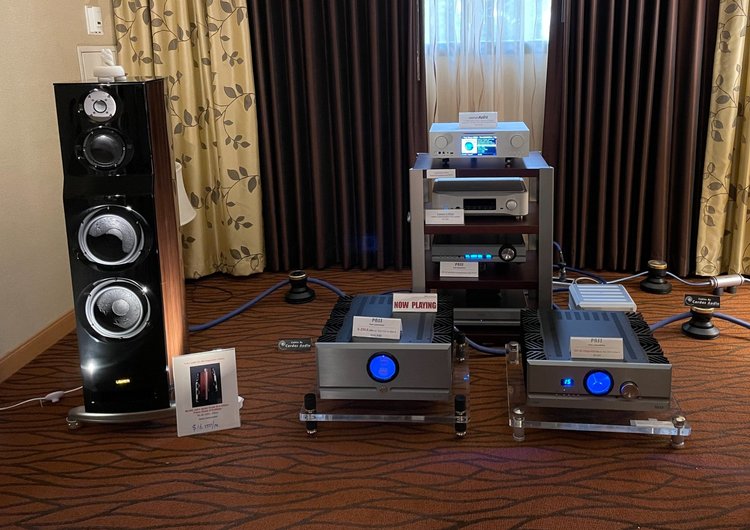 Katli Audio:
Usher Audio ML-802 Speakers: $16,550/pr in piano gloss
Pass Labs XP-22 Preamp: $9975
Pass Labs X-250 Power Amp: $10,500
Cocktail Audio X-45Pro Music Server: $5995

Katli Audio was the 1st place winner of PMA's top rooms at the 2022 T.H.E. Show and this year their system was again outstanding. What can I say… I think I just love the way Usher speakers sound no matter what the model is. And when they're driven by a Pass Labs amp? It's a match made in my heaven. The presentation sounded utterly natural, transparent, with a high degree of tonal neutrality, the quality I covet over all others in sound reproduction.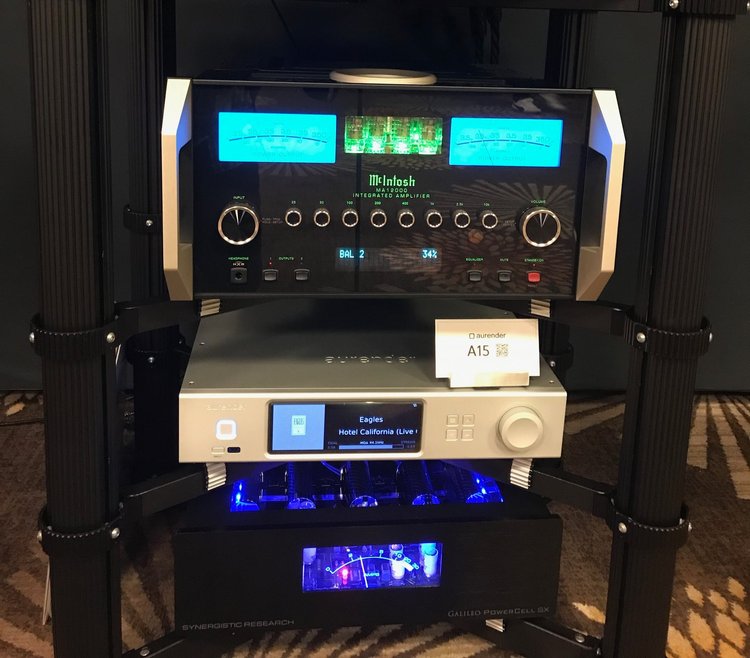 Scott Walker Audio – Newport Beach 2 Room:
Sonus Faber Olympica Nova V Speakers: $18,000/pr
McIntosh MA12000 Hybrid Integrated Amplifier: $15,000
McIntosh MT10 Turntable: $12,000
Aurender A15 Music Server / DAC: $8,400
Synergistic Research Galileo PowerCell SX: $27,995
Synergistic Research Cabling: $various
It's tremendous fun for me to discover great new music, and thanks to Scott Walker Audio, I discovered Sara Bareilles's captivating live rendition of Elton John's "Goodbye Yellow Brick Road". Listening to this song on the McIntosh-powered Scott Walker system, I thought what a privilege it would have been to have attended that concert. But that's okay. I had the next best thing. This room delivered so much tactility, solid imaging, and see-through transparency, it was almost like I was there, among the crowd, watching Sara sing in person.
Scott Walker Audio – Huntington Beach 1 Room:
Estelon Aura: $19,900/pr
Aurender AP20 Streaming Integrated Amplifier: $22,000
Scott Walker Audio had multiple rooms at the show, and it was in one of their rooms that I ran into an old friend: James Taylor, singing "Fire and Rain" from a Tidal stream. This song is elegant simplicity itself, which is how I'd describe the stereo setup in this room: elegantly simple, with Aurender's all-in-one AP-20 streamer-DAC-integrated amp driving a pair of supermodel-thin Estelon Aura speakers. Listening to James Taylor on this system, the presentation sounded just right—solid, well-balanced, detailed, and full of captivating charm.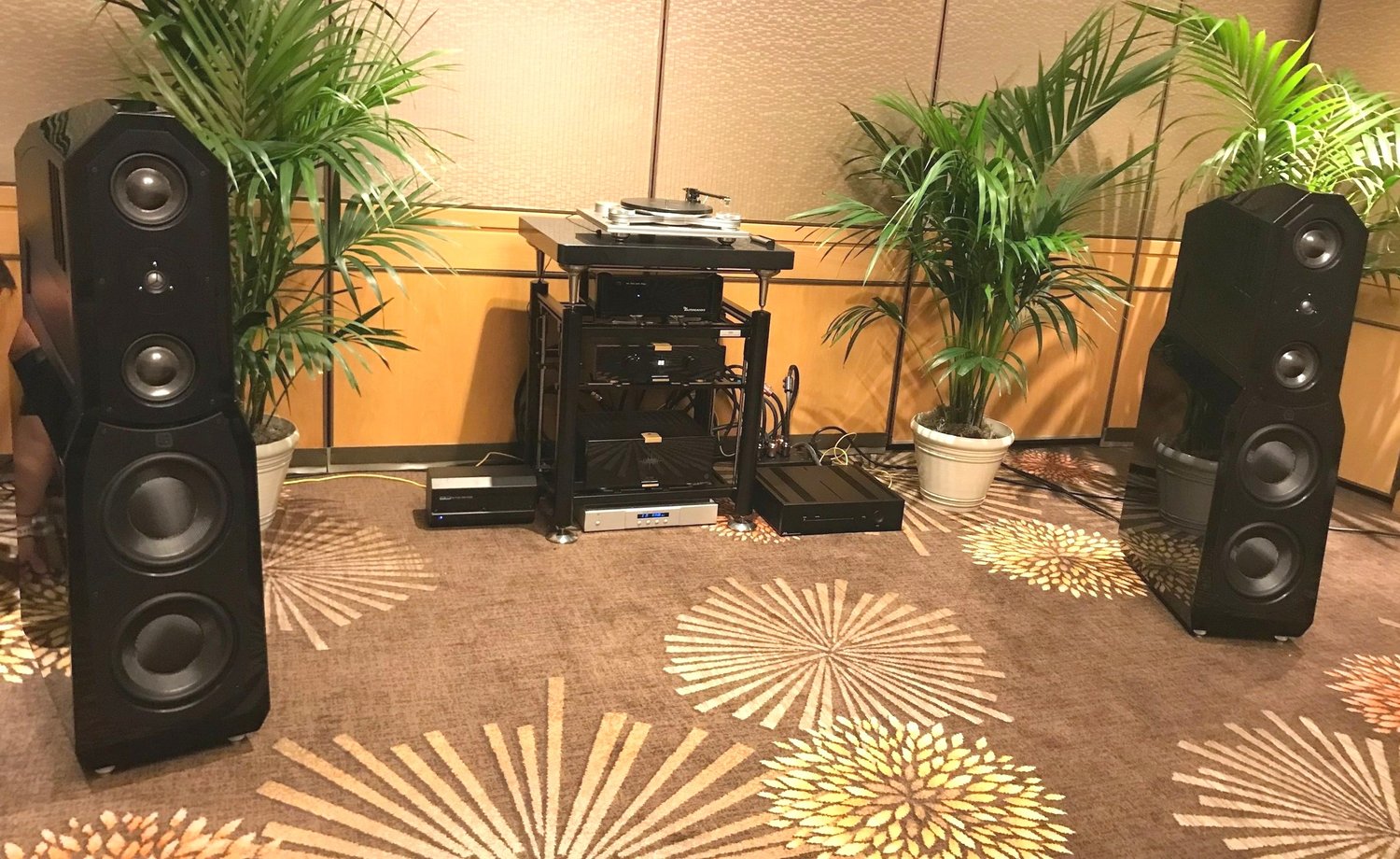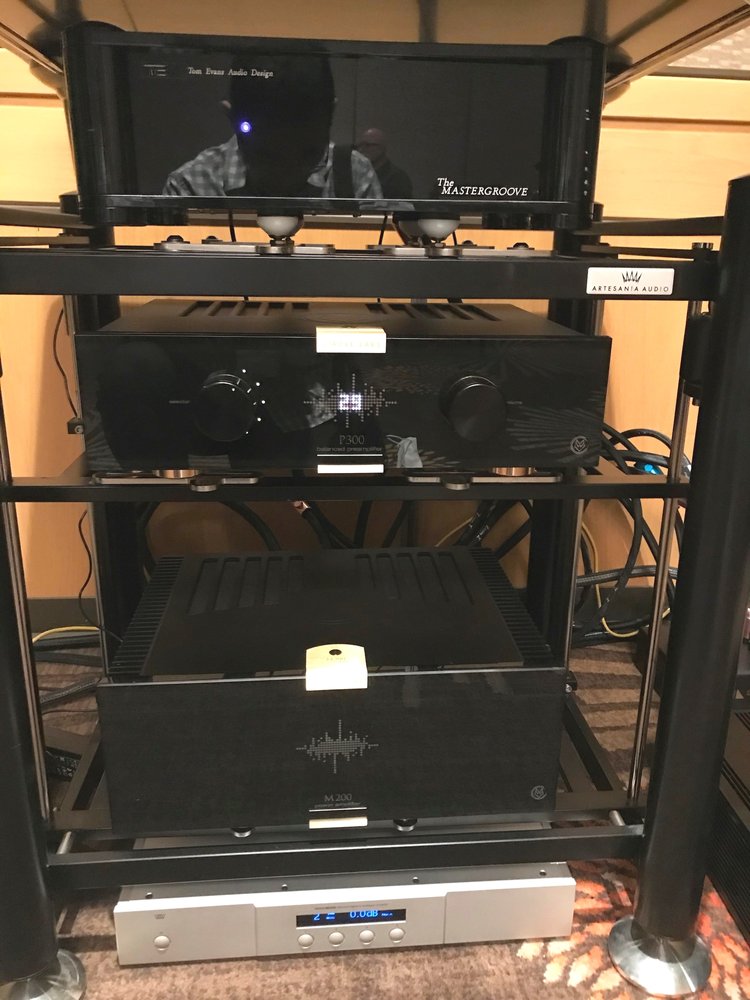 Audio Limits:
EgglestonWorks Viginti Speakers: $42,795/pr
Circle Labs P300 Preamplifier $7,000
Circle Labs M200 Amplifier $10,000
Antipodes K50 Music Server $17,500
Weiss Engineering Medus DAC $21,900
Thrax Audio Yatrus Direct Drive Turntable $17,500

Tom Evans

Mastergroove Mkll phono stage $17,800
Synergistic Research Cabling: $various

"Like fine wine" may sound like a bad cliché to describe sound, but I can't think of a more fitting way to sum up the sensation of what I heard in the Audio Limits room. I could add that the system delivered flawless deep bass, sweet airy highs, and endless decays—all of which it did—but it doesn't quite capture the sensuality of the experience. If the best wine could sing, it would probably sound like the Audio Limits system.
***
At some point at the end of my visit to this year's T.H.E. Show, my mind flashed to the pre-recording era of the 18th century, when you had to travel far and wide to hear a Mozart symphony. In contrast, shows like this one demonstrate what an embarrassment of riches we now have at our disposal, in terms of both great recordings and great gear, and the variety in both.
We are living in a truly marvelous time in audio.