Last you heard from me, husband-and-wife singing duo Delaney & Bonnie were working on their album Home, their first recording on the Memphis-based Stax label, between February and November of 1968. The general idea in the minds of the Stax executives was to create an album that would introduce the world to the "first white version of Ike & Tina Turner". Unfortunately for Stax, that would never happen. Delaney and Bonnie did something that upset the label so much it refused to release Home for nearly a year. So, what led to the collapse of the relationship between the singing duo and the Stax label?
The well-documented chronicle, Bobby Whitlock: A Rock 'n' Roll Autobiography, explains the story. When Bonnie and Delaney arrived at Stax to record their album, Whitlock, who would eventually contribute saxophone and vocals to the duo's first two albums, was already a mainstay at the studio, and was friends with Stax label artists of the likes of Isaac Hayes, Sam & Dave, and members of Booker T. & the M.G.'s.
The story gets waaay more interesting when it's revealed that another up-and-coming superstar was there at some of Delaney & Bonnie's sessions—Rita Coolidge, who was doing radio and studio sessions of her own. As a side note, just down the street from Stax was the Royal Recording Studio, home of Hi Records, where producer Willie Mitchell recorded the Al Green classics "Take Me To the River, "Love and Happiness," and "I'm So Tired of Being Alone".
A close friend of Coolidge's was Don Nix, the sax player in Stax's session band the Mar-Keys, who offered her access to the recording sessions of such artists as Isaac Hayes, Sam & Dave, Otis Redding, Wilson Pickett, and others. Coolidge was there through it all. In her 2016 tell-all autobiography, Delta Lady: A Memoir, Coolidge recalls the day when Delaney and Bonnie first arrived to begin their Stax sessions—with Leon Russell in tow. "All Don Nix seemed to talk about were these husband-and-wife musicians Delaney and Bonnie Bramlett," she said. "When Leon came to Memphis… I felt as if I already knew him…" Within weeks, Coolidge and Russell became an item.
So, who was Leon Russell?
Born Claude Russell Bridges, Leon Russell hailed from Lawton, Oklahoma, but developed his musical career in Tulsa. He headed west to do studio session work, joining what became known as "The Wrecking Crew" in Los Angeles in the mid-'60s. Although he met Bonnie for the first time during the Stax sessions, Russell already knew Delaney from a few years earlier when they both worked on the L.A.-based Shindig!, a rock n' roll T.V. show on ABC created by English producer Jack Good that lasted from 1964-66. Shindig!'s houseband was called the "Shindogs", which counted both Leon Russell and Delaney Bramlett as members. Russell and Delaney struck up a strong working relationship, with Russell producing Delaney's first single, "Guess I Must Be Dreamin'" for Independent Records in April of 1967. Bonnie wasn't in the picture yet—she moved to L.A. later that year, then married Delaney within a year of meeting him.
Once married, things moved rather quickly for the couple's career. After spending months recording songs, the group's first album for Stax was complete. Then, Delaney decided he was unhappy with the finished product, concluding that the culmination of the album's recordings resulted in "just another Stax record" that sounded like all the others that came before theirs. In a May 31, 1969, interview in Rolling Stone magazine, Bonnie said of their relationship with Stax: "They just didn't know what to do with us."
Unbeknownst to Stax, Delaney & Bonnie decided to bail on the project, convincing both Whitlock and Coolidge to leave with them to seek fame and fortune on the West Coast. It was late November 1968, when Delaney and Bonnie drove out of Memphis in Leon Russell's blue 1950 Thunderbird convertible, with Russell and Coolidge sitting in the back.
Once Delaney and Bonnie had retreated to L.A., Delaney relentlessly pursued new avenues in search of success and stardom. In what would eventually be seen as an outright act of betrayal, he struck up a relationship with Alan Pariser, one of the most important figures on the West Coast music scene. Pariser, a mover-and-shaker who was pivotal in the success of the Monterey Pop Festival in '67, was smitten with the southern soul sound of Delaney & Bonnie, and quickly became the band's official manager. He introduced the couple to Jac Holzman, founder of a relatively new record label that was making big moves in the rock music scene—Elektra Records. Indeed, Elektra achieved rapid success after it had signed the Paul Butterfield Blues Band, the soul-psychedelic group Love, and, more significantly, Jim Morrison and the Doors.
David Anderle was the head producer at Holzman's studio, a new facility built by Bruce Botnick and John Haeny, two genius engineers with world-class reputations in the recording industry. Anderle happened to catch Delaney & Bonnie performing at Westwood's Troubadour rock hall, and after the gig brought them to the studio to record a demo session. On Anderle's recommendation, not only did Elektra owner Holzman sign Delaney, Bonnie, and "friends," he immediately sent them to the studio to record new material for a full album.
When word got out that Delaney double-crossed the Stax label and had signed a deal with Elektra while also being signed to Stax, the Memphis corporation was livid, and shelved the Home album immediately. Delaney later defended his move by blaming Stax executives, saying, "They put us in the Stax bag was what happened. It didn't come off as personal as this one, the Elektra album, did. So we asked for a release."
The circle of new friends around Delaney & Bonnie grew quickly and included a few key members who would play a major role on what the duo referred to as their "first album". The musical troupe had extended well beyond Delaney and Bonnie to include Bobby Whitlock on organ and vocals, Rita Coolidge on lead and background vocals, along with substantial input from pianist and singer Leon Russell, who was now Coolidge's new boyfriend.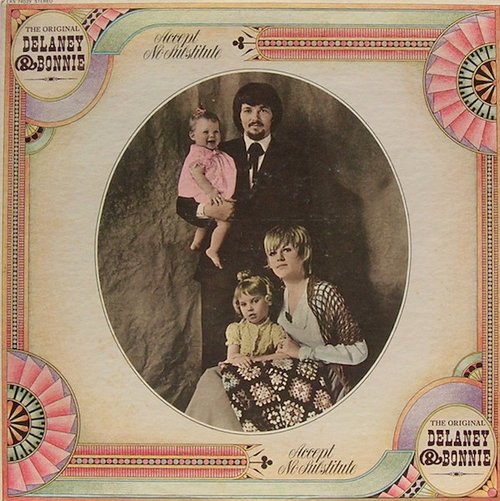 Because the band was hotter and tighter than what it was in Memphis, the material for the new album sounded much stronger than that on Home. In addition, Delaney was becoming much more assertive and confident in his demeanor—musically and otherwise. There was magic in the studio: Delaney and Russell joined forces to write the tune "Groupie (Superstar)" for Bonnie. Legendary New Orleans pianist Dr. John showed up out of nowhere and wrote a song for the band, "When This Battle Is Over". Coolidge summoned her Memphis roots to create amazing vocal arrangements for the backup singers. It all came together to create a stunning assembly of songs on what would become a classic album, Accept No Substitute.
The album opens with a seriously intense attitude—the band cooked up a funkier, grittier version of "Get Ourselves Together," a holdover from the "first" unreleased album back in Memphis. The next track, "Someday," is almost two songs in one—the first half offers a hard backbeat underneath the harmonized vocals, only to shift into high gear for the funky up-tempo groove that propels the second half. The perfectly blended four-part singing of Bonnie, Delaney, Coolidge, and Whitlock, with his raspy upper register, sends the jet-fueled tune rocketing into the stratosphere.
Leon Russell's genuine gospel church playing on "The Ghetto" is as soul-stirring as they come—you get the sense that he's feelin' the spirit and trying to conjure the Holy Ghost. His playing is down-right sanctified. Meanwhile, Delaney shouts and testifies with all the fire and brimstone of a bible-thumping preacher.
On Dr. John's "When The Battle Is Over," Bonnie's sassy-singing style comes to the fore, its southern twang intact, as Delaney counters with a gritty vocal response. Coolidge's background vocal harmony adds a jubilant sheen to the rollicking rhythm section. On "Dirty Old Man", Jerry McGhee's percolating guitar work is spitting out from both left and right channels simultaneously. It's almost impossible to listen to this album and not hear a band that is relishing in the moment of cookin' up a fresh batch of rock n' roll-infused funk and soul. "I Can't Take It Much Longer" sounds like they out-did Stax at using its patented blend of catchy lyrics, snappy guitar riffs, and perfectly sculpted horn blasts.
Vocals seamlessly weave around each other on the torch ballad of "Do Right Woman, Do Right Man", where Russell's sensual piano performance steals the show—his style is nothing less than country, soul, gospel, blues and R&B, all wrapped in one. This tune is followed by the gospel classic "Soldiers of the Cross". Here, Russell steps up his game even more, especially when the band kicks into the double-time Pentecostal romp. Closing out the album is "The Gift of Love," a medium-tempo New Orleans second-line groove that's so genuine you can virtually see the band marching down Bourbon Street as they play.
With a lot of help from his friends, Delaney completed his dream album, with everyone involved ending up thrilled with the outcome and the possibilities that lay ahead. The album was released in July 1969 and immediately created a stir.
In fact, quite a serious buzz was created before the album was officially released. Back in March, producer David Anderle and engineer John Haeny invited British engineer Glyn Johns to the studio to hear their hottest new album. Johns was a legendary figure who'd worked on albums by the Stones, The Who, Led Zeppelin, Clapton, and a host of others. He'd flown in from England to record the Steve Miller Band's new album, Your Saving Grace, when he was invited by a business associate to Whisky A Go Go on West Hollywood's Sunset Boulevard to hear Delaney & Bonnie. He liked what he heard, but what really blew him away was hearing Leon Russell on piano. "He was like an entire rhythm section all on his own," Johns wrote in his autobiography, Sound Man.
Anderle was also there that night and hit it off with Johns immediately—to the point that Anderle brought Johns to the Elektra studio to show off his new facilities and, more importantly, play him Accept No Substitute. What transpired next was an event that literally altered the course of music history.
Anderle gave Johns an acetate copy of the album (a test-pressing, in recording industry parlance). When Johns returned to England, he lent it to none other than George Harrison of the Beatles. This set off a chain-reaction of events that would simultaneously impact several of the biggest names in the annals of rock music.
In Part III of Rock Chronicles, I'll delve into the incredible "six degrees of separation" between Delaney & Bonnie, Elton John, Joe Cocker, and Leon Russell.
Read Rock "Chronicles, Part 3: The British are coming!" here.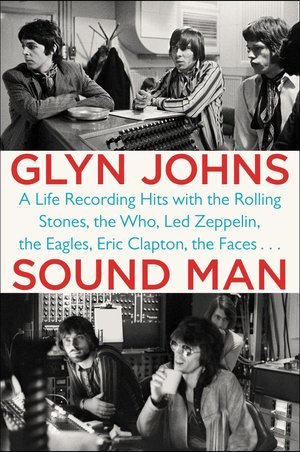 Books on my shelf:
All Things Must Pass: The Life of George Harrison by Mark Shapiro. Virgin Books (2002).
Leon Russell: In His Own Words (With A Little Help From His Friends) by Leon Russell. Steve Todoroff Archives (2019).
Me by Elton John. Henry Holt & Co. (2019).
Joe Cocker: The Authorized Biography by J.P. Bean. Virgin Books (1990).
Delta Lady: A Memoir by Rita Coolidge. Harper Collins (2016).
Bobby Whitlock: A Rock 'n' Roll Autobiography by Bobby Whitlock. McFarland & Co. (2011).
Clapton: The Autobiography by

Eric Clapton

. Broadway Books (2007).
Sound Man by Glyn Johns. Plume Books (2014).
Follow The Music: The Life and High Times of Elektra Records in the Great Years of American Pop Culture by Jac Holzman and Gavan Davis. First Media Books (1998).
Miss O'Dell by Chris O'Dell. Touchstone Books (2009).
Wonderful Tonite: George Harrison, Eric Clapton and Me by Patti Boyd. Harmony Books (2007).
You Never Give Me Your Money: The Beatles After The Breakup by Peter Doggett. Harper Collins (2009).
Further readings:
March 4, 2011. New York Times article by Fred Goodman. "Indie Label Folkie to Rock Patriarch." [https://www.nytimes.com/2011/03/06/arts/music/06holzman.html]
May 31, 1969. Rolling Stone magazine article by Jerry Hopkins. "Delaney & Bonnie: The soul duo's rise from rural Mississippi to stardom on 'Shindig!' to contracts with Elektra and Apple."