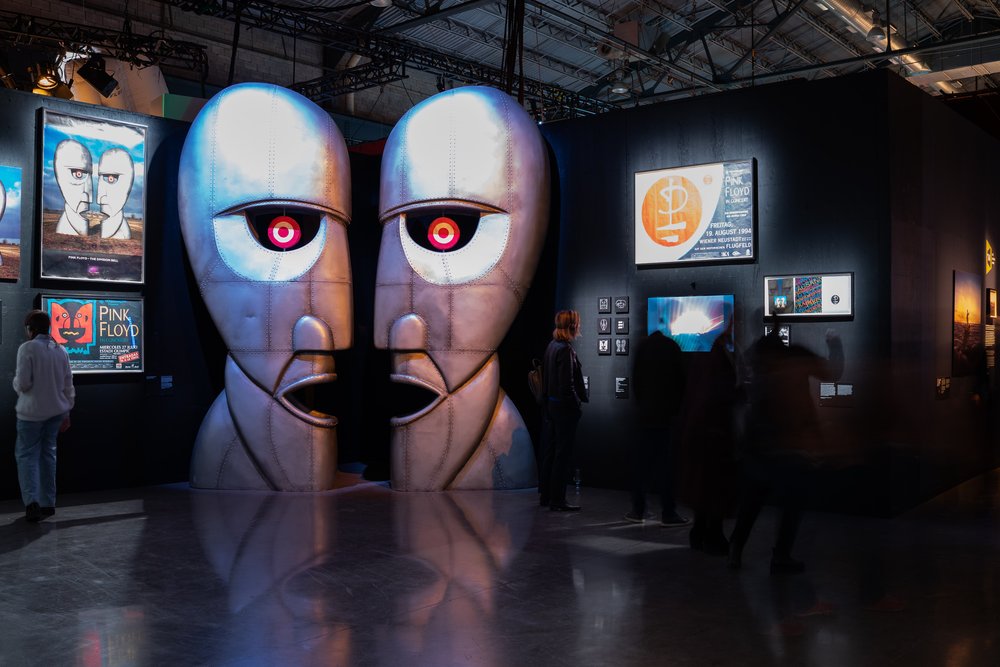 A remarkable retrospective and it's ending soon.
MARCH 2 UPDATE: The exhibit has been extended to April 2, 2023.
All photos courtesy the Pink Floyd Exhibition unless otherwise noted.
I've been a Pink Floyd fan ever since I emerged from under my mother's skirt and wanted to find my place in the world on my own terms. It's during this period that I got acquainted with Pink Floyd. The Floyd were different from other bands. They weren't radio-pop. They were musical expansionists who blew past the prescribed rock format and in the process expanded our minds. They were instrumentalists of intense skill and vision. They were performance artists. They were addressors of heavy social themes—of economic inequality, social injustice, mental illness, feelings of powerlessness, angst, and anger. They were insurrectionists. They were radical. They were punk before punk hijacked Pink Floyd's themes, grinded them down and spit them out in two-minute bouts of rage.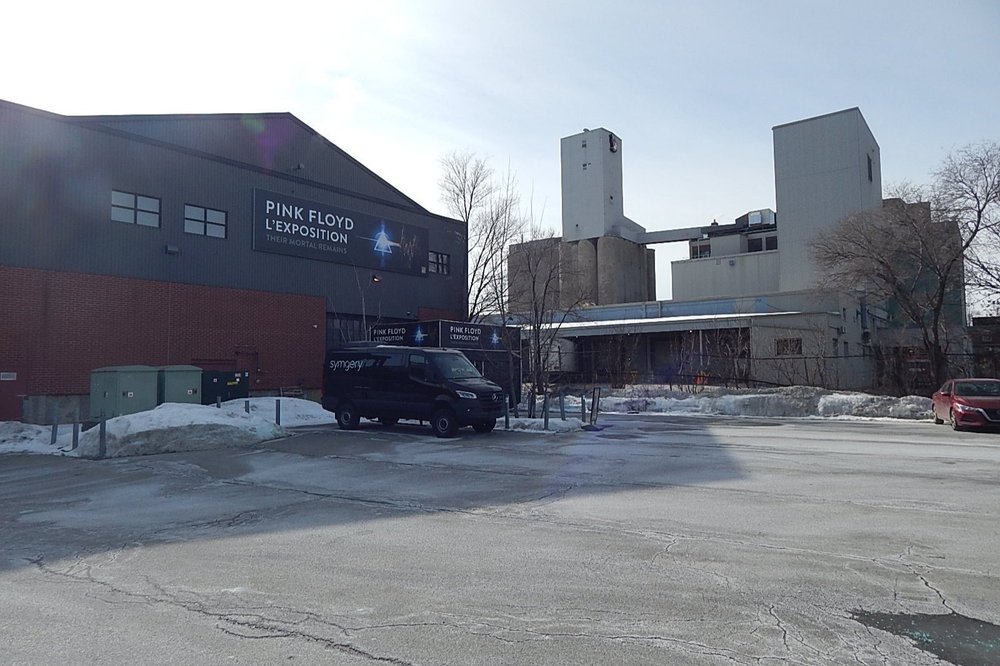 Less importantly in the grand scheme of things, Pink Floyd have always been—and will always be—a part of my life, like a childhood friend I see regularly even after all these years.
The Pink Floyd Exhibition: Their Mortal Remains is being held in Montreal's Griffintown district at Arsenal Contemporary Art Montreal until March 5, 2023. I'm a bit late to the party; the event opened in November, 2022. But I was hoping to beat the crowds, and to do this I was even willing to brave one of the coldest times of the year and earliest visiting time slots in the day. Let's just say I underestimated the ties that bind Montreal to Pink Floyd, and vice versa—the place was buzzing.
Thankfully, the venue wasn't packed only with admirers of the band or curiosity seekers pining for an intimate look at the creative process of one of the most successful music acts in history. The place was brimming with artifacts and art and facts—over 350 of such things, including a treasure trove of movie-set-like pieces and career-spanning memorabilia, including the cane used by a schoolteacher to punish Roger Waters and Storm Thorgerson, the band's future graphic designer. According to Pink Floyd drummer Nick Mason, the physical abuse Waters endured at his school was the inspiration behind the song "Another Brick in the Wall".
What I enjoyed most at the exhibit were the stories posted next to the memorabilia or told by band members and friends via the exhibit's loaned-headset-video-screen format. Stories about how the band came to be and grew up, how things were created and recorded, how a bevy of core people in their lives, among them illustrators, photographers, set designers, and architects, helped shape and forever define Pink Floyd's identity. You may be as surprised as I was to discover who Waters credits most for the success of Pink Floyd. (No, not himself or David Gilmour.) As Waters explains it in one of the videos, he and Pink Floyd wouldn't have been more than a footnote in music history, with a couple of hits in the 60s then gone in a year, if they hadn't pursued the creative vision laid out by original band leader Syd Barrett.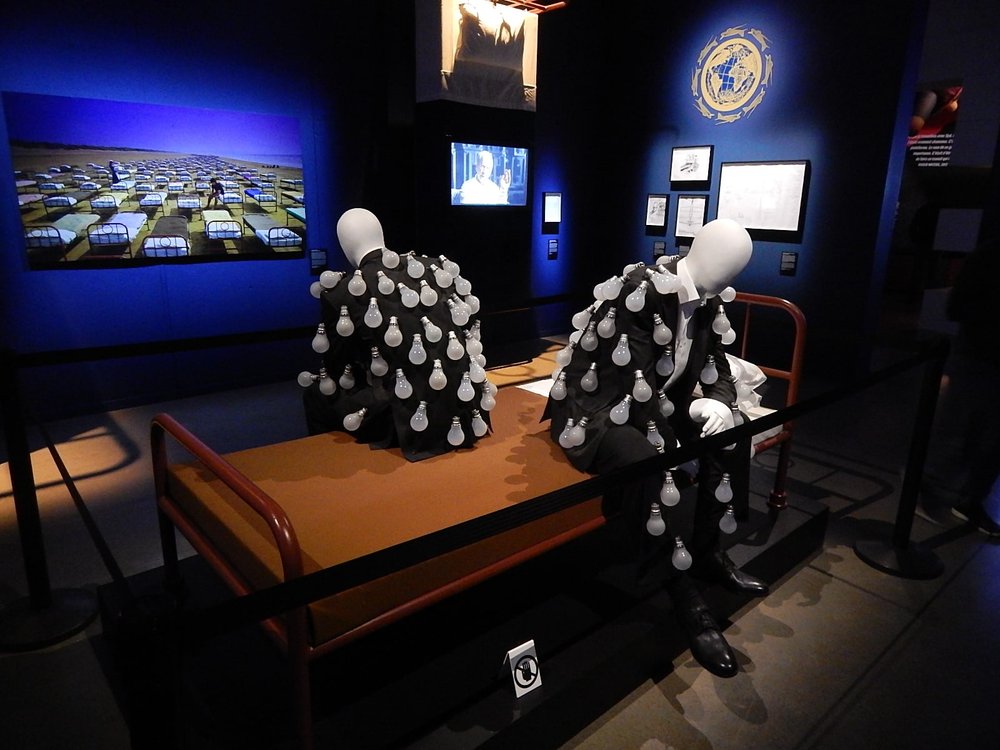 Another satisfying aspect of the show was its chronological flow, with sections dedicated to specific albums. Did you know that Dark Side of the Moon was the turning point in Pink Floyd's career, transforming the band from popular cult group into one the world's best-selling bands? I felt my spine tingle when, in one of the videos, Gilmour recalls how after he'd listened through the entire mix of DSOTM for the first time, he thought, "My God, we've done something really fantastic". What they did was create a classic that still sells 7000 copies a week.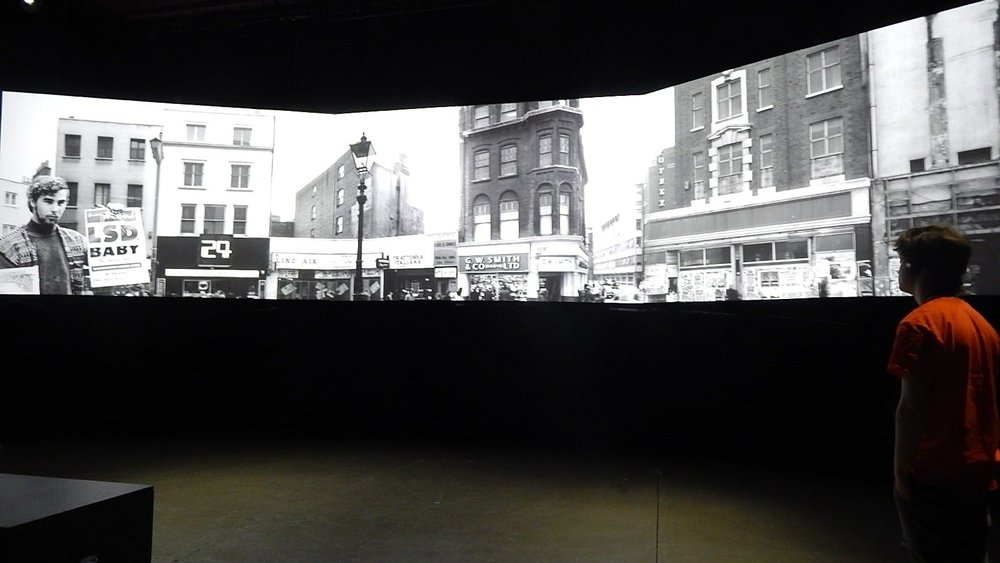 Did you know that the photo on the front cover of Wish You Were Here, by art design group Hipgnosis, required that the businessman depicted as getting ripped off—"burned" in old parlance—be set on fire 15 times before Hipgnosis's Aubrey Powell was happy with the image? Or that the man with the invisible body parts on that album's back cover represents a morally-absent record salesman? Or that on Animals, the allegorical song titles "Dogs", "Sheep", and "Pigs", were inspired by George Orwell's novella Animal Farm?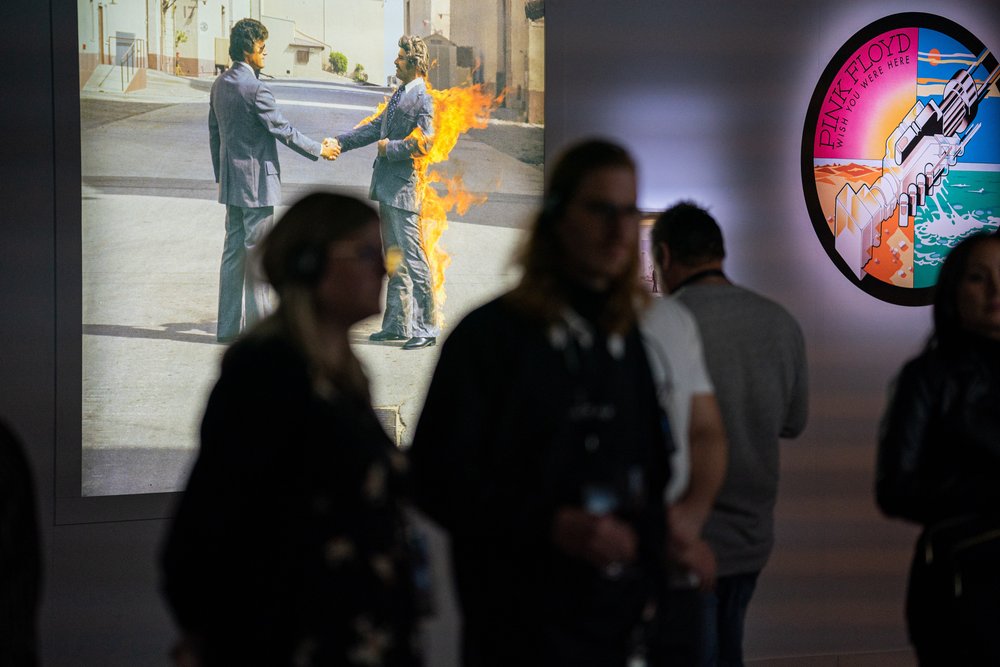 I don't want to give too much away. Suffice to say the exhibit has a lot of goodies on display to make the trip there worthwhile, whether you're a Pink Floyd fan or simply a music lover. But it's ending soon so don't wait too long, and don't walk there. To paraphrase a song on The Wall, "Run Like "H-E-double hockey sticks"!