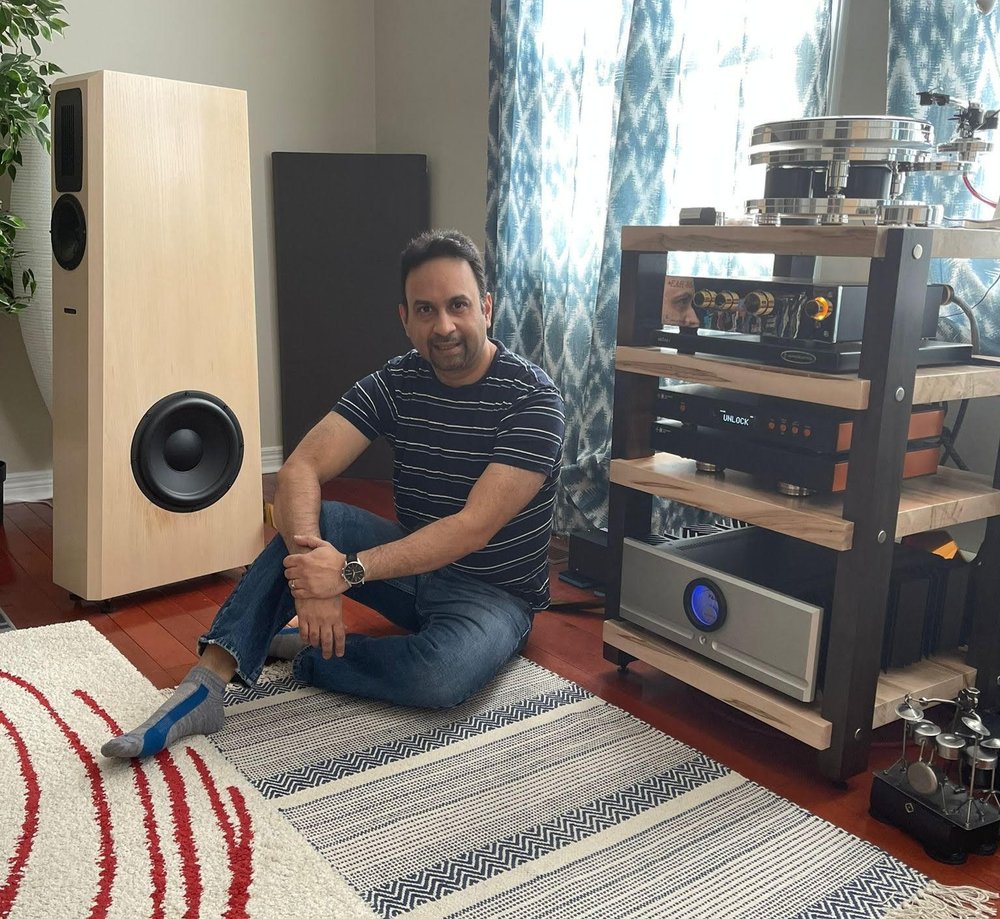 In his native India, Priyo was raised on a steady diet of classic rock—Led Zep, Deep Purple, Pink Floyd. His musical tastes began to widen when he took guitar lessons from a teacher who played the blues. "I had never heard the blues beforem" Priyo said during our Zoom interview. "And I was like 'wow, what is that?' Until then, I had only heard rock. So I got into blues because of this teacher, and jazz, and other styles. After that, any tape cassette—that's what we listened to back then—that I could lay my hands on, through friends or someone from abroad, I would absorb it. It could be any band or kind of music.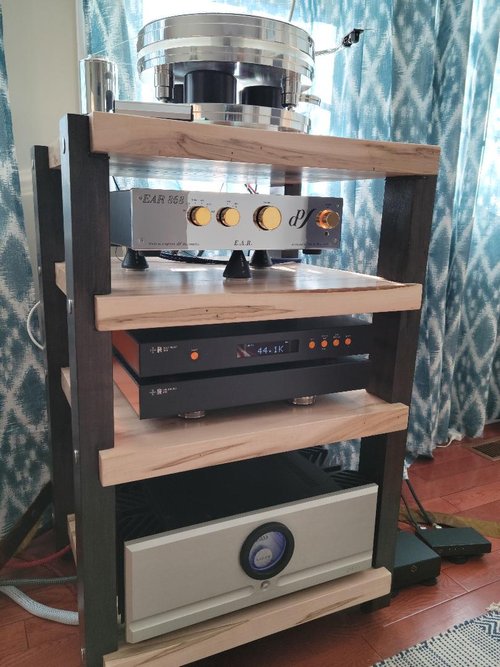 "I had a decent stereo system, an all-in-one kind of deal. I left it in India when I moved to Canada ten years ago, and for a long time when I was here I just listened to my laptop. Then, one day, I decided I was listening to a lot of music and should invest in a decent stereo system. I ended up buying vintage gear—a Pioneer receiver, Rogers speakers, a Thorens turntable, Sony CD player, some Marantz. I was very happy with it."
Until he became less happy with it. "I went over to a man's house who was selling records I wanted to buy," Priyo said. "He asked if I wanted to hear his system, and I said sure. It had an Esoteric SACD player—I had no idea what SACD was—a VPI turntable, a Modwright amp, a Bent Audio preamp, and Coincident speakers. All this was absolutely new to me. I'd never seen or heard anything like it. I was blown away. That was the moment I said to myself, 'I need to be like him when I grow up'. (laughs) As much as I enjoyed my vintage setup, I went on a quest to find modern day equipment."
That quest has led him to his current setup of an EAR Yoshino 868 PL preamp with phono, a Pass Labs XA30.8 amp, Holo May KTE DAC, Silent Angel Munich M1T streamer with optional Forester F1 linear power supply, a Silent Angel Bonn N8 network switch, an Acoustic Solid 111 Metal turntable / Jelco 9″ TK-850S tonearm / Hana SL MC cartridge package, and Coincident Super Victory III loudspeakers. His system also employs various anti-vibration products from IsoAcoustics, Vibrapod, Nordost, and Black Diamond Racing. Silversmith and Audio Sensibility cable everything together.
I asked Priyo in what ways he preferred his current system to his vintage one. "As much as I loved my vintage setup," he said. "My stereo now is on another level. With the vintage stuff, I was just listening to the songs, to their rhythm or beat. There was no imaging or soundstage, which is somewhat important if you want the illusion of hearing a live performance in front of you.
"A key turning point in my journey happened when I heard a tube preamp for the first time," he said. "I knew this was sound I wanted to explore, so I bought the same preamp. Compared to the solid state preamps I'd heard, this one was more—I hate to say the word, but it's true—organic, also a bit warm but not too much, more 3D holographic, and more musical."
As for what Priyo prefers to listen to—digital or analogue: "I listen to both—I like digital a lot now. As you go up the range in DACs and streamers, and now with Ethernet cables and network switches, digital sound can be very good. But given a choice, I still prefer listening to vinyl."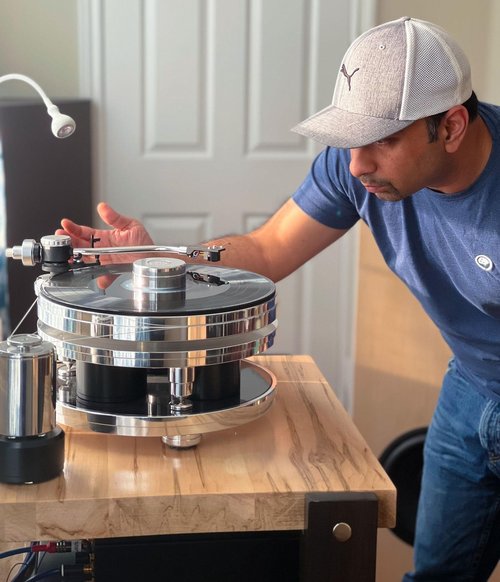 I asked how he felt about one of the most controversial subjects on the Internet. No, not religion or politics, but audiophile cabling. "It can make a difference," he said. "But it also depends on how revealing your system is. When I tried it in my entry level system, I thought it made only a minor improvement. But as the quality of my gear went up, differences between interconnects, and speaker, Ethernet, and USB cables became more noticeable.
"So, I think cables are important, but I recommend getting the macro stuff right first—the components—then the cables to kind of tune your system. A lot of cable manufacturers like to say their cables are neutral, but in my experience—and admittedly I haven't heard the über-expensive cables—pretty much all cables have a sound to them, a sonic characteristic."
Thoughts on room treatment?
"Yes! Very important." Priyo said. "I have a basic amount of room treatment—I didn't want my room, which is also my home office, to look like a studio. I have absorption panels for first reflections, bass traps, and at the back of my room a rack of LPs, which acts a bit like a diffuser. I have rugs on the floor. For me, more than with cables, room treatment was a revelation. It just locked in the centre image. The soundstage and imaging improved dramatically."
"So, room treatment made a bigger difference to your sound than high-end cables?" I asked. "Absolutely." he replied.
As to what he likes best about the hobby? "It's when every time I make a change to my setup and think, 'this is it, it can't get any better', and a few months later I make another change, and it does get a bit better. It's not good for my bank balance (laughs), because where does it stop? But it's fun, because you can always make your system sound better. At least I can with my system. I always want to keep pushing the boundaries. I love experimenting.
"Especially with digital. It keeps getting better. With streamers, I was initially in the camp that they couldn't possibly make a difference—it's just 1s and 0s—but they can absolutely make a difference.
"Another fun part is researching equipment to find a component that rivals the performance of one that's three times the price. They're out there. Sure, I could buy a $20,000 amp, but I'd rather buy a $10,000 amp that sounds like a $30,000 one."
His biggest lesson learned? "To keep an open mind and not just go by measurements," he said. "Measurements are important, especially for matching speakers with an amp, but I think it's a a bad idea to buy a component on measurements alone. A DAC that blows away every other DAC measurement-wise might not sound nearly as good as a decent-measuring DAC. You have to listen to it. It's like going to a good restaurant. You don't eat there because of a list of ingredients, but because you enjoy the meal."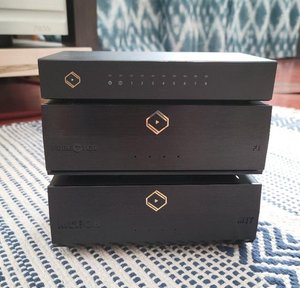 His favourite tweak? "The network switch," he said without hesitation. He didn't hesitate either in naming which component had elicited the biggest "wow" when he heard it in his system. "My tube preamp. The air, the holography, the tonality—tonality is #1 for me. I'll probably stick to using a tube preamp for a while. I like the combination of a tube preamp with a solid-state amp."
Would he ever consider owning an integrated amp? "Of course. I feel that integrateds have come a long way in the past 10 years. I probably wouldn't get an all-in-one—you know, with a DAC and streamer—but something to replace an amp and preamp, for sure. There are so many great-sounding integrateds out there, and they make your life easier—one component instead of two, less cabling, less things that can go wrong."
Any hobby-related regrets? "Yes. I should've worked on room treatments sooner. It came much later in my journey, but I was learning. Other than that, no regrets. It's been a fun journey."
Asked if he had advice to share, Priyo offered, "Don't worry about the micro stuff—the better cabling, the AC products, the anti-vibration tweaks—until you've taken care of the macro stuff first. Do it in steps—speakers with amp, amp with preamp, then the source. Use room treatment early on. At the beginning it can be as simple as plants, rugs, and other household items. Later, you can move on to panels.
"It's all about experimenting. Next, I might try out audiophile fuses, tube rolling, and maybe even a SET tube amplifier. That's the fun part—the journey and the discovery of better sound."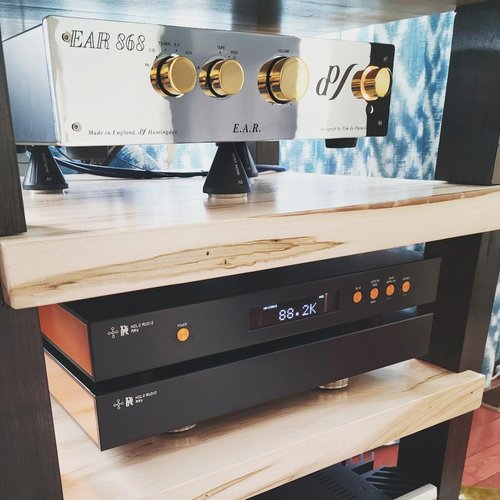 Price list:
EAR Yoshino 868 PL preamp with phono: $6000
Pass Labs XA30.8 amp: $7150
Holo May KTE DAC: $5600
Silent Angel Munich M1T streamer
/ optional Forester F1 linear power supply: $1700
Silent Angel Bonn N8 network switch: $550
Acoustic Solid 111 Metal turntable (with matching stand)
/ Jelco 9″ TK-850S tonearm / Hana SL MC cartridge package: $4800
Coincident Super Victory III loudspeakers: $11,500
If you have a system you'd like to talk about in our "No, I have the best system in the world!" series, let us know by dropping us a line here.