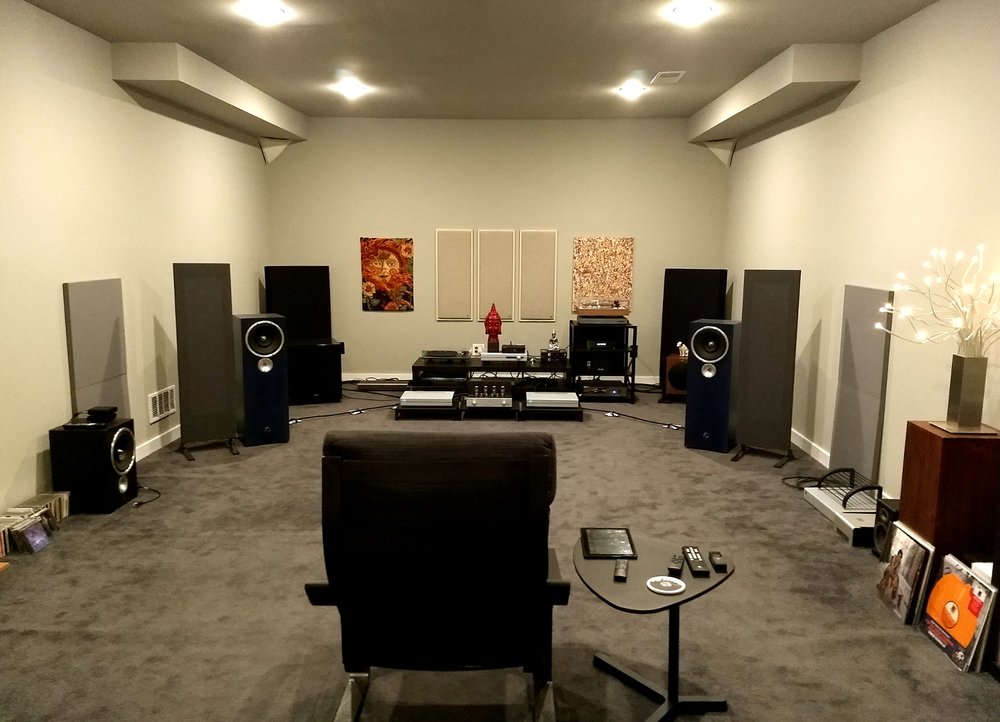 Prices listed are in US $
My setup has evolved over the last few years into one of the best I've ever heard anywhere, especially for one that hovers around the $50K mark, not an outlandish sum for a high-end setup.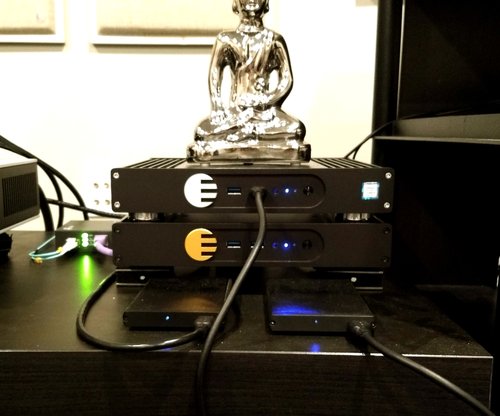 Nor is that 50k, technically, for only 1 system. My playback setup is really two systems in one. On one side is a digital front-end that features the Euphony Audio Summus/Endpoint server/streaming system ($8,543 w/power supply), playing into a PS Audio Stellar GainCell DAC/Preamplifier ($1,899) that feeds a pair of class-D PS Audio Stellar M700 monoblocks ($3,298). The M700s (700Wpc/4 ohms) provide ample power for my Magneplanar LRS loudspeakers ($1,009/p., w/stands). I'm also alternating between the GainCell DAC and a new Gustard X16 DAC ($499), with both connected via I²S digital to my Euphony stack. The I²S connection avoids multiple stages of digital reclocking, and the resulting sound has greater clarity and improved transparency versus an asynchronous USB connection. I've essentially abandoned digital spinning discs, although I do keep a Yamaha BD-A 1060 SACD player ($599) in the loop that sees occasional use.
Here's a secret I have to share with you: I recently installed a pair of ethernet-to-fiber optic media converters ahead of my Euphony streaming stack. The conversion to optical 1) completely eliminates any noise in the network signal, and 2) is completely impervious to lightning damage. The improvement made to my digital system in terms of clarity and transparency is remarkable, and everything involved cost less than $100 —best money I ever spent!
The second system is an all-analog rig that utilizes a dual turntable setup. Mono LPs are spun on a modded Rega P2 table ($875) fitted with an Ortofon 2M Mono cartridge ($378), playing through a Sutherland KC Vibe phono preamp ($1,295 w/power supply). Stereo LPs are spun on a ProJect Classic EVO turntable ($2,099) fitted with a Hana SL moving coil cartridge ($750) and plays through a Musical Surroundings Phonomena II++ phono preamp ($1,500 w/power supply ). Both phono preamps input into a PrimaLuna EVO 300 tube integrated amplifier ($4,695) that powers a modified pair of Zu Audio Omen loudspeakers ($1,500/p.). Both digital and analog systems share dual subwoofers from REL (T1, $998) and Definitive Technologies (Powerfield 1500, $998).
The construction of my 16' x 26' x 9' listening room in my new home was probably my last gasp of true audiophile-dinosaur mentality. Wall treatments from GIK Acoustics ($180), ASC Tube Traps ($227), Corning ($236), and Room Tunes ($160) were required to tame an aggressive slap echo and have greatly improved the room's overall response curves. AV Roomservice EVP isolation footers ($3,772) are placed beneath all source equipment and also below both subs. Phono preamps and the Euphony stack employ dedicated linear power supplies; the use of LPSs has lifted the performance level of both digital and analog playback significantly. Most of my interconnect, digital, loudspeaker, and AC power cables are from AudioQuest ($8,200 for the lot), and I also use AudioQuest Niagara power conditioning, including a Niagara 1200 ($1,295) and Niagara 3000 ($3,300).
Which reminds me of one of the most sage pieces of advice I can give you: Don't neglect or underestimate the importance that good power conditioning, good cables, and acoustic treatments can have on your enjoyment of music.
The wall treatments laid the foundation for my room and system synergy, but the upgraded cabling, power conditioning, and isolation devices have made the biggest overall difference in my system's sound quality. My listening room is the quietest I've ever experienced, and that level of quiet produces sound endowed with greater clarity, transparency, retrieval of fine detail, and a more solid stereo image. My system's noise floor is so vanishingly low, and the synergy between my room, the electronics, and loudspeakers so locked in and supremely musical, that listening to music isn't a process of me working it all out in my brain, but an effortlessly emotional one due to a more realistically portrayed presentation.
Many might scoff at the thought of building a reference system around two pairs of dissimilarly designed loudspeakers that each list near the $1K price point. Scoff on! The LRS was designed to play nicely with cost-no-object electronics, but Magnepans are legendarily inefficient, and their low impedance curve presents a devilishly difficult load to many amplifiers. I actually killed a pair of highly-regarded amps during the LRS break-in period, and have sent others into thermal shutdown simply trying to reach normal output levels. The latest generation of class-D amps are exceptionally musical, and have the power and current to control panel excursion and drive the LRS to satisfying levels. As good as it is, the LRS isn't particularly synergistic with certain genres of music, and that's when the Zu Omens take center stage.
The high efficiency Zu Audio Omens mate well with low-wattage tube amps. My PrimaLuna EVO 300 integrated amp (44Wpc/8 ohms), with its complement of EL-34 output tubes, drive the Omens to live-music levels (and beyond!) without breaking a sweat. But they're also capable of producing very seductive sounds, especially from LPs. While I feel that the sound of great digital has gotten much closer to that of analog's when it comes to musical involvement, I still enjoy the more organic presentation of vinyl—warts and all—and regardless of the additional playback hassle. And when the music demands to be cranked, the Omens definitely get the nod!
My server features over 2000 uncompressed 16/44 FLAC rips of CDs, mainly because I listen mostly to the music from the CDs I know and love. The server also holds over 400 SACD DSD 64 rips, along with hundreds of high-res PCM digital downloads, ranging from 24/96 to 32/352.8 DXD FLACs. I also have subscriptions to Qobuz and Tidal, and I have a Roon account. Qobuz and Tidal are great for accessing music you don't have on your server, and for discovering cool new music. Roon is probably the gold standard in library management, but I'm not particularly smitten with its sound quality—it's a tad lifeless for my tastes. Instead, I usually defer to Euphony's own interface, which is functionally nearly perfect, and the sound is unquestionably superior!
The Gustard X16 employs a pair of ESS Sabre 9068AS, 32-bit DAC chips, which are ESS' flagship stereo chipsets; compare their sound to the $7 Texas Instruments TI-1795 chip inside my Yamaha player and, trust me, there's no comparison. Analog playback through my tube-based setup is also exceptional, and both the Ortofon 2M Mono and Hana SL cartridges are superb at extracting all the information from LP grooves. And there's no excessive spotlighting of pops or ticks.
I always enjoy getting other people's impressions of my setup. My daughter, Julie, and her family came over recently, and my son-in-law Andrew asked if we could listen to a few tunes that highlighted my system's strengths or that I had a strong emotional connection to. I placed Andrew in the sweet spot, we dimmed the lights, and we all listened for an hour to music crossing many styles. Andrew consistently commented on how easy it was to visualize the performers in the soundstage and pinpoint the locations of the instruments. And listening to vintage RCA LSC records, he also noted that he felt transported in time to the location of the recording—it was almost as if we were present at the actual event. Those comments thrilled me to no end!
Julie and Andrew are true millennials, and they're both multi-instrumentalists that played in a band together for years before deciding to take a break and raise a family. But their experiences with recorded music are pretty much limited to iPods over a pair of cheap earbuds, or whichever streaming service they're currently accessing via their iPhones. This was the first time that either of them had shown any significant interest in my audio obsession, and I was truly pumped that they both seemed to be getting it!
Both of these systems are impressive on their own merits. For just north of $18K, you could choose the digital system, or, for just south of 16K, the analog one. Or you could get both for $34-$35K. But it's worth repeating: to get the most out of your system, you'll need to spend a few thousand dollars more for wall treatments, cables, power conditioning, etc. Once you do, you won't believe the sound your setup is capable of.
Dream system? You bet!
If you have a system you'd like to talk about in our "No, I have the best system in the world!" series, let us know by dropping us a line here.