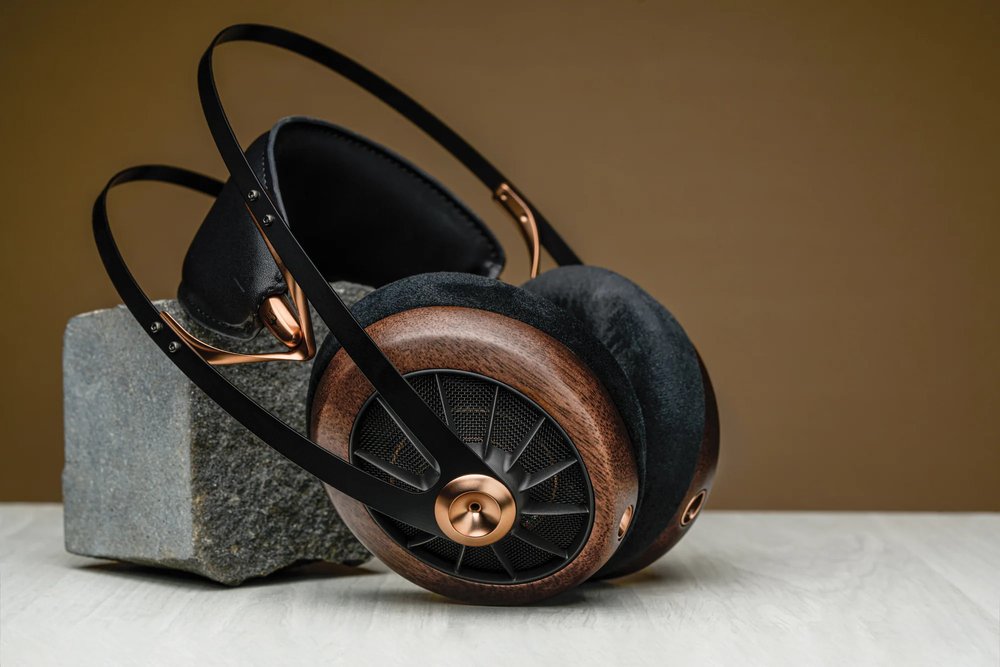 Powered by a 50mm dynamic driver, the Meze Audio 109 PRO delivers an emotionally engaging sound with great detail and clarity.
BAIA MARE, Romania – September 15, 2022: Meze Audio, award-winning high-end headphone manufacturer, announces its first pair of dynamic open-back headphones – the 109 PRO. Made from carefully curated and responsibly sourced materials, including walnut wood, zinc, manganese steel and vegan leather, the 109 PRO is a comfortable, lightweight, yet highly durable headphone capable of producing a natural, emotionally engaging listening experience.
"Our obsession with art, exceptional sound and timeless design drives us. We only create what we love, and the 109 PRO is no exception to that," said Antonio Meze, lead designer and founder, Meze Audio. "We poured our soul into every aspect of its design – from the premium materials used to its intricate engineering. And because we don't follow trends, nor do we let them influence us, the 109 PRO is built to sound, look and feel great for years to come."
109 PRO DIAPHRAGM DESIGN:
At the heart of the headphone is the 109 series Dual-Composites diaphragm, featuring a Beryllium-coated semicrystalline polymer torus, a cellulose-carbon fibre composite dome and a copper-zinc alloy ring stabilizer.
The superlight but stiff cellulose composite reinforced with carbon fibre makes it possible for the W-shaped dome to reproduce high frequencies (5Hz-30KHz) with incredible detail, clarity and definition. This composite is superior to conventional alternatives used in dynamic drivers, and its low mass and stiffness helps avoid resonances that may lead to harmonic distortion.
The ultra-thin torus (22 microns) surrounding the dome is constructed out of a Beryllium-coated semicrystalline polymer, which contributes to greater clarity and a faster transient response. The high dampening qualities of Beryllium also suppress unwanted resonances, leaving listeners with a more neutral, vivid and transparent experience.
Around the circumference of the membrane, the ring-shaped stabilizer made of copper- zinc alloy improves the absorption of vibrations to reduce distortion even further. In addition, the diaphragm is encased in a high-precision machined aluminum frame that has superior rigidity to typical plastics frames and retains perfect surface flatness, which is essential for the precision assembly with the diaphragm.
109 PRO ACOUSTIC DESIGN
The spider-shaped structure and acoustically transparent grill inside the earcup exposes the driver from both sides, creating Meze Audio's most open pattern to date; whilst the driver, placed at a precise angle and distance from the ear, achieves the ideal anatomical fit for the most natural listening experience possible.
Soft, breathable velour and memory foam earpads comfortably envelop the ears, providing the optimal seal to create an immersive experience. The self-adjusting, spring steel headband distributes weight evenly to relieve pressure, for a more comfortable experience that allows the listener to be fully present.
TECH SPECS
Transducer Size: 50mm
Frequency Response: 5Hz – 30KHz
Sensitivity: 112dB SPI at 1KHz, 1mW
Impedance: 40 Ω
Weight: 375 gr (13 oz) without cables
Ear-Cups Black Walnut Wood
SUPPLIED ACCESSORIES
Case: Hard EVA pouch
Two cables included: 1.5m soft TPE cable with 3.5mm jack & 3m soft TPE cable with 3.5mm jack
Adapters: 6.3mm jack adapter
Meze Audio 109 PRO is available now at mezeaudio.eu and hi-fi retailers, retailing for $799 / €799 / £749