All prices listed in $US. All photos by Mike Harkins.
The Florida Audio Expo, which ran from February 17 to 19 at the Embassy Suites by Hilton Tampa Airport Westshore Hotel, proved a nice escape from winter's chillier climes in other parts of the country and internationally. The pandemic-induced drop in exhibitors and visitors at the 2022 show, which counted a total of 48 exhibit rooms, was a thing of the past. This year's edition boasted 77 exhibits, with over 180 brands on display. It's impossible to know precisely a show's attendance figure since spouses and students get in for free, but organizers estimate that this year's figure was over 2500. I saw many spouses and even families, who, judging by their happy demeanors, were having a great time. Kudos to the show's organizers for giving the Florida Audio Expo a family-friendly vibe.
Formerly called FLAX, this was the second Florida show I attended, the first being the inaugural event in 2019. This year's was a huge success, with many exhibitors and attendees, according to one of the show's organizers, Bart Andeer, having come from overseas. The rooms at the venue were largely the same area-wise, and since they were suites, some exhibitors used the extra bedroom as an auxiliary exhibit space. And some used the two rooms to showcase, on the one side, an affordable system and, on the other side, a cost-no-object one. There were many unique designs at the show, demonstrating that there are no limits when it comes to the inventiveness of today's most passionate audio designers.
A challenge when trying to listen seriously to a demo is the bass seeping in from the other rooms, making it hard to evaluate the bass response from the system in front of you. Also, certain tracks are often used as favorites that, in my opinion, are great for demos, but not so great for evaluating our music. I can't tell you how often I heard Anette Askvik's song "Liberty", London Grammar's "Hey Now", or Boz Scagg's bass-challenging "Thanks to You". Due to the iffy quality of the internet connection, some exhibitors were reluctant to let us play the tracks we wanted to hear, i.e., less well-recorded ones. But others had no qualms about it.
One of the first demos I heard had some of the most eye-catching gear I saw at the show (photo 1). It included VAC Statement 452 Musicbloc monoblocks ($75,000 each), Statement line stage ($80,000), Statement phono stage ($80,000), an Oracle/Reed/Lyra turntable package ($29,665), an Aurender N30SA music server / streamer ($25,000) with MC20 Reference master clock ($30,000), and Acora Acoustic's new flagship VRC in GT Pearl Granite ($230,000), made of solid granite and weighing more than 400 pounds each. Toronto-based Acora has a full line of speakers, including these "rock" solid beasts designed to be free of cabinet resonances. Sitting in the "Wow" seat in this large room, I thought, "Wow! This system is really good." The sonics were enveloping and detailed and this might've been the best room at the show.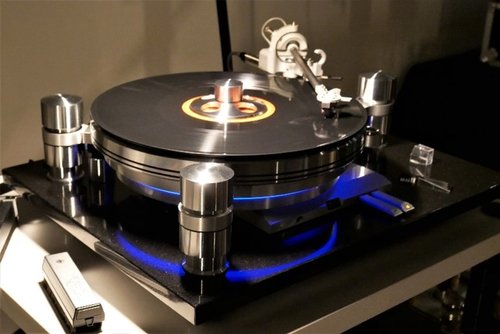 In a discussion with VAC representative, Spencer Farrell, the subject of tube amplifiers' appeal among audiophiles came up. His take was that many people assume that a tube amp naturally sounds warmer than a solid-state one, but that's not necessarily the case. It depends on the objective of the designer. He thinks that because tubes generate heat, it puts the notion of warmth into some people's minds.
We also agreed that tube gear is somewhat of a niche market in the audio industry. The majority of music listeners don't want to get involved in the perceived hassle of tube maintenance or the archaic nature of tube technology, or simply might not be fans of the unique characteristics of tube sound. Still, tube gear has its legions of fans, not only among audiophiles, but manufacturers. I counted at least 12 different brands of tube amplifiers at the show, and saw several different and unique designs of various tube equipment being demoed.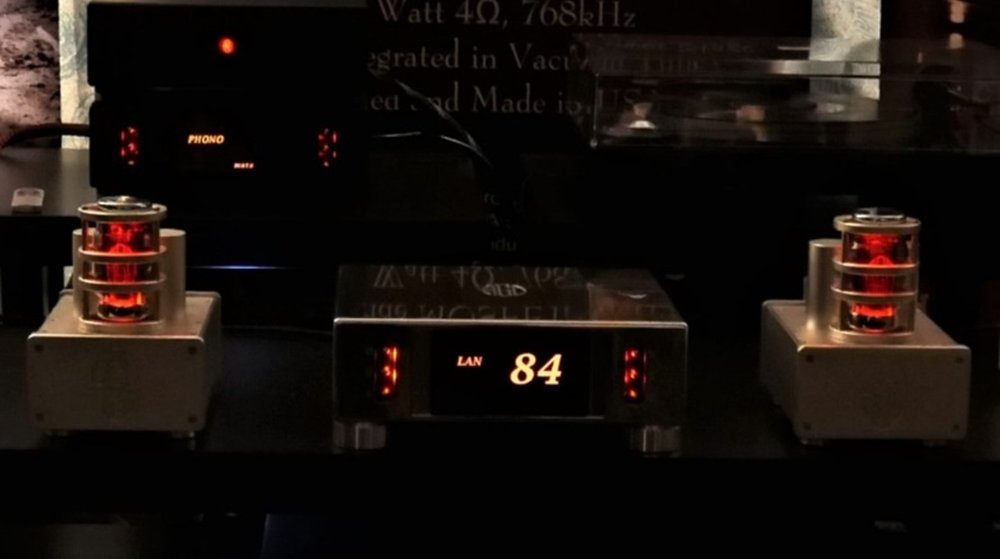 One such design was equipped with the gallium-nitride hybrid tubes seen in the AGD Production room (photo 3). Company President Alberto Guerra was kind enough to show me these tubes, which he designed as output stages for the amplifiers on display. These are not tubes in the traditional sense. These are tiny circuit boards embedded in a tube/solid-state package. When in operation, they give off an orange glow, much like a traditional tube, but it's merely an illusion—the orange glow is emanating from a light source inside the tube. Who wants tubes without the orange glow? Guerra said the tubes give off very little heat since their GaN transistors are quite efficient and effective in providing amplification without wasting much energy. And yes, they do sound nice, almost like tubes—or was that because of the warm-looking glow?

AGD displayed and demoed several products, including their flagship Andante SE Pre-DAC streamer / phono ($13,999)with its nicely polished finish. The Audion MKII monoblocks ($7,500 / pair) can output 75 watts into 8 ohms and twice that into 4 ohms with very low harmonic distortion. Centered around the crafted-in-Florida Ocean Way Eureka speakers (starting at $13,000), the system sounded superb.
On the 2nd floor, where the larger rooms were located, I came across a room featuring power conditioning from S.I.N. Audio and cables from Albedo. In use was S.I.N.'s PSD-10 Anniversary Unlimited Edition power distributor (10 outlets) ($10,000), along with a variety of Albedo's pure silver monocrystal cables, including their Reference Aes/Ebu digital cable ($900), Metamorphosis Signature RCA interconnects ($7,250), and Metamorphosis MK II speaker cables ($10,000). These are base prices for the shorter models. Silver is not cheap! I won't enumerate all the racks, cable lifters, and other accessories around the room, but there were plenty.
The system was fronted by a pair of 3-way Lansche Audio floorstanding loudspeakers ($49,500), driven by a trio of Thrax Audio electronics, including the company's Dionysos tube preamplifier ($27,000), Maximus MK II Silver DAC ($38,500), and Teres Mono MK II hybrid amplifiers ($37,500), which output 250W each. Thrax makes literally everything in-house and supplies a variety of components to other manufacturers. Theirs is a full-service, vertically integrated operation.
The Lansche speakers are unique in that they contain a plasma high frequency driver, which glows a black-light violet color from the lensed front of the speaker's driver array (photo 4). It requires an AC source to function, but I was told the power consumption is quite low despite its operating temperature of 357 °C. This unique tweeter has no magnetic structure and no mass other than air. High frequency response is said to extend to 150 kHz. The model demoed was one of the mid-line products in their speaker range. The sound was superb, as one might expect from a cutting-edge design fed by some of the finest products at the show.
Still on the 2nd floor, I came across a well-known purveyor of cables, DH Labs, whose Silver Sonic cables were on display in the hallway. With so many expensive cables at the show, I found DH Labs's wares to be refreshingly reasonably priced for what looked like well-built, high-quality products constructed of silver-coated, continuous crystal copper, a PTFE dielectric, and vibration damping fibers. Speaker cables were priced at $215 for an 8-foot pair of their T-14 model up to $4,900 for an 8-foot pair of the company's top-of-the-line Deity model. The Deity uses a solid silver conductor and is built to exact tolerances and hand-terminated. It contains 12 individually insulated 20 AWG pure silver conductors in an interweaved helical array, encompassing two 14 AWG silver-coated Continuous Crystal™ conductors. A proprietary air-PTFE dielectric is wrapped around each conductor, said by DH Labs to give the cables the lowest dielectric loss of any commercially available cable. The Deity is also beautifully constructed and available with silver spades or bananas. The price gap between the T-14 and Deity may be huge, but intermediate models are also available for those who can't afford the ultimate or see no added benefit in going with solid silver.
TAD Laboratories is a high-end Pioneer spin-off tasked with designing high-performance speakers, amplifiers, DACs, and CD players. The new models were on display in Tampa, and the company's president, Shinji Tarutani, was on hand to talk about his company's latest products.
At one end of the room were TAD's new bass-reflex CE1TX standmounts ($32,500) from the company's Evolution series, and at the other end, models from their top-of-the-line Reference series. Listening chairs were packed with eager attendees, myself included. We listened to Patricia Barber's "Use Me" and "Hunger" at medium volume, when I noted some unusual reverberation during parts of the latter track. The album's record producers, Jim Anderson and Ulrike Schwartz, who were in the room with us, described the sound as an effect coming from the stairwell adjoining the Chicago recording studio. I had never noticed it before.
Musically, vocals were nicely articulated and percussion sounded authentic, with a strong bass backing. In fact, I thought the bass was impressively pronounced for a speaker this size. Imaging was near-perfect.
The CE1TX uses a concentric tweeter/midrange driver, which made for a seamless mid and high range response. Every TAD speaker model uses this driver, called a CST mid-tweeter. Bass is handled by an 18cm (7") bass driver with porting done via a newly designed Bidirectional ADS Port, which , according to the company's website, "places slit-shaped ports (ducts) in right and left side-panels with flared openings to the front and rear to allow air to flow smoothly through them on each side of the speaker." Airflow from the ADS Port sounded utterly smooth.
On the 11th floor, I was abducted (in a friendly way) by an exhibitor, M101 Hi-Fi Audio's Lubomar Dostal from room 1111. He asked if I'd come to his room to experience some cable magic. I'm not the Cable Guru, who, according to legend, has seen with his inner eye every single audio cable ever made, but the cables being demoed in Dostal's room were like none I'd ever seen. For instance, M101's Supernova speaker cables consisted of bare wire stretched out in a spiral pattern and covered with a thin web-like foam, making the interior see-through (photo 6).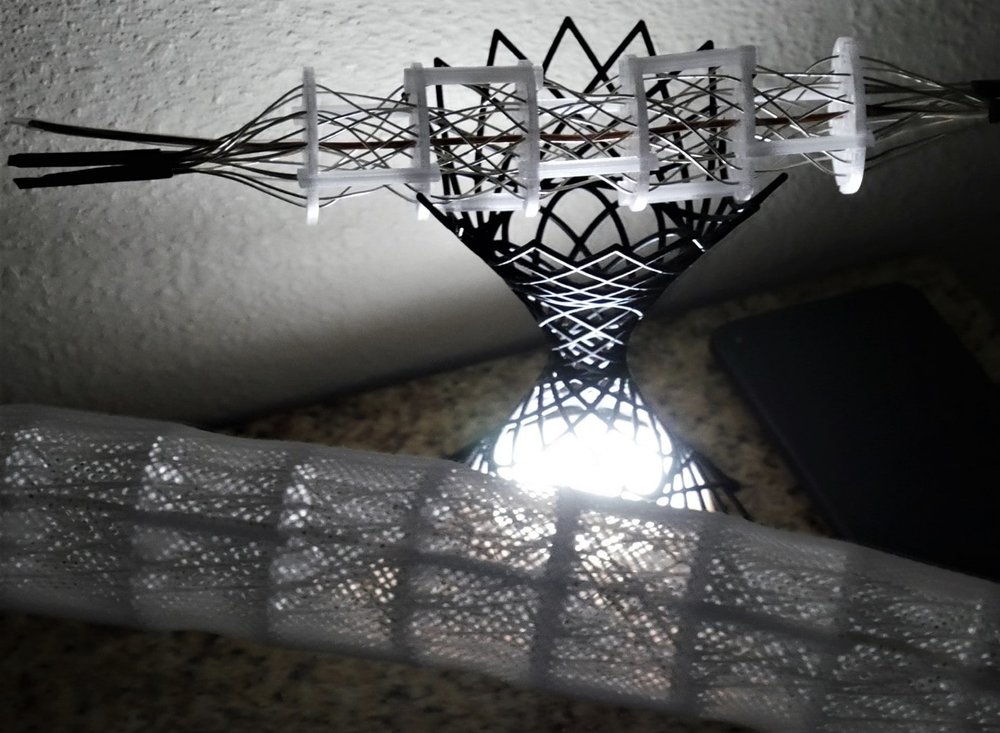 An assortment of M101 cables strung together a system comprising a Mola Mola preamp equipped with a Tambaqui DAC and phono stage ($23,400), a pair of Mola Mola 400W (into 8 ohms) class-D monoblocks ($17,000 for both), an Audiophool Cisco 2960 modified digital switch ($550), a PI Audio Group UberBuss 8-outlet power conditioner, and a pair of Paradigm Persona 3F speakers ($12,000). Lubomar performed an A/B shootout between the M101 Nova Ethernet (LAN) cable (799 / .75m) and a generic Ethernet cable. The technology involved in the Nova cable can be found on their website at https://www.m101.com, so I won't go into it here. But in switching out the cables, I could detect perhaps slightly more openness in the sound through the Nova, but I didn't hear a huge difference. As with any premium cable, it's advisable to audition it prior to purchase or look for a good return policy. Someone with more discerning ears than mine may be able to experience something more jaw-dropping than what I did.
That said, I thought the system sounded very good. It was here that I finally got to play one of my favorite evaluation recordings, "The Ghost", from the Kenneth Branagh-starring "Hamlet" soundtrack. The music, composed and conducted by Patrick Doyle, starts out dramatically with much percussion and orchestral flourishes, then settles down with a bass drum providing a slow foundational rhythm. The soundstage definition provided by the solo instruments, violin, viola, cello, flute, and oboe can sound remarkable on this recording and the system pulled it off well. The work is quite revealing, and has a bass drum that can be hard to pull off because the fundamental is way down there. While the Paradigm Persona 3F speakers, in this setup, couldn't quite reach that lowest bass drum fundamental, they came very close.
Always the bargain hunter, I enjoy finding things that, singly or in a set, offer great value. There were several of these at this show, but the two that most caught my attention were those found in the Q Acoustics room on the 10th floor, and in the MoFi room on the 8th floor.
Q Acoustics showed their Concept 50 speakers ($2000/pair) (photo 7), driven by a dual-mono Audia Flight Three S integrated amp ($3999) and Audia Flight CD Three S player with optional digital input board ($4,498), and an Innuos ZENmini Mk3 streamer ($1600 to $2000 depending on hard drive size). I was particularly intrigued by these relatively small speakers, which use a Gelcore™ cabinet construction along with a completely decoupled tweeter held in place with a specialized anti-vibration material. Several other design features are said to make this speaker nearly impervious to sound-degrading resonances. The result was a superb sounding speaker. I'm not sure you can get a better speaker at its price point.
MoFi's new SourcePoint 10 loudspeaker ($4,000 / pair) was another highlight (photo 8). Although I'm not sure it sounded much better than Q Acoustics's Concept 50 speaker, the SourcePoint delivered deeper bass. This was only the second time these speakers were demoed at an audio show, so the room was well attended and often too crowded to get in. Jones was there to talk about the speaker's design and how he went about innovating many of the speaker's components to create a new, flexible, retro-styled, concentric-driver design that incorporates philosophies Jones developed from his prior experiences at KEF, Infinity, TAD, Pioneer, and ELAC. These MoFi speakers weigh a hefty 46 pounds and are quite large for a standmount speaker, so it's almost mandatory to spend the additional $300 for the matching stands to assure a stable support.
The room had source equipment priced at $3,700, namely the all-in-one HiFi Rose RS520 hybrid amp and network streamer (available in black or silver), so it's possible, from what I heard here, to get an excellent-sounding system for less than $10,000, cables included. Jones mentioned that the SourcePoint's 10-inch woofer provides real bass response down to 42Hz (anechoic, -6dB), emphasizing that anyone who cites "in-room" bass extension isn't being completely honest.) With a sensitivity of 91dB and a nominal impedance of 8 ohms that doesn't drop below 6.4 ohms, the SourcePoints are easy to drive. In a brief discussion with audience members about cabling, Jones said that a well-designed, well-built speaker should be mostly immune to amplifier and cable variations.
At one point, Jones remarked that many people ask him about whether to play the speakers with the grilles on or grill off. "Come on!" he said. "The obvious answer is grilles off!" But he did concede that a grille can help keep prying hands away from the speakers workings, so they can serve a purpose.
Another approach to the concept of a point-source loudspeaker was undertaken by Endow Audio, whose methodology is different from that of MoFi. Previously, Endow Audio had developed a point source loudspeaker with a woofer and full-range driver array mounted in a semi-spherical pattern with some drivers aimed inside the cabinet and others outside. It was a strange configuration that sold for $44,000/pair. The company admitted the product may have been overpriced and that they had endeavored to do better. That "better" was on display in Tampa—their latest model, the Bravura 12—which spoke with compelling bass and offered an intriguingly imagined approach to the point source concept. The new model sells for $14,000/pair—a bargain compared to their previous offering. It features dual 12-inch woofers in a sealed cabinet, said to extend to 30 Hz. But the unique design of the drivers and their configuration sets this speaker apart. Made of a 3D printed carbon copolyester (a thermoplastic resin), the horn-like structure comprises a central tweeter and nine concentric 1.5" midrange drivers firing outward from the periphery of the horn (photo 9). This design places the midrange and tweeter drivers equidistant from the listener's ears. The sound emanating from these unusual speakers was as good as nearly any I'd heard in the regular rooms at the show. The only drawback I noticed was the speakers' low efficiency. With a sensitivity rated at 84dB, the manufacturer recommends driving them with a 300W amplifier. Worth a listen, though, and a huge improvement from Endow's previous model, at a much lower price.
Streaming devices being exhibited included several models from Innuos, Lumin, Chord, Auralic, and Aurender, among others. But Aurender models seemed the most popular. I spotted them in at least eight rooms, including the Acora/VAC/Lampizator one, which was using Aurender's flagship N30SA music server / streamer and MC20 Reference master clock. The Joseph Audio room was showcasing Aurender's A20 Reference analog output network player ($15,000), feeding a Doshi Evolution preamplifier ($19,995), a Doshi Evolution stereo amplifier ($21,995), and a pair of the gorgeous Joseph Audio Pulsar2 Graphene speakers ($13,650), all of it tied together with Cardas cabling. This system sounded great.
One of the issues with audio streaming is that you need a robust internet connection to get the best sound quality from your streaming device, and even the premium Internet service at the Embassy Suites wasn't adequate for everyone. Qobuz to the rescue! The French company handed out a Qobuz playlist of hi-res music on a USB key to many of the exhibitors as a way to circumvent a sometimes flaky internet connection.
In addition to all the equipment and musical offerings on display at FIAE, there were some informative and entertaining events and conferences. I didn't go to all of them, but one I found particularly interesting was hosted by Jim Anderson and Ulrike Schwartz. Recently nominated for their work on Patricia Barber's 2021 album Clique, Anderson and Schwartz have worked with Patricia Barber for 30 years. They talked in depth about Barber's Modern Cool—for which Anderson won a Grammy for his surround-sound version, considered by many to be one of the best-sounding acoustic recordings made for the SACD format. Anderson and Schwartz described how Modern Cool and other spatial recordings are conceived.
On Sunday, February 19, on the way to the airport, I had the serendipitous privilege of sharing a ride with both Anderson and Schwartz. It turns out that Anderson has a Marantz AV processor setup in his home nearly identical to mine. He also bought a Sony Blu-ray player to allow him to play many of the surround-sound tracks now available on Tidal and Qobuz, among others. I'm more of a 2-channel guy, but surround sound intrigues me and, when the mood's right, is something I enjoy listening to. Jim said he simply plugs a USB memory key into his Sony player and voila!!! Surround sound from the new 5.1 channel tracks available for download. That's something I'll have to try as I've only played surround sound via audio DVD formats or multichannel SACDs.
Another very informative session came from Wally Tools, the company that makes setup gear for turntables and cartridges. Wally Tools's J. R. Boisclair did a fantastic job of addressing the important and often difficult tasks involved in optimal cartridge set up. To achieve this, geometry of the stylus tip and the function of the cartridge is controlled by seven different parameters to be measured accurately and adjusted by the user. These parameters include 1) Overhang, 2) Vertical Tracking Force, 3) Horizontal Forces (internal, anti-skate, stiction), 4) Stylus Rake Angle, 5) Vertical Tracking Angle, 6) Azimuth Angle, and 7) Zenith Correction Angle. Let's just say that undertaking such an activity is not for the faint of heart or the klutzy.
If you're neither, Wally Tools offers a means to address all these parameters, with the exception, so far, of zenith angle, which refers to the angle of the stylus tip with respect to the cantilever. Boisclair mentioned that there are only four companies in the world that make stylus cantilevers and their tolerances often make getting the needed zenith angle impossible. Fortunately, the company is working on a multi-angled zenith angle gauge for home users to compensate for zenith error.
There were other events at the show, including live music from Canadian harpist, Isabeau Corriveau, who filled the lobby area with wonderful live music. A jazz band also entertained at times throughout the weekend. All in all, this expo was well organized and a real treat for the eyes and ears. Thanks to Bart and the rest of the team in Tampa for putting together a fabulous mid-winter show that offered a welcome respite from the harshness of freezing weather and bad audio. I intend to come back.