While the Supremes, with the support of their writing and producing team of Lamont Dozier and brothers Brian and Eddie Holland, a.k.a. H-D-H, continued their winning streak with "I Hear a Symphony" in October, 1965, and "My World Is Empty Without You" in December of the same year, squeezed in between those two months, in November, Smokey Robinson and The Miracles had a major hit with "Going to a Go-Go" .
Second in line in the Motown hierarchy were the Temptations—the five-part harmony vocal group whose lineup changed often throughout the years. Broadly keeping pace with their Supreme sisters, the polished choreographed quintet from Detroit hit their stride in February, 1966, with the up-tempo "Get Ready", the last single produced by Smokey Robinson, with falsetto Eddie Kendricks singing lead. The group Rare Earth would later cover the song, releasing a much longer, harder rocking version in September, 1969.
In May, 1966, hot on the heels of "Get Ready", the Temptations released "Ain't Too Proud to Beg", their first single produced and co-written by Norman Whitfield. Both "Get Ready" and "Ain't Too Proud to Beg" appeared on the Temptations' fourth studio album, Gettin' Ready.
The Supremes countered with "Love Is Like an Itching in My Heart" in April, 1966, and "You Can't Hurry Love" the following July, both reunited a month later on The Supremes A' Go-Go LP.
The Supremes A' Go-Go fed on the go-go craze at the time, a dance fad that originated in the early '60s at Paris' Whisky à Gogo discothèque (est. 1947) before becoming an American pop culture phenomenon when it was adopted by Americanized versions of the French venue in Chicago, Illinois, and on the Sunset Strip in Hollywood, California. Featuring go-go dancers in ceiling-suspended go-go cages, the club in California even had the first female deejay, Joanie Labine, spinning records between live music sets from a suspended booth to keep the crowd dancing.
Hits for the Supremes kept on coming with "You Keep Me Hangin' On" in October, 1966. Both the Temptations and the Supremes benefitted greatly from their numerous appearances on The Ed Sullivan Show.
Not to be outgunned, the 'Tempts' counterpunched with "(I Know) I'm Losing You" in November, 1966, foreshadowing a shift in the melodic style the group would soon adopt. "All I Need", released in April, 1967, would be the Temptations' last hit single to fit the description of the light, upbeat Motown sound that had been their mainstay since their inception and propelled them to stardom. Both "(I Know) I'm Losing You" and "All I Need" would appear on The Temptations with a Lot o' Soul in July, 1967.

Also from Detroit, the Four Tops were a vocal quartet originally called The Four Aims, who had a few feel-good hits circa 1964-65, such as "Baby I Need Your Loving"—covered by Carl Carlton in 1982—"I Can't Help Myself (Sugar Pie Honey Bunch)"—covered by Bonnie Pointer in December 1979—and the Top 10 charter "It's the Same Old Song". They reached their zenith in October, 1966, with "Reach Out I'll Be There"—revisited by Gloria Gaynor on her debut album from 1975, Never Can say Goodbye.
Equally excellent is the H-D-H-penned "Standing in the Shadows of Love", released just a month after "Reach Out I'll be There", and covered by Barry White on his debut album, I've Got So Much To Give, in March, 1973. Lastly is the Four Tops' "Bernadette", released in February, 1967. All three tracks—"Reach Out I'll Be There", "Standing in the Shadows of Love", and "Bernadette"—appeared on the Four Tops' Reach Out in July, 1967.
"Breakin' out a sweat!" – James Brown
Also released in July, 1967, was James Brown's"Cold Sweat", co-written, along with Brown, by Brown's bandleader and eventual music director, Alfred "Pee Wee" Ellis. Inspired by Miles Davis' "So What" from Kind of Blue, Ellis incorporated the latter's horn intro into "Cold Sweat".
Unlike previous pieces by Brown, "Cold Sweat" marks a definite departure from traditional pop or soul songs as it espouses nearly no chord changes save in the bridge. Brown's singing style begins to display more percussive signature elements, such as "Ha!", "Ho!", "Huh", "Uh!", and "Ohhh".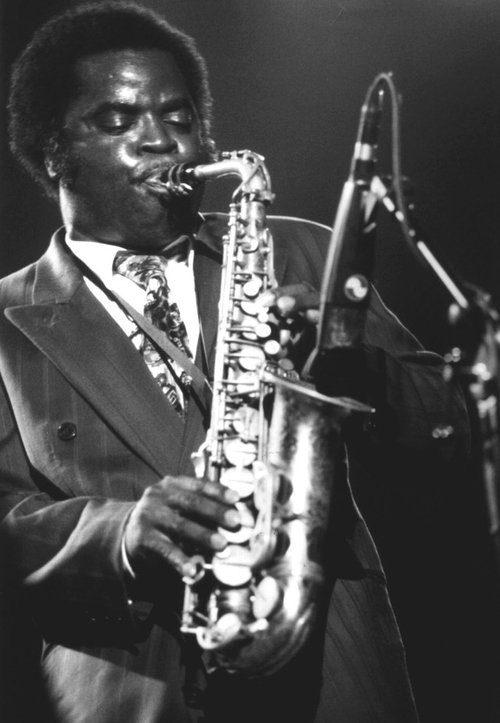 As well, Brown's shouted code words or instructions to the band, such as "Maceo!"—a signal to saxophonist Maceo Parker to launch into an improvised solo—or, "Give the drummer some!"—a directive to the band to stop playing so drummer Clyde Stubblefield can perform a funky, unaccompanied solo referred to as a "break", as in "a break from the song"—make for a riveting and animated performance. It was also the first time a drum break was put on record. It wouldn't be the last, of course; the drum break would go on to be appropriated for early hip hop sampling. Even sooner, it became a defining characteristic of disco music, as did the buildup after the break, wherein the bass line groove, then the voices of the other instruments, take turns reentering the scene. Later in the song, with a "1-2-3-4-Hit it!", Brown gathers his troops, who make a triumphant return, sounding once more like the tightest, meanest funk band on the planet.
Released in October, 1967, the frenetic "Get It Together" highlights the band's impressive staccato chops, especially in Part 2, as members, spurred on by Brown calling out their names with playing instructions, respond to the Godfather of Soul with funkified élan and breakneck precision.
"Let's hit it and quit!" – James Brown
For my next installment, coming soon, "be sure to wear flowers in your hair…"
---
Reference List (Singles, albums, and labels):
"I Hear a Symphony" [Motown M-1083 or MS 643]
"My World Is Empty Without You" [Motown M-1089 or MS 643]
"Going to a Go-Go" [Tamla S-267 or T 54127]
"Get Ready" [Gordy 7049]
Get Ready [Rare Earth RS 507]
"Ain't Too Proud to Beg" [Gordy 7054]
Gettin' Ready [Gordy G 918]
"Love Is Like an Itching in My Heart" [Motown M-1094]
"You Can't Hurry Love" [Motown M-1097]
The Supremes A' Go-Go [Motown MS649].
"You Keep Me Hangin' On" [Motown M-1101]
"(I Know) I'm Losing You" [Gordy G-7057]
"All I Need" [Gordy G-7061]
The Temptations with a Lot o' Soul [Gordy GLPS-922]
"Baby I Need Your Loving" [Motown 1062 or MS-622]
"Baby I Need Your Loving" [RCA Victor PD-13314]
"I Can't Help Myself (Sugar Pie Honey Bunch)" [Motown M-1076 or MS-634]
Bonnie Pointer [Motown M7-929R1]
"It's the Same Old Song" [Motown M-1081 or MS-634]
"Reach Out I'll Be There" [Motown M-1098]
Never Can Say Goodbye [MGM Records M3G 4982]
"Standing in the Shadows of Love" [Motown M-1102]
I've Got So Much to Give [20th Century Records T-407]
"Bernadette" [Motown M-1104]
Reach Out [Motown MS-660]
"So What" Kind of Blue [MoFi MFSL 2-45011, Columbia]
"Cold Sweat" [King Records 45-6110 or 1020]
"Get It Together" [King Records 45-6122 or 1020]