Downsizing. It's not for everyone.
While we've all been cocooning like hermits and stocking up on toilet paper to wait out the Great Endless Virus(es), our dear friends in The Billionaires Club have been killin' it like villains.
According to Fortune Magazine, while we were being furloughed and our fave bistro went broke, the world's richest 10 men doubled their wealth from $700 billion to $1.5 trillion. Elon Musk amped his bank account by 1000% (not a typo), and 2,755 other billionaires did better during COVID-19 than they did over the previous 14 years. A report from charitable organization Oxfam cheekily noted that "if the top 10 billionaires sat on top of their combined wealth piled up in U.S. dollar bills, they would reach almost halfway to the moon." Which Elon could probably confirm from his rocket ship! Feel better?
Which brings us to Adele.
In 2021, and now 2022, the English singer with the Ferrari pipes is a one-woman engine for the record industry. And, unfortunately, as the story of her cancelled/postponed Las Vegas Revue evolves, the news carried unfortunate echoes of what I'll call "pandemic bad faith".
By now, you've probably seen the video of the world's biggest singer apologizing and apologizing for having to yank on January 20—one day before it was set to begin—her "Weekends with Adele" Las Vegas extravaganza (a tautology, yes) from the exceedingly thin calendar of Pandemic Year 3 concerts. "I'm sorry" she bawled. "But… my show ain't ready. We've tried absolutely everything that we can to put it together and for it to be good enough for you." It all seemed sincere, and heartbreaking—the atonement version of an Adele song. She might have broken into "Easy On Me" to close it out. The announcement was the biggest music story of the early year. And hoo boy, did she come by that clout honestly.
You may have noticed that streaming dominated the music landscape for years. However, 2021 witnessed the unlikeliest of comebacks—actual physical album sales, with both CDs and vinyl racking up high numbers according to the year-end music report from MRC Data. In 2011, vinyl made up a measly 1.7% of physical units of music; last year, that rose to a stunning 50.4%… putting CDs at #2.
And yeah, that was spearheaded by Adele.
The release of 30, her first album in 6 long years, drove one of the highest-selling weeks in vinyl in decades, selling 108,000 copies in its first week—the second-largest vinyl sales week in 10 years (again, MRC Data). It sold 692,000 CDs, LPs, and digital album downloads in the first week of release and a total of 225,000 copies in the second week, and is the first new album, according to Billboard, to cross the one-million-sale threshold since Taylor Swift's Folklore album in October, 2020.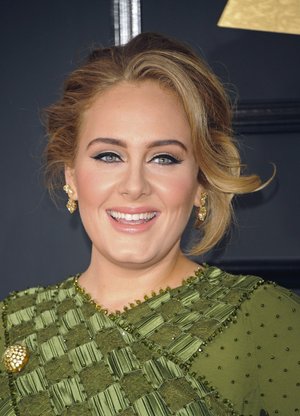 If someone, aside from your stoner nephew who quit high school to DJ, had predicted all those numbers a few years ago, you'd have taken away his car keys. All of this is important because CD/vinyl sales not only boost label revenue/stature, and please fans of tactile formats, but put money in artists' pockets. Spotify streams do not. Ask Neil Young.
Adele Laurie Blue Adkins has achieved that most coveted status of artist/entertainer: the generation-overarching, demographic-smashing, irony-transcending zillion-seller. Sure, your daughter loves her. So does your grandma. And your dad. And your brother. And yes, you, tough guy—in your secret dark night of the tearstained pyjamas. This is not MOR (Middle-of-the-Road)—she's become the female incarnation of the accursed Valentine's Day, the empath with the voice of a dozen pious pop-soul gears, whose every ballad is a sledgehammer to the quivering ventricles of every lovelorn singleton and brokenhearted dumpee. In music industry terms, it's Adele's world and we just weep ourselves asleep in it.
All the more reason her scheduled Las Vegas residency set for Fridays and Saturdays, from Jan. 21 to April 16, in the Colosseum in Caesars Palace was important. Why?
In this, the 3rd Year of the Big Zilching, the absence of everything we counted on, one lesson we've learned is that live music is not a commodity or an entertainment luxury. It is a necessity. It is the arena of all feeling. With all due respect to the NFL (which I watch near obsessively), football is popcorn. Live music is O2. And after so many cancellations of tours/festivals/local pub gigs, this looked like the beginning of a new era. Yay Adele!
So, what happened? Well, what happens in Vegas may stay there, but what doesn't happen doesn't. Once the leaks started pouring out, they didn't look good.
"I'm sorry" Adele sobbed. "But… my show ain't ready. We've tried absolutely everything that we can to put it together and for it to be good enough for you."
Good enough?
In 2022, Adele could sing from a spotlit Port-O-Let next to a dumpster and it would be "good enough." Instead, it was reported that an intended 100-voice choir had to be pared back to a mere 60 due to Omicron delays and singers being unable to travel.
"Sorry it's so last minute," Adele said. Indeed. People had already flown thousands of miles for the opener. And the New York Post reported that one snafu involved a show-stopping scene, where the singer was supposed to float up from a pool. When she saw the final design of the bit, she called it a "baggy old pond" and refused to stand in it.
"(The crew) has been absolutely destroyed by delivery delays and COVID." Sure. But every Vegas source points out that, let's face it, everyone in that town is either a croupier, a hooker, a mobster or a stage crew member. The show not only must go on—it can.
Why, you might wonder, would an artist feel so compelled to deliver a massive spectacle rather than rely on a voice that reduces grown men to tears? Ticket prices for the residency reportedly ranged from $85 (plus fees) for the oxygen-mask seats to $6,000 for front row. And they were being scalped for upwards of $30,000.
To whom do those tickets cater to, three years into a pandemic that wiped out our fave bistro? The whole business showcases the central drawback of the Vegas diva, where success becomes its own enemy, and the elemental humanity of art becomes secondary. Maybe, just maybe, all Adele had to do to ensure that the show would go on was tone down the theatrics that ultimately would have distracted the audience from why they were there in the first place—to hear her sing.
Case in point: Garth Brooks once held a residency at the Wynn Hotel—for five years, from 2009 to 2014. He also had a lotta hits to play. And did so mainly with the wife, Trisha Yearwood, and an acoustic guitar. Sometimes in shooting for the moon, you lose sight of what got you where you are.