All prices listed are in CA$.
Philippe Renaud, owner of Audiophile Experts, a cozy, well-stocked store situated in the Greater Montreal Area, threw a back-from-the-pandemic cocktail audio-schmooze event for customers, friends, and industry people, under the theme "Produits de chez nous", French for "Products Made Here", intended to highlight Quebec manufacturers whose products the store carries.
As soon as I heard about the theme, I was reminded of Mark Twain's quote, made at a Montreal banquet in 1881 in his honour, about Montreal being the only city he's been to where "you couldn't throw a brick without breaking a church window". That evening, I felt that way about audio companies in Quebec.
The evening's festivities included cheese and wine pairings provided by Mario Demers of local wine importer LBV International, several prize giveaways, and two rooms set up with systems assembled almost entirely of equipment made or designed in Quebec. I say almost entirely because there seems to be a dearth of phono cartridge makers in the province.
The format for the initial round of auditioning was straightforward—half of us listened to one system while the other listened to the other, after which we switched places.* Each audition was prefaced by comments by manufacturers or representatives of the products we were about to listen to.
Two such representatives were MOON Sales Manager Greg McLachlanand Product Manager Dominique Poupart, who demoed a complete MOON setup, cables excepted, which belonged to Luna Cables's Gris series. Otherwise, the system comprised an ACE all-in-one music player / streamer, a 260DT transport, and a pair of 89db, 2-way Voice 22 standmounts, the latter having the historical distinction of being MOON's first ever loudspeaker. According to Dominique, the Voice 22 was conceived as an option for those looking for a high-quality speaker to mate with MOON's popular ACE.
That may be so, but during my audition that evening my impression was that the Voice 22s, which had a rich, warm, propulsive character, would sound good with other electronics, not just MOON ones. Still, it was obvious there was an all-MOON synergy going on here. The system sounded of a piece—coherent, well-balanced, engagingly rhythmic. It also sounded natural and had bass oomph that belied the Voice 22s' size.
After the audition, something else impressed me about MOON; the company offers a two-year 100% buyback upgrade policy; upgrade your MOON product within two years of its purchase and the money you initially spent is 100% credited to your upgrade. However, caveat: products must belong to the same category—amps, preamps, DACs. I wish all companies did this.
The system on display in the store's Richelieu room—I assume the "Rich" in the name is incidental, although it was fitting considering the total cost of the system—included a Stable 33.2 Mk2 turntable fitted with a "André Thériault" Black Beauty 12″ tonearm and HANA Umami Red mc cartridge, a Luna Cables Rouge step up transformer, and a medley of MOON electronics, including an 860A v2 dual-mono power amp, an 810LP phono stage, and a 740P preamp, all of which was feeding a pair of Sonus Faber Il Cremonese speakers and strung together with a variety of Rouge, Noir, and Mauve cables by Luna Cables.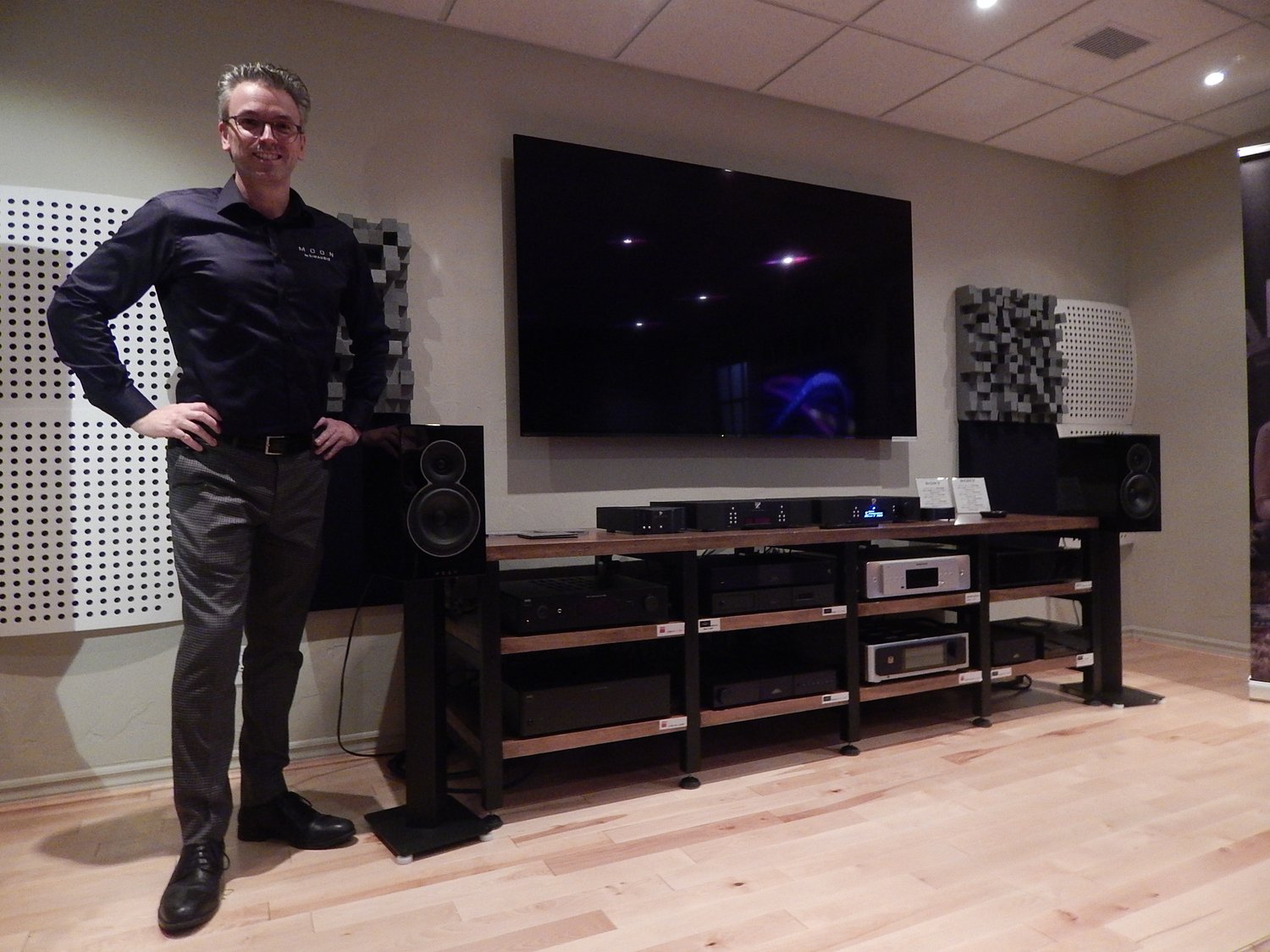 Ahem. Refined much? The sound this system produced was rich, luminous, and luxurious, and by luxurious I mean there were just so many levels of individual, microscopic, transiently-filled, colourfully-braided strands of musical information flowing from the speakers it was hard for me to pay attention to any one thing for long. My attention flitted between observations of the soundstage, the instruments, the chords, the clarity, the bass, the vocals, and all aspects thereof.
A few tidbits about some people behind the sound:
The turntable maker, Stable 33.33's Sylvain Pichette, who's dad was a luthier, caught the turntable-building bug when, as an impressionable youth, he was given a box of Rega parts by a friend and felt compelled to assemble them into a working unit. The experience helped steer him to a career as a machinist, and eventually to build his multi-level 33.2 Mk2 turntable, of which there are currently six being built locally at any one time, with a three-month waiting period for orders. It's an endeavour propelled by passion, vision, and obsessiveness; his company, so far, makes little profit on sales of its turntables. Stable's main source of income derives from the turntable accessories it builds and sells—record stabilizer weights, transit platters, and spindle-hole rimmers.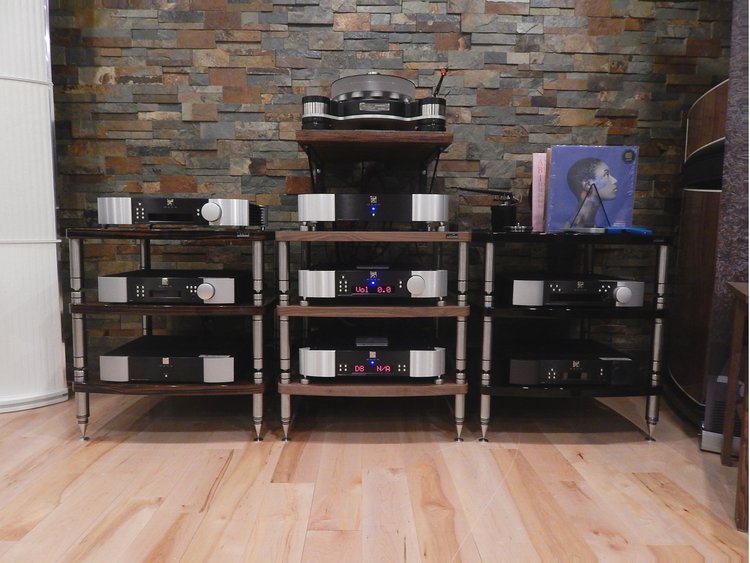 André Thériault, the man behind the Black Beauty tonearm, and whose interest in designing tonearms was sparked in 1993 when he first set eyes on the original Well-Tempered carbon fibre tonearm, is also the man who designed the tonearms for the Kronos Sparta and Kronos Pro turntables. More recently, and in partnership with Nagra's R&D team, André helped design Nagra's tonearm for the company's Reference turntable. As much as an LP playback system can seem a finicky, fragile thing, the carbon fibre cantilever André builds for his Black Beauty is so rigid, he's known to pass one around at presentations to see if anyone can bend or break it with their bare hands. So far, none have.
Dominique Poupart has been with MOON for 22 years. As the person in charge of the company's R&D department, he's always trying to incorporate unique, high-performance features into the company's products so they stick out from the crowd. The Voice 22 speaker, in development for years before it saw the light of day, was no exception and, in conjunction with the company's ACE music player, was bestowed by EISA—an organisation representing 60 special-interest publications from 29 countries—its award for "High-End Stereo System of 2022-23".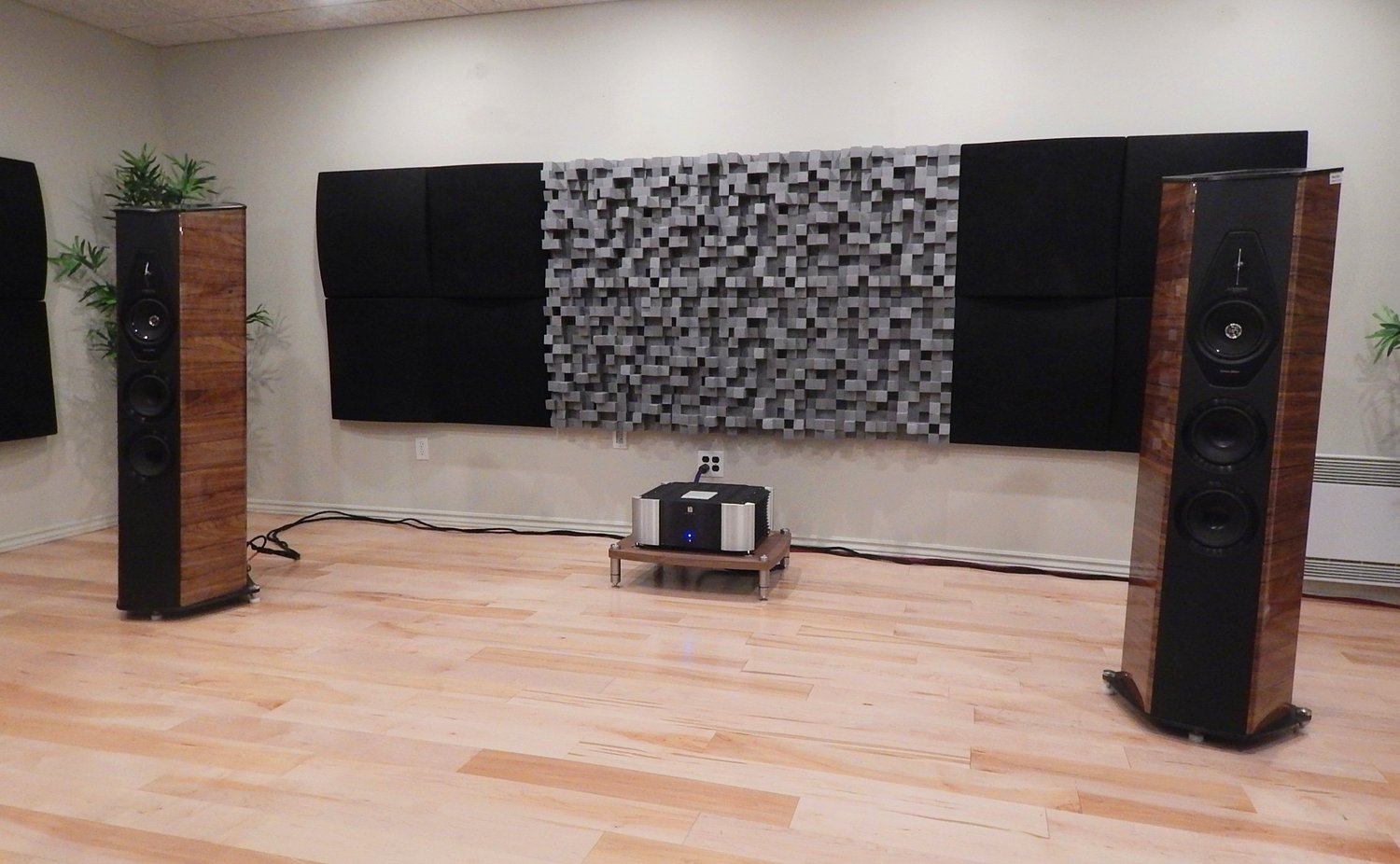 Also on hand to discuss his company's products was Luna Cable's chief designer Danny Labrecque, accompanied by business partner Erik Fortier. Danny, a proponent of the theory that audio products tend to sound like the materials they're made of, uses only natural and eco-friendly materials he says endows the music with a natural, organic quality. After listening to both systems, cabled with Luna Cables, I'm inclined to believe Danny knows what he's talking about.
In fact, that evening, everyone talked. Everyone was comfortable.
Evenings like this reminded me that, as huge a part as listening solo to our hobby is, it isn't just about that. Our hobby is also about us audio passionates connecting with one another, sharing, and helping each other out, because what good is having a passion if we can't share it?
A big thank you to Philippe Renaud, his charming wife Sylvie, and Audiophile Experts's Stacy Lussier for being such fabulous hosts.
And to all those who showed up to mingle with like-minded souls and complete strangers, thanks for making the evening enjoyable. Until next time!
* That was the only time we had a "scheduled" listening. After that, it was a every-man-for-himself free-for-all fist-fight. I'm kidding. People were in too good of a mood for that.
Price List:
MOON ACE all-in-one music player / streamer ($5200)
MOON 260DT transport ($3500)
MOON Voice 22 standmounts ($3800)
Stable 33.2 Mk2 turntable ($11,500)
"André Thériault" Black Beauty 12″ tonearm ($8500)
HANA Umami Red mc cartridge ($4800)
Luna Cables Rouge step up transformer ($4850)
MOON 860A v2 dual-mono power amp ($25,000)
MOON 810LP phono stage ($16,000)
MOON 740P preamp ($11,500)
Sonus Faber Il Cremonese speakers ($74.250)
Luna Cables Gris, Rouge, Noir, and Mauve ($various)
Mingling with like-minded souls (priceless)