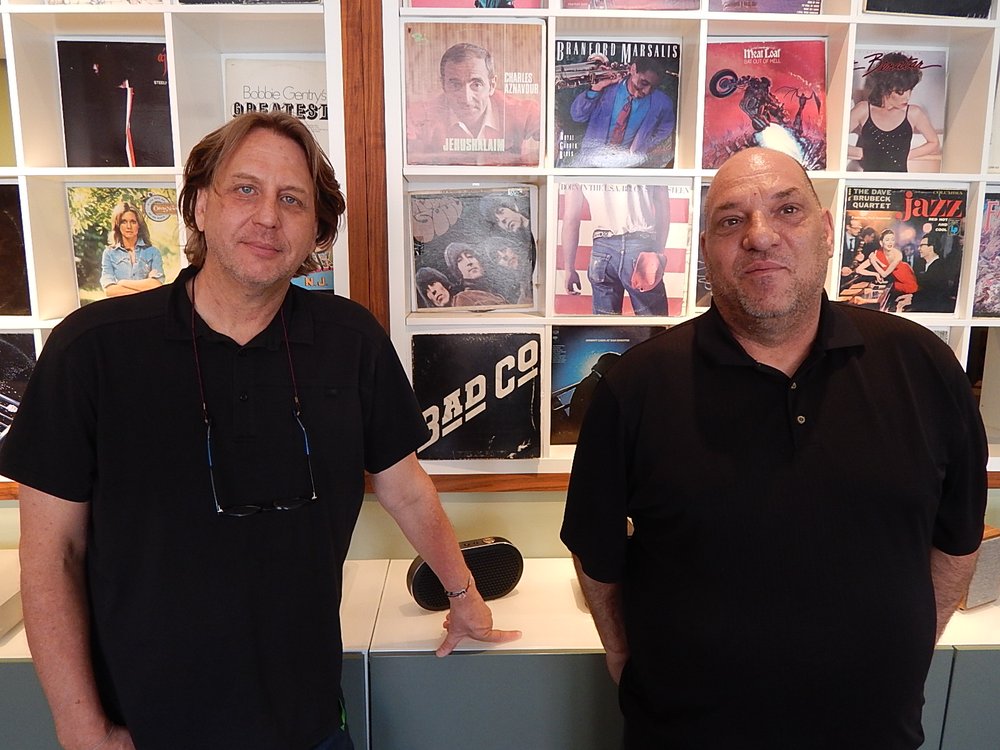 Prices are listed in $ CA at the bottom of this page.
Our "Best $10,000 systems" feature is one of our most popular, so it was only a matter of time before we'd start to stretch out our budgetary palette, so to speak.
The idea behind this $20,000 column is the same as that $10,000 one, which is to have audio dealers try to put together a complete digital-source sound system that sounds great, not just at its given price point, but that sounds great, period. In this column, dealers have the theoretical advantage of having an extra $10,000 to play with to reach the threshold of great sound.
Our inaugural "Best $20,000 system" column features Art et Son, a relatively new store that might never have seen the light of day had the owner, Rob Sutcliffe, heeded the advice of those around him who said he was crazy to even think about opening a brick and mortar audio store in this day and age of online commerce. The store might not have seen the light of day, either, had Rob, a one-time professional electric bass player, not decided to shelve his idea of selling his own line of speakers with his audio engineer, speaker-designer brother. A cartographer who has plied his trade for over 30 years, Rob created Art et Son as his retirement-ish project.
But it wasn't easy at first. For two years after he opened his business, Rob worked alone for long hours just to make ends meet. Then, things slowly got better. He stopped working alone, made enough money to pay the bills and eat, had more time to spend with his family, and, a year and a half ago, hired Antonello, an erstwhile music industry chap with a passion and talent for the digital streaming side of things, an attribute that complements nicely Rob, who's more of a speaker guy.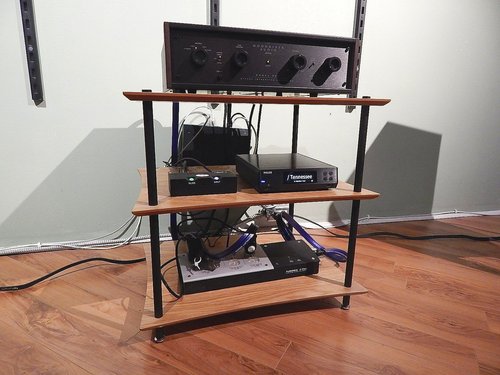 The store carries many brands that may be commonplace in their country of origin, but not so much on these shores: Harbeth, Cayin, Cyrus Audio, Dali, Moonriver Audio, and others. It also carries brands that are more ubiquitous in these parts, among them Totem, NAD, Naim, Technics.
Which leads me to the mix of items that constitute the $20,000 system I was about to hear: Harbeth's two-way 30.2 XD speakers, Moonriver Audio's 50Wpc Model 404 integrated amp from Sweden (the standard edition, not the 404 Reference with the improved power supply), a Chord Qutest DAC, a 4TB hard drive-equipped Melco N100 music server, a Furutech TP805 power distributor ($995), and a bevy of cables*.
"Cables are as important as any other component," said Rob. "They make a difference if you have a quality system. They allow you to hear what your system can do."
He cautions against cables that emphasize detail and clarity at the expense of musicality and flow. "Too much clarity or detail can sound unnatural, clinical. You know, real life isn't that detailed. It's not super focused."
Was there a percentage of a system's total cost they'd suggest as a good amount to spend on cables? Between 10 to 15% percent, was their answer.
And for speakers? Not so cut and dry when one guy has a penchant for speakers and the other for sources. "The first question I'd ask someone in the market for speakers," said Rob. "Is, 'What kind of music do you listen to?', and, 'how loud do you listen to it?'
"Some people come here looking for a speaker and say they want the 'best'," Rob continued. "There is no best. The word 'best' is just a marketing term. The speaker has to appeal to the listener's expectations."
How does he suggest a consumer goes about buying hi-fi? "Go see a seller in a shop," Rob said. "The Internet is the wild west. Choose with your ears. Try to relax. Buying a system should be pleasant and not stressful. Don't be afraid of making a bad choice. Stores ultimately want you to be happy with your purchase."
I asked if they had any tips to share with the common audio enthusiast who wants better sound. "Definitely. Install a dedicated 20-amp line for the system and a better AC receptacle than the one in the wall," said Antonello. "You can buy a good receptacle for as little as 50 bucks."
I took my seat and started listening. Across tracks by jazz bassist Brian Bromberg and singers Shelby Lynn and Tennessee Ernie Ford, I heard sound that was sweet and warm, with a good sense of touch, an engaging rhythmic momentum, and a well-sorted soundstage.Guitar strings sounded authentic. Tennessee's deep voice brimmed with tone. Bromberg's bass emitted tactile snap. It was all very nice, but at times I did wonder if perhaps the Moonriver 404 Reference, which also outputs 55Wpc but has a beefier power supply and double the capacitance of the standard 404 I was listening to, might've been able to drive the 85db Harbeths with a bit more aplomb. Still, there was no mistaking the quality of the components in the system or the overall sound's refinement.
When asked about possible upgrade steps from the system at hand, Rob confirmed that the Moonriver 404 Reference would be a good choice. He also recommended substituting the BBC-licensed Graham Audio LS5/9 for the Harbeth 30.2 XD, the former model, with its sensitivity of 87db and nominal impendence of 8ohms, also being easier to drive than the Harbeths.
Antonello offered a couple of digital source-related upgrades, including adding an SBooster BOTW ECO MKII external power supply to the Chord Qutest, or a network switch between the Melco streamer and the router. Rob and Antonello are both big fans of the Qutest, whose sonic character Rob sees as being ideally balanced. Antonello called the Qutest the sweet spot in Chord's DAC line.
What if someone wanted to add a vinyl front end ? Among the musical goodies they carry, the guys recommended a Pro-Ject Debut PRO, which comes complete with factory installed arm and cartridge. Or, there's the latest generation of Technics's iconic SL-1200, the SL-1200GR. Suggested cartridges for the Technics 'table include those made by Goldnote, Nagaoka, specifically the MP-150 model, or Grado. The listener could even have an assortment of headshells with pre-mounted cartridges, to choose one at will, depending on mood!
What about a phono stage? What could be easier than opting for either the MM-only or MM/MC phono stage that comes optional with the Moonriver 404 amp.
It's a good time to be an audio enthusiast. And speaking of good time, that's what I had at Art et Son. A heartfelt thank you to Rob and Antonello for keeping me entertained.
* Component price list:
Harbeth 30.2 XDs ($7250)
Moonriver Model 404 integrated amp ($4495)
Moonriver Reference
Chord Cutest DAC ($2895)
4TB hard drive-equipped Melco N-100 music server ($3000)
Furutech TP805 power distributor ($995)
2x 1m Wireworld Aurora 7 power cords ($265 each)
2m pair of Tellurium Q Silver speaker cables ($599)
1x 1m pair of Tellurium Q Black 2 RCA interconnects ($445)
Furutech GT2 USB cable ($100)
Graham Audio LS5/9 ($9900)
SBooster BOTW ECO MKII Power Supply ($399)
Pro-Ject Debut PRO ($1099)
Technics SL1200 ($2299)
Nagaoka MP-150 cartridge ($490)
Moonriver optional phono stage: MM card ($499), MC/MM card ($699)