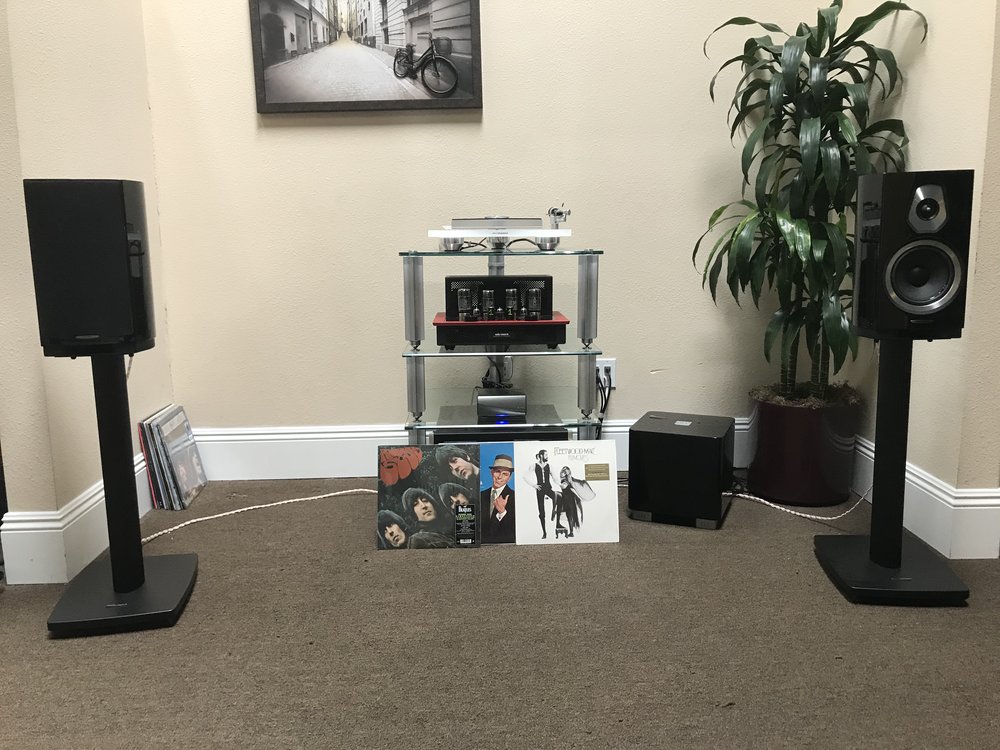 All prices listed are in USD.
$10,000 is a lot of money to spend. Or not. It depends on what you get for your 10K.
By the same token, what if that 10K is for an audio system? And when I say a system, I mean it has everything you need to listen to music: a pair of speakers, an amp, a preamp (if needed), a source, and cables. Is $10k a lot of money for this many components? Again, it depends. If we're talking about a system that does everything right technically but doesn't engage you musically, then paying 10k for it is excessive. But if you're talking about a system that plays music in a way that is emotionally rewarding, then it could be considered a reasonable sum to pay. Many audio enthusiasts spend more than that on one component.
During my 50-minute drive from my place to The Source AV in Torrance, California, one of the audio dealers in the L.A. area participating in PMA's "Best Audio Systems for $10k" column, I was wondering what my intangible expectations were for a system that costs 10K and no more. How good, exactly, would it have to sound for me to say that this system shined?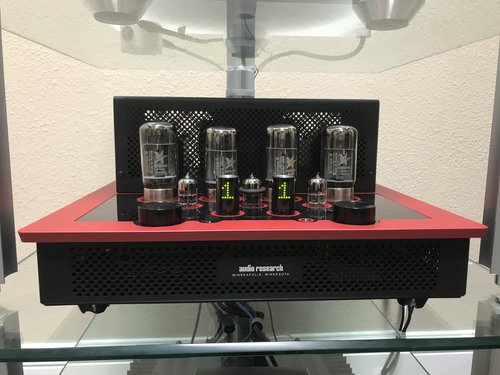 When I arrived, the store wasn't open yet. I peeked through its locked door for signs of life, when I was spotted by Wayne, my contact person for the audition. When I entered, the first thing I noticed was how quiet and spacious the place was. I felt a sense of calmness and serenity, but not of emptiness.. The space was packed with gorgeous-looking equipment.
Wayne, who's worked at The Source AV for fifteen years, led me to the open-air demo area (vs the private rooms), where my 10K system was one of several audio systems at different price points lined along the same long wall that cut through the spacious area. The systems were set up separately from one another, each complete with its own pair of speakers, amplification, and digital or analog front end, by well-known brands including McIntosh, Audio Research, Marantz, Chord, Sonus Faber, and Focal. Every system had its own single-person couch, rug, plant, and painting. It was a row of simulated real-life listening rooms.
Separating these rooms were short walls that extended only far enough to cover the system itself, not the listener. Still, it was sufficient to give me a feeling of privacy. Overall, this open-air concept with its turnkey audio installations is radically different from the typical store demo that takes place where several different speakers and electronics are demoed in the same room around the same system. In this open-air/turnkey setup, with the cozy-looking deco accompanying each system, I got the distinct impression of being alone with my own personal system.
And that system, my 10k one, which also happens to be the store's permanent 10K price-point demo system, included a pair of Italian-made bookshelf Sonus Faber Sonetto II speakers ($3000 w/stands), whose bass is said to extend as low as 42Hz, a 125Wpc, down-firing REL T/5x subwoofer ($700), a 50Wpc Audio Research I/50 tubed integrated amplifier ($5000), and a hi-res-capable Denon HEOS Link music streamer ($350), all of it stitched together with cables by Tributaries Cable ($700). Total price: $9750. So, less than the 10K cutoff point. The system looked compact, clean, and spiffy.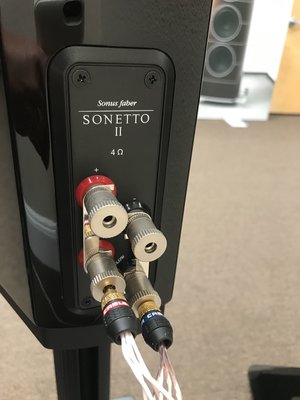 For my listening, Wayne played my test-track requests from his Tidal app, starting with one of my all-time favorite songs, Paul Simon's Kodachrome. I was delighted when Wayne recognized the song as soon as it started; that he did is not surprising, I guess, considering Wayne worked a stint as a professional DJ. He even knew that the song was featured, unbeknownst to me, in the Dan Aykroyd / Jane Curtin comedy, Coneheads. I'm curious to see that movie now.
Like many pop recordings of the 70s, the bass is light on this track. It gives you that snappy beat but will sound too brittle on a lot of systems.
Not on this one. There was not a trace of brittleness to be found. The music sounded alive without being harsh. I heard the same thing on Patricia Barber's "Bye, Bye Blackbird", which sounded detailed with none of the exaggerated sibilants that some systems add to Patricia's vocals. I also found the track's bass response just right.
With my eyes closed and my mind loose, Wayne continued to play my familiar test tracks, from Dave Brubeck, The Eagles, Fleetwood Mac, The Beatles, and Mozart. Everything sounded effortlessly musical and harmonically complete. I was thoroughly engaged in the music.
I was certainly spending more time with this system than I had planned. Feeling a tinge of guilt, I asked Wayne if I was taking up too much of his time. Not at all, he said graciously, so I listened some more.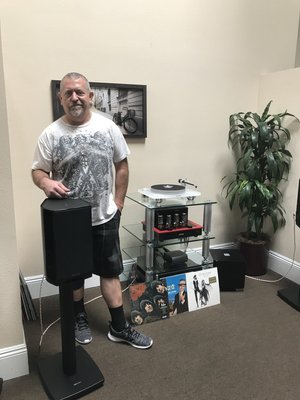 At one point, Wayne shared an observation that made me take notice. He said that rather than seek out neutrality per se, his customers' tastes were generally split between sound that was warm and plump, or clean and "mean". It wasn't his job to tell people what they should like, but to understand what each customer's unique needs and desires were and fulfill them with products from trusted brands. I found the tonal balance of the store's 10K system's to be uncolored and natural.
To those looking to possibly upgrade the 10K system, Wayne offered these suggestions:
Adding a DAC card ($1000) to the Audio Research amp
Hooking up the streamer with a COAX cable ($200) rather than RCAs, which is how I heard it. Or, if one has a hankering for vinyl:
Adding a Marantz Reference TT-15S1 turntable ($1800) and a phono card ($750) to the Audio Research amp
When I got home from The Source AV, I was still thinking about how its 10k system played the Mozart track, "Et incarnates est" from his "Mass in C minor", with all the beauty and grandeur in the music well preserved. The voice and the orchestra filled up the space around me and made me forget that I was listening to a pair of bookshelf speakers.
I had a good time at The Source AV. Wayne was a solid host and I got to hear my first "Best audio system for $10,000" for PMA Magazine.
It made me excited to hear the "Best 10K systems" from other local stores—may they all shine as bright as this one did.
Read "Best $10,000 Systems" #1 here.