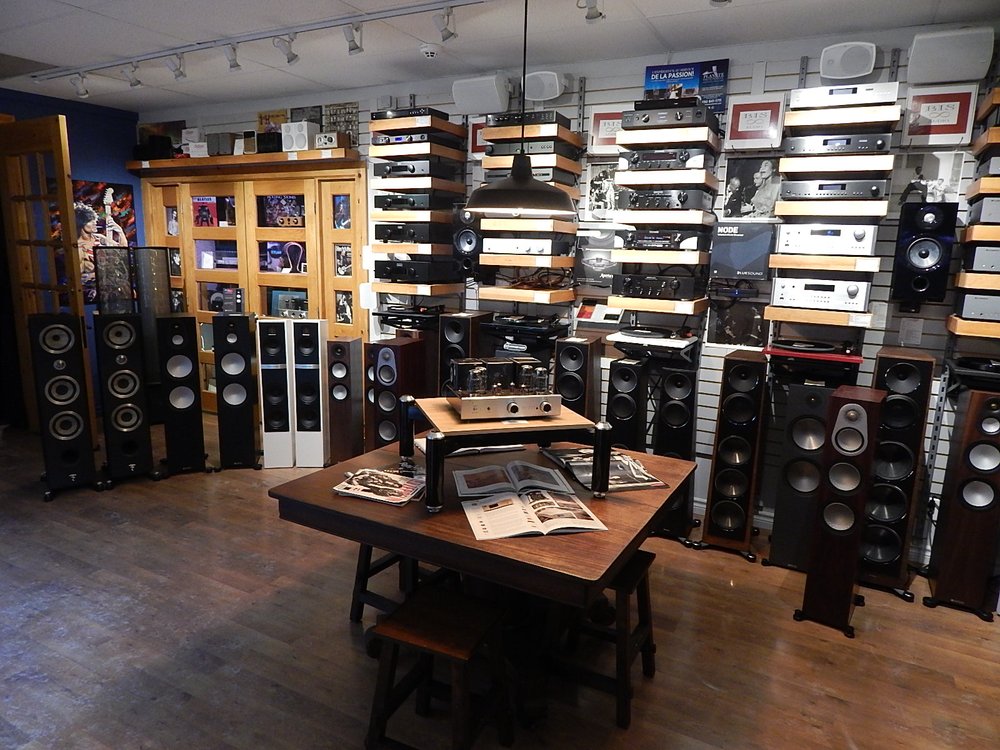 Prices listed are in CA $. To convert to US $, divide prices by 1.3. In other words, these $10,000 systems come out to about $7,692 in US $.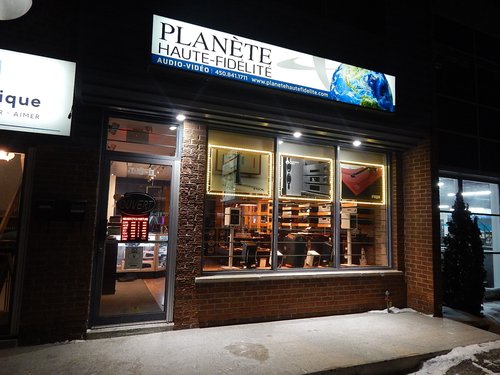 Welcome to our new "Best audio systems for $10,000" series, in which we ask audio retailers to assemble a great system with an MSRP of around $10,000, cables and accessories included. Not only are these systems ones the retailers would put together for a potential customer to make a sale, but that they would, knowing the nature of this series, enter as an official "best $10,000 system" amid those presented by their retailer peers.
The idea behind this column is based on the premise that retailers will not only show us their best stuff for the price, but that, in the first place, they represent and sell products they know work well together. This just makes business sense, and, for our purposes as consumers, it takes away a lot of the guess work we face when trying to put a highly musical system together from disparate components made by different manufacturers.
A final note about the systems appearing in this column; to keep things simple and on an even playing field, only digital sources are admissible to be part of a $10,000 system, although we do ask the dealer for a suggestion of a vinyl setup the store carries that could be added at a price in line with the rest of the system.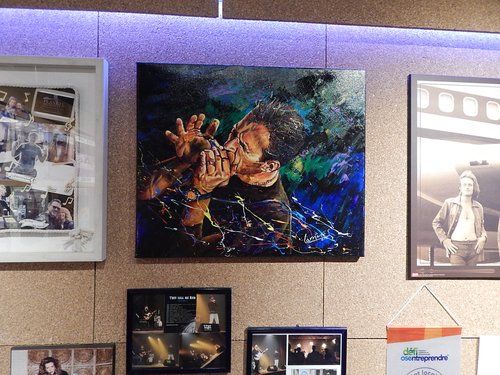 Which brings us to our first $10,000 system, from Montreal's Planète Haute-Fidélité, a cozy shop appointed with rows of woody accents and colorful paintings by local artist, Patrick Larrivée, who will gladly paint whatever you want him to—just give him a photo of it.
The system for this first installment in our series was curated by store owner Christian Vézina, who also happens to be a harmonica player hors pair, which makes him a bit of an anomaly—an audiophile and a musician—or, as he refers to himself, a "hybrid". Christian fell in love with audio in a circuitous, unconventional way; exhausted by years of trying to reach quota at his shoe-selling job, but where, serendipitously, he served a customer that would become his wife, Christian agreed on the urging of a friend to work a stint—it was intended to be very short-lived—at a hi-fi shop. But destiny had other plans. Working in hi-fi, Christian developed a taste for fine audio and never looked back. He sold hi-fi for 30 years before finding the courage, as he put it, to finally realize his dream of opening his own audio store. That was three years ago, a move, he says, he should have done much sooner. By all accounts, his business is booming, and for good reason.
First, from what I've seen, and experienced first-hand, Christian's demeanor with people that come to his store is about as welcoming as can be. He exudes an easy-going, down to earth style, which translates into what feels like a genuine desire to make people happy with their dealings with him. Second, his store offers a great selection of gear. Look at his website and you'll count 95 brands Christian represents, many of which are on display in his store and ready to be listened to on request.
So, of all the gear at his disposal, what did Christian choose for his $10,000 contender? Let's start with the 94db-sensitive, ribbon-tweetered Martin Logan XTi60 floorstanding speakers ($4000/p.), which Christian referred to as "overachievers" when I asked him, pre-audition, what he liked about them. These eye-catching (they caught my eye) bass-reflex speakers come with two 8" woofers said to reach down to an impressive 35Hz (at ±3dB). Speaker cables were a 6-ft pair of the Access model ($354) made by Quebec-based Bis Audio, a company known for its non-extravagant-looking but high-value cables.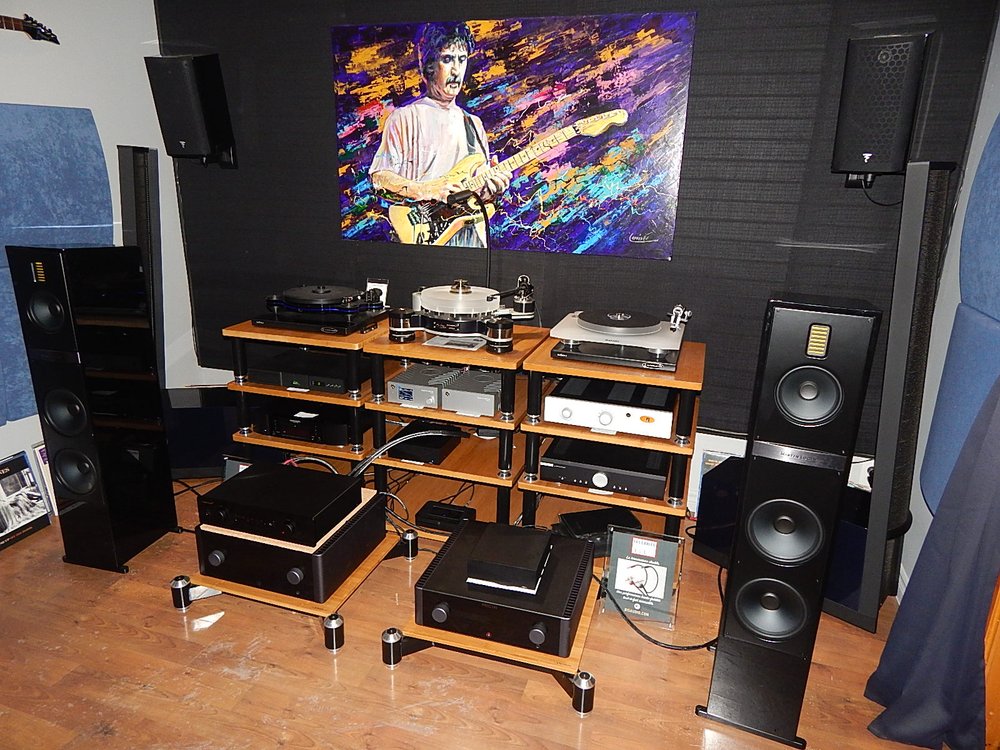 Next up was a nude 110Wpc Made-in-England Exposure 3510 integrated amplifier ($4000), which uses class-A/B for its amp and class-A for its preamp. I say nude only because you can add an optional DAC or m/m and m/c phono section to the 3510 and this unit had neither.
Finally, the source was an Innuos ZENmini Mk3 CD-ripping streamer/music server with internal DAC (16/44) and 1TB of storage ($1849). The ZENmini can be used as a Roon Core and with an optional linear power supply (LPS). It also has digital outputs so you can connect it to an external DAC, perhaps one capable of high-resolution playback. A pair of Bis Audio Copper llS RCAs interconnects ($420) strung the electronics together.
So, what did it all add up to? Tasty sound, that's what. What I heard from a cross section of CD rips and Tidal streams of acoustic and electronica-tinged music was sound that was spacious, well-balanced between the lower and higher halves of the frequency range, and which projected a wide, bustling soundstage. It also sounded fast as dickens and startlingly dynamic. Hits on a snare drum snapped my attention toward the source of the sound—I wasn't prepared for it, nor could I remember the last time I heard snare-shots sound this in-the-flesh live from a system. Rhythmic momentum was momentous.
Acoustic guitar and trumpet blasts displayed real-life tone and presence, as did male and female vocals, whose sibilants sounded more natural than I expected from a system at this price point. Imaging was very good, with instruments and vocals anchored 3D-like in space. I was also surprised by the quality of the bass; it went deep, bulged with lifelike energy, and exhibited excellent articulation and body.
Now, what if you wanted to add a vinyl setup to this 10K rig? Among the brands he carries, Christian proposed a Rega Planar 3 with an Exact cartridge (approx. $2000) or a Marantz TT-15S1 turntable with a Clearaudio Wood cartridge ($2500). (The Marantz is actually built under license by Clearaudio and made in Germany). Of course, if you want to hear your turntable, you'll need a phono stage. In that case, you could spring for the optional phono stage in the Exposure amplifier, or for the Canadian-made York ($500) from Six Acoustic. Want to spend more for your phono to get a bit more? Then the Hegel V10 ($1750) just might be your ticket to paradise. (Or, you could own both phonos and have "Two Tickets to Paradise", hehe.)
To those who may eventually wish to upgrade the above $10,000 system, Christian recommends taking the following steps in the order in which they appear here:
Adding the Chord Qutest DAC ($2645);
Placing IsoAcoustics Gaia lll feet under the speakers ($260 for a set of 4);
Adding to the Innuos player its optional linear power supply ($1000);
Replacing the speaker cables.
So there you have it. For your consideration, PMA magazine's first synergistic-certified $10,000 system entered and vouched for by a retailer, with possible options and upgrades thrown in for good measure.
You can reach Christian here.