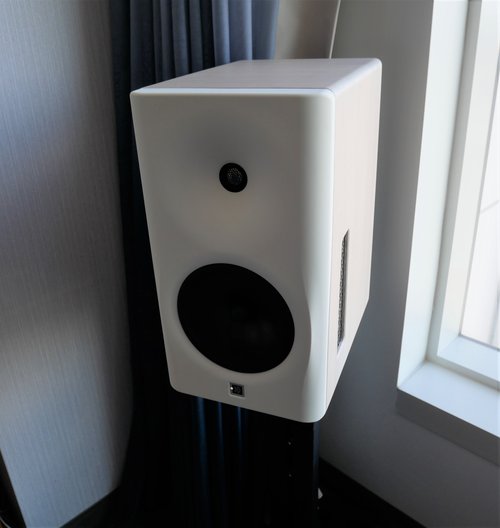 Read Part 1 here.
A brand heavily promoted by Roon to showcase their streaming software and gear is Dutch & Dutch. Photo 1 shows the full-range, Roon-ready, DSP-equipped, class-D powered model 8c ($14,950). I see this speaker as a rich person's version of the CabasseRialto all-in-one speaker system, which is a similar design. Made in the Netherlands, the Dutch & Dutch 8c is a beauty to behold, with its exquisite, rounded edges and smoothly curved tweeter waveguide made to minimize diffraction. The cardioid midrange driver is said to reduce rearward radiation that can smudge the sound. Side vents allow a wavefront from the back of the midrange driver to propagate into the room, perhaps another take on the open baffle design that seems in vogue these days. It's a design intended to offer more flexibility in speaker placement than traditional speakers. The rear section of the cabinet houses two long-stroke, high-power 8″ subwoofer drivers in a sealed cabinet. Crossovers are digitally controlled to eliminate phase issues in the crossover region. Notice in the photo how the speaker is placed in the room's corner, a usually a poor location that causes irregular bass response and boominess. There was no such boominess in the sound of the 8cs, which filled the room with articulate, well-sorted, and well-balanced sound. Per the speaker's instruction manual, at least 10 cm (about 4 inches) of space between the speaker and the wall is needed for good bass coupling. The integrated DSP system will take care of the rest to adjust the sound to your room. All you need to make it work is the freeware / donationware software package, called REW, along with a computer and suitable microphone. Then you'll need the Roon app and an ethernet connection to access your online music library. A complementary pair of stands is included with each purchase of a pair of 8c speakers sold through the Roon store. Dutch & Dutch claims the 8c sounds as good as speakers costing up to four times the price. I can't confirm this, but I can confirm that the sound they were making was top tier.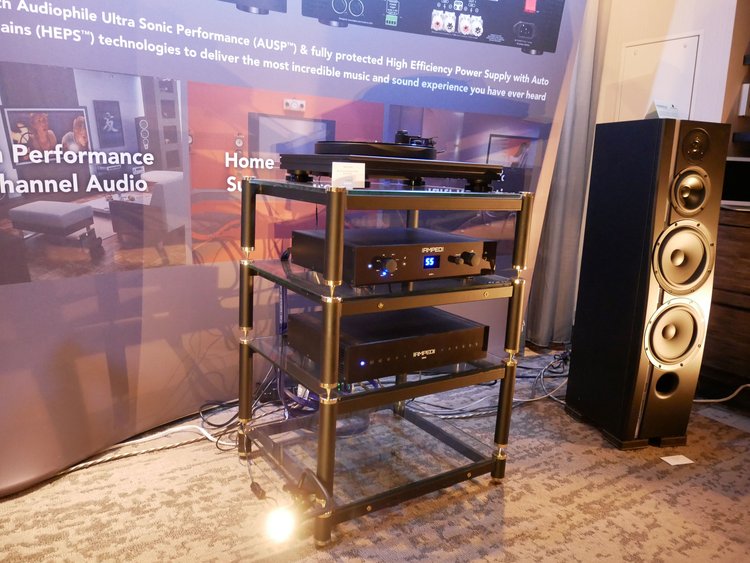 Using class-D amplification in audiophile gear is a relatively new trend, although the technology's been around for decades to power subwoofers due to its efficiency and the fact a class-D module takes up little space inside a cabinet. New Jersey-based Amped America (photo 2) was showing its brand-new 250Wpc, 3-channel, class-D AMP 3250 amplifier ($3,500). Unfortunately, due to parts constraints, the AMP 3250 is not yet available. A 2-channel version, the AMP 2400 ($5000), is available, and outputs 400Wpc into 8 ohms and 800Wpc into 4 ohms. I'm told it can easily drive any speaker load, including mismatched ones. At the show, the AMP 2400 was driving a pair of 90dB Czech-designed Acoustique Quality Passion Fever 3-way tower speakers ($8,000 /pair).
The Music
AXPONA is also a showcase for music, as it should be. Here, you can hear the very best recordings played by exhibitors trying to show off their gear in the best light. I found myself Shazzaming unfamiliar tunes in nearly every listening room. Some rooms, such as the GoldenEar room, displayed their playlist (photo 3) for all to see—a great idea, in my view. One notable track I heard was Oscar Peterson's "You Look Good to Me". A 1940's mono recording, the piano sounded astoundingly authentic through GoldenEar's T66 towers ($TBD, <$8000/pair), which were launched at the show.
When I dropped by the Yamaha room, the iconic Japanese company was demoing its system with Stevie Ray Vaughn's familiar "Tin Pan Alley", a track with plenty of sharp transients. Through the company's top-of-the-line, big bookshelf NS5000 speakers, said to be built with special dampers to eliminate resonances within the speakers, the rim shots, drum snaps, and guitar plucks popped out dynamically. The NS5000s may look old-fashioned but don't sound it.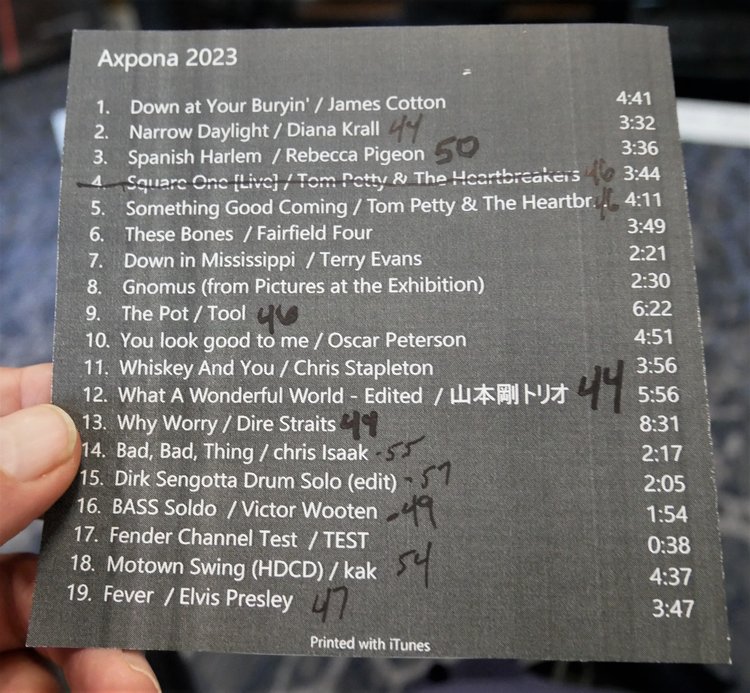 Going to the Shazam list, I made note of quite a few songs to listen to later on my home system, which includes a pair of Legacy Signature SEs ($8000/pair) powered by an Outlaw Audio 7075 amplifier ($700, sold direct from manufacturer). The Outlaw amp has been a workhorse for me for quite a few years. It has enough channels to do 5.1 but still allows me to biamp the loudspeakers, providing an easy load for the amps and more power for the speakers. I didn't make a note of which songs came from which rooms, but I thought I'd mention a few I believe would be great as reference recordings for evaluating a sound system. None of these, as I recall, were played on turntables.
The first one from my Shazam list was "Whiskey and You" by Chris Stapleton. It's a simple country ballad with just Stapleton's vocals and his guitar. What a great song and the simplicity of the playing makes for a great test of how well that phantom channel images in front of you. I noted plenty of ambience despite the slightly "up front" character of my speakers' sound.
Another Shazam favourite at AXPONA was the Fairfield Four's "These Bones", a track of amazing a cappella singing. The group's bass singer hit those lows with no strain or diminishing of vocal strength. The other singers' voices were blended into the mix with superb clarity, while imaging was solid. Vocals are always a challenge to reproduce accurately. Male voices, for example, often sound too heavy, chesty, or disembodied. Sibilance is often problematic. There was none of that on this recording, in which every voice sounded timbrally spot-on and breathy as life. With the possible exception of The King's Singers, I doubt there's a vocal group out there that would be as good a test of vocal reproduction on a sound system than the Fairfield Four.
Other great test tracks included John Cain's "Elegance on the Catwalk", George Benson's "The Ghetto", Dominique Fils-Aimé's "The Birds", and Eva Cassidy's "What a Wonderful World". Add to that list pretty much any track on Canadian artist Anne Bisson's latest album Be My lover (2×12" 45 RPM LPs or UHQ CD, Camillo Records CAM5-5287),including a neat take on Greg Lake's "From the Beginning" that sounds very unlike the arena rock version from Emerson, Lake and Palmer. Anne is a jazz singer-pianist who often performs at audio shows. I picked up two copies of her latest release in the Ultimate HQ limited edition CD, whose sound is stunning. Bisson's vocals and all the instrumental parts sound close-miked and expertly mixed. I'm going to treasure this recording for a long time.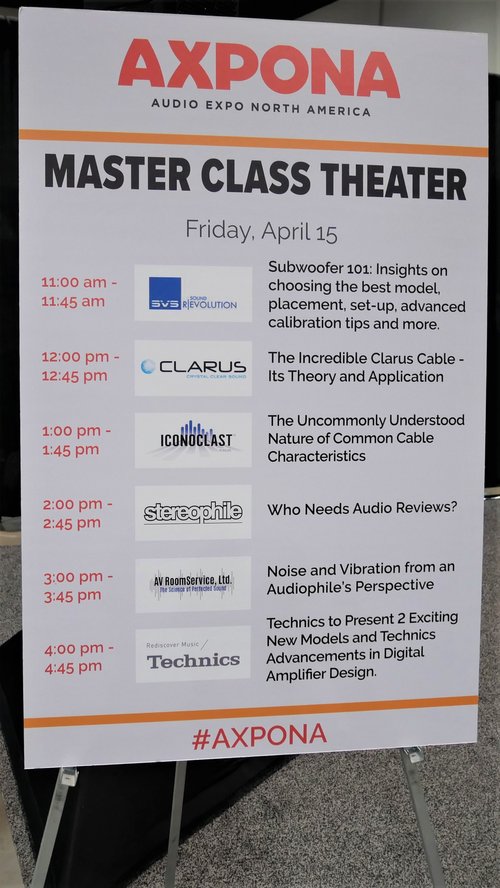 Master Class Theater
Master Class Theater, the name given to a seminar event in an area of the Expo Hall, had seating for about 100 attendees that was full every time I passed by. "The Uncommonly Understood Nature of Common Cable Characteristics" was the name of one seminar that intrigued me. Cables are a too-often controversial topic among audio enthusiasts, so why not attend a session on cables? The presenter, Galen Gareis, is from the company Iconoclast, which is part of Belden, a well-known supplier of wiring and cables. Final assembly of Iconoclast cables is done by Seattle, WA-based Blue Jeans Cable, a company with a good reputation for selling high-quality audio cables at reasonable prices. Gareis spoke mostly about speaker cables and how their ability to pass a musical signal can be compromised by skin effect, reactance, propagation speed, and impedance mismatch. You can read more about this on Iconoclast's website, at https://iconoclastcable.com/story/index.htm.
Just as Gareis was finishing his speech, a well-known writer and editor began asking him cable-related questions. That person also turned out to be the next speaker, of the upcoming presentation "Who Needs Audio Reviews?". His name? Herb Reichert. I was surprised to see how much of a proponent Reichert is of audiophile cabling. He and Gareis were still chatting it up 15 minutes later when the AXPONA moderator decided to move things along. Reichert finally took the stage, but not before agreeing to review Gareis's cables. I was happy to learn that Iconoclast allows consumers to try their cables in their system, and return them for a refund if they're not completely satisfied. You can't get a better offer than that.
Herb Reichert's talk on "Who Needs Audio Reviews?" had more to do with soliciting feedback from the audience than giving answers to the topic's question. In other words, what do we, as readers, want from reviewers? My comment to him was that I would like to see more reviews of products that aren't stratospherically priced, which prompted someone to cut in by saying that he likes the high-priced gear reviews. Reichert agreed that there was value in reviewing the extremely high-priced products, even though few can afford them, because they often contain technology that filters down to the lower-priced gear, and thus the "best of the best" starts to become more affordable.
Reichert mentioned that a lot of people ask him why he never gives bad reviews of products. He explained that there's no point in it, because the goal is to let people know about what's good. If he comes across a product that deserves a bad review, he prefers to report his findings to the manufacturer so they can fix the problem and improve the product, which they could later re-submit for review.
Someone else in the crowd asked how we could get younger people involved in the hobby. "Good question!" Reichert declared rhetorically, after which someone in the crowd suggested that the answer might be to just get young people to hear their music through a good set of headphones. Hopefully, that would inspire them to want a quality hi-fi at home. Interesting thoughts, but not many having to do with "Who Needs Audio Reviews?".
AXPONA 2023 Wrap-up
The record-breaking crowds and huge number of exhibitors at AXPONA 2023 dwarfed those of all the other shows in North America, with so much eye and ear candy it was hard not to get constantly distracted by some new sound or gear or accessory on display. Even if you already have a good system at home, AXPONA 2023 showed a lot of cool gear to tempt any self-respecting audio enthusiast to upgrade their main system or add a second, or third, system to a part of the home that isn't already equipped with great sound.
AXPONA 2023 was exciting, educational, entertaining, and inspiring. It was a flat-out success.