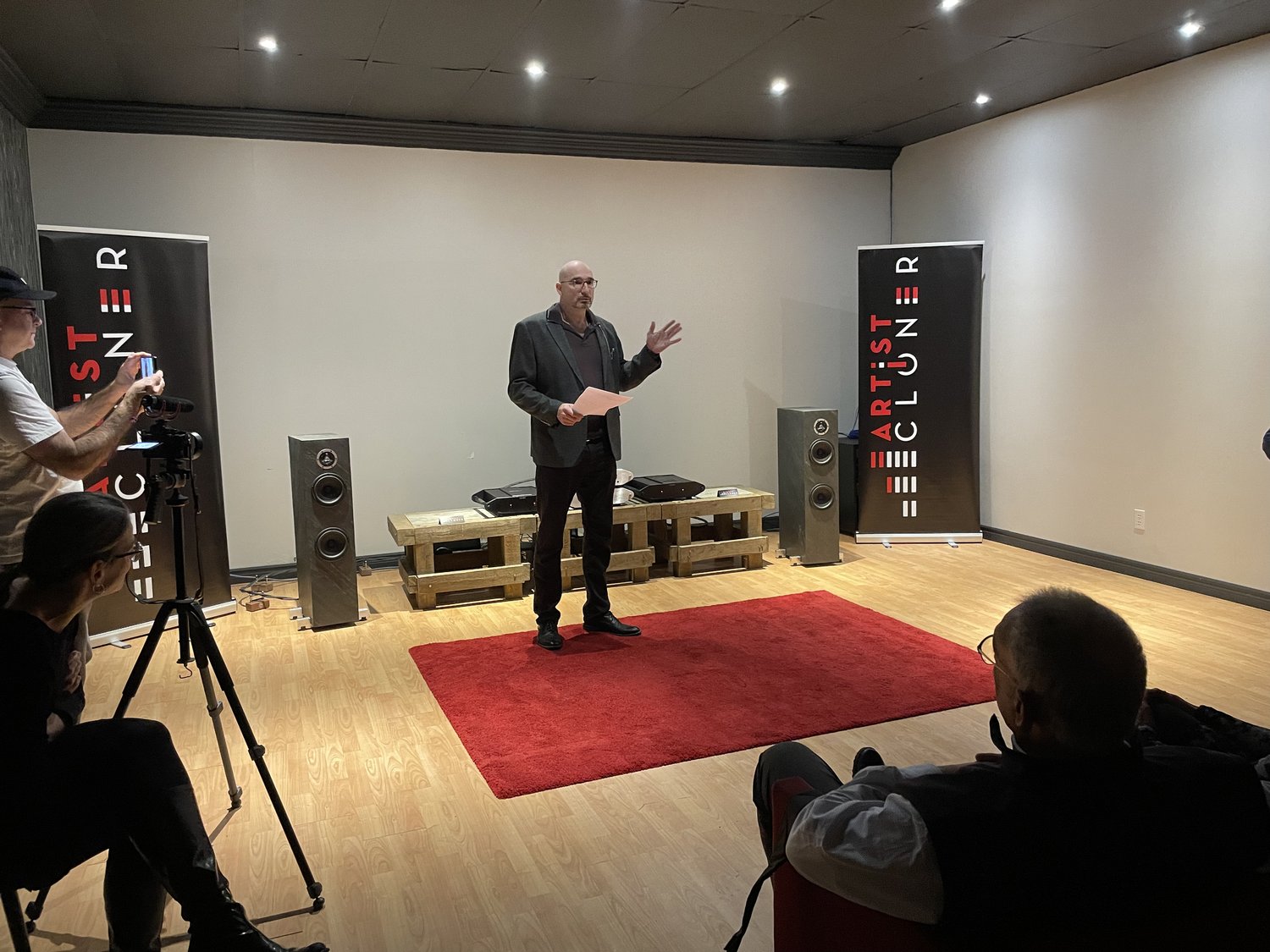 Supporting hi-fi through a local initiative
On Sunday, November 13, music and audio enthusiasts were invited to attend the first opening of Café Audiophile, a non-profit organization (NPO) whose mission is to promote high-fidelity. The initiative was launched by brothers Louis and Normand Croteau, who, for a long time, dreamt of creating a place where music lovers and audiophiles could meet year-round to listen to quality audio and mingle with people from the industry. The event ran from 2pm to 6pm. Some people stayed for the whole duration, while others came for an hour or two to enjoy a drink and relax in the congenial atmosphere of people gathering over a common interest.
"My goal is to help spread the word about this industry and bring people together to listen to great hi-fi", Louis told me. "I'm at a point in my life where I want to share my passion and experiences. I have a small business and collect my pension. I'm okay financially, so I'm doing what I love most in the world and that's being involved with audio." When I asked if he ever worked in the industry, he said, "Not at all. In fact, for most of my life I was a music lover. Much later, I started going to DIY events and meeting audio enthusiasts. That's how I met people who really had an understanding of audio."
And then, one day, came the idea for Café Audiophile. "My brother and I were looking for a way to promote hi-fi while being supported by the industry," said Louis. "We asked the owner of bistro La Belle et La Brute, whom we knew well, if he'd allow us to use his reception area in the back of his restaurant to organize events—with manufacturers, distributors, stores, music lovers, and audiophiles—and he didn't hesitate. He lets us use his space for free. We intend to use it for all kinds of events—intimate concerts, product launches, presentations and seminars, anything as long as it conforms to Café Audiophile's mission."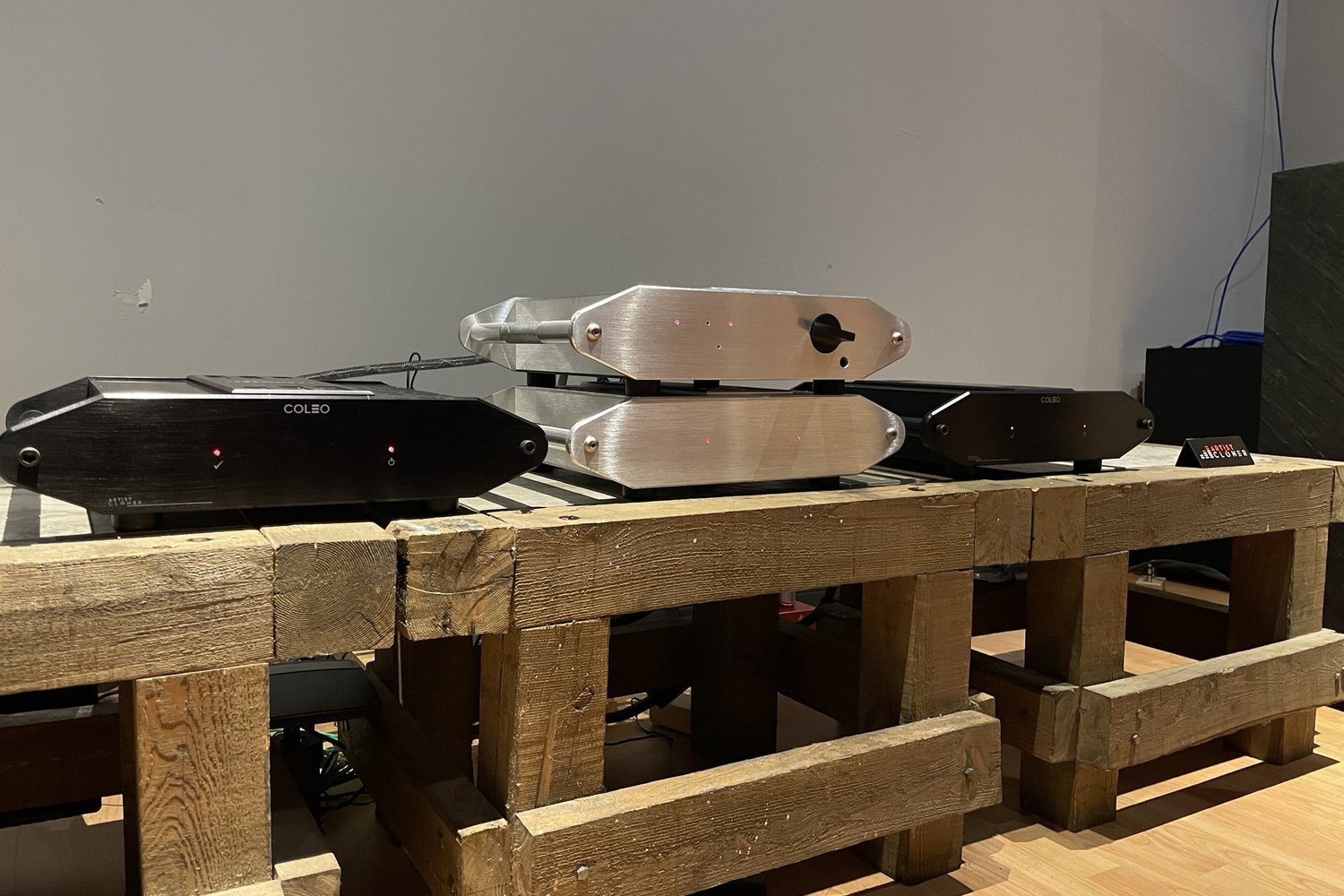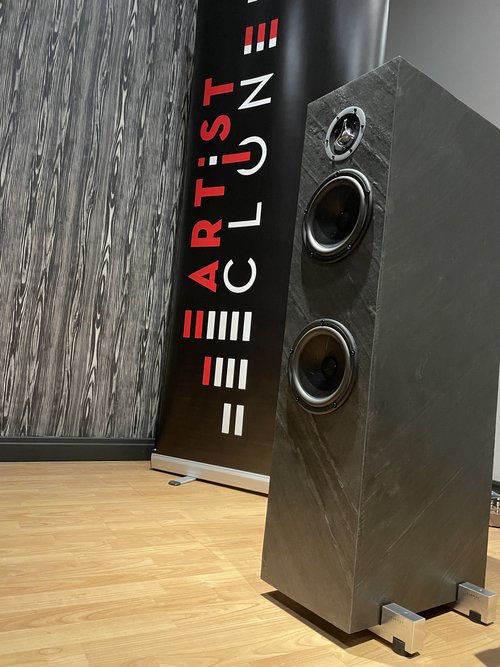 And the frequency of the events? "Our goal is once a month. 12 Sundays a year," Louis said. I asked if people would have to sign up for them. "We haven't decided yet," he said. "We might sell a $5 membership card, which would allow the member to come as often as they want. It would also allow us to fund work on the listening room. We want to do acoustic treatment. We've already installed a dedicated 20-amp circuit with audiophile outlets." He added: "If it was up to me, the $5 would be for a lifetime pass, but we'll see."
For Café Audiophile's inauguration, we got the opportunity to listen to a complete system by ArtistCloner, whose Quebec-based owners, Isabelle Fortin and Sylvio Comtois, were on hand to present it. Each link in the playback chain was designed and built by Sylvio, the company's chief designer. In addition to two prototypes, namely the digital source and tube preamplifier that are scheduled to be launched in 2023, we were treated to another launch, this time of a full-fledged product, the company's new Ether speaker.
With its impeccable stone finish, the 2.5-way Ether floorstander is equipped with a smooth-sounding beryllium-dome tweeter mounted in its own internal chamber. The speaker's dual woofers also each have their own chamber, as does the crossover, to insulate it from bass vibrations.
Powered by the company's 50Wpc Coleo amplifiers, the system's sound filled our large 24″ x 20″ x 10″-sized room with sound effortlessly. The synergy between the ArtistCloner components is in a class of its own. I was transported to a parallel universe. The real world no longer existed. What a wonderful audition!
And what a great day!
Congratulations, Louis and Normand, for your great initiative. Long live your project.
Finally, I asked Louis if one day there could be other Café Audiophiles in other cities. "How it'll evolve," he said. "Is going to depend on the will of the people. What I can say is that interest from the industry has been very strong."
On that note, we invite you, dear reader, to follow Café Audiophile's Facebook page to stay abreast of all new developments coming up in the near future.
Hope to see you soon !
La Belle et la Brute / Café Audiophile
3974 rue St-Jean Baptiste, Mirabel, QC, Canada, Québec
Product list:
PTEROS – Power bar with DC blocker and Furutech Gold and NCF outlets in a very low resonance housing. Resonance is adjustable and is calibrated at our lab prior to delivery for best performance.
COLEO – Monoblock; 50Wpc @ 8 ohms, 100w @ 4 ohms, 200w @ 2 ohms; Class A/B; unbalanced.
ETHER – 2.5-way speaker with isolated crossover, isolated beryllium tweeter, 2x isolated paper woofers; Power handling: 50 to 250w; Frequency response: 30Hz-38000Hz; Sensitivity: 88dB; Stone finish (other finishes available); Adjustable stand to match the height of the listener's listening chair; Furutech binding posts with ratchet clamp to prevent over-clamping and breakage.
the preamp (no name yet, but ideas are welcome….) – class-A, 6V6-tubed preamp equipped with a start-up delay to allow tubes to stabilize before operation. Frequency response: 3Hz-80000Hz; 3 pairs of inputs planned, along with two pairs of unbalanced outputs. Includes a metal volume remote control.
Cabling
Interconnect:
T2T – Made of OCC copper insulated with Teflon and cross-mounted on a soft tube. Extremely low inductance and capacitance compared to most cables on the market. This results in less interactions between the wire and component, allowing the latter to breathe more openly (for lack of a better term). Equipped with protective jacket and Furutech Gold connector.
AC Cables:
For amps and preamp
Audio Sensibility – Signature Power Cable V2 modified with Furutech FI-50 et 52M connectors.
Cable from wall socket to PTEROS
TRIPLE 6 – Made by ArtistCloner – 9-gauge cable with 47-amp capacity. Braided geometry to reduce noise and inductance. Terminated with Furutech FI-28 Gold series connectors.