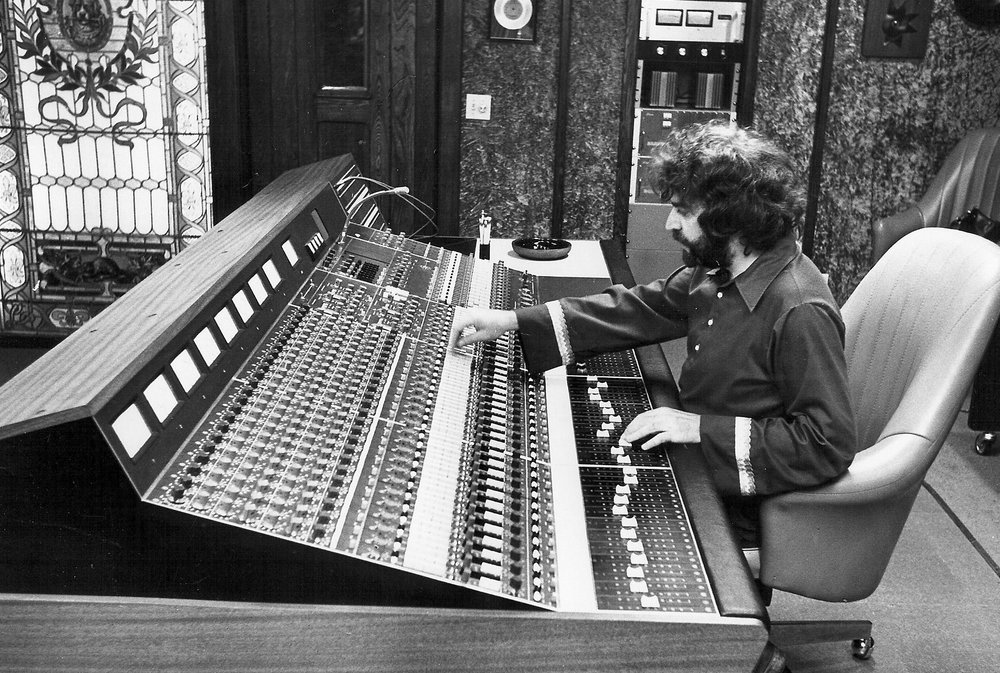 Read Part 1 here.
Founder of Le Studio, the iconic, pop-culture defining music studio tucked in the Canadian wilderness, André Perry worked with some of the biggest artists in the biz. Did he have any favourites?
"Well, the ones who repeatedly came over became more like family, in particular Rush, Cat Stevens, Sting, Nazareth, as well as (French Quebec singers) Jean-Pierre Ferland and Robert Charlebois. I really felt honoured to produce Wilson Pickett. It was one of his last records, and it was a great record. But I can't really choose favourites. Some artists I saw less intimately, where with others we had dinner together almost every night. Cat Stevens would eat at the house four times a week—he loved Yaël's cooking. Or we'd drive to Montreal to see a movie or go to a concert at the Forum.
"In one incident, Cat Stevens, Yaël, and I went to see a Stevie Wonder concert. Once the lights went down, we were led to special seats on the side of the stage so that no one could recognize "the Cat". In the middle of the concert, Cat couldn't help himself. He jumped out of his seat and onto the stage. The crowd went crazy. Stevie was blind so he didn't know what was going on, until the stagehand gave Cat a mike and he started to sing. Stevie recognized him, of course, and it became a very special moment. At the end of the concert, the three of us were whisked out of the Forum ahead of the crowd.
"We had the same relationship with Rush. Our friendship carried on after the studio time. We're also very close to Sting. He came by the studio many times. Sometimes he'd come in just for some voice-overs or ahead of some of his concerts at the Forum. His manager would call and say, 'Sting doesn't want to stay in town after the concert, he would like to come up north and stay at one of the houses', and I would say, 'Fine, I'll come and pick him up.' It was that kind of relationship.
"Just before the recording of The Police's Synchronicity, Sting came and I introduced him to Jean Roussel, who was Cat Stevens's keyboardist and whom I also used on many recordings, including on Wilson Pickett's. The two of them recorded this demo called "Every Little Thing She Does is Magic". The Police kept the demo and finished it by overdubbing on it, making this the only Police track with a 4th member. It was the first recording done on digital JVC-2 tracks. I went to New York to do the mastering at Stirling Sound. It became a huge hit.
"In the case of the Scottish group Nazareth, they were hard working. Their manager kept them on the road most of the year. They did three albums at our place and were extremely courteous, had a great sense of humour, and, oddly enough, their culture and attitude were very similar to that of French Canadians. They were always great to have around.
"We never talked business with the artists. That was always discussed with management. Sometimes, the manager would send Yaël pocket money for the artist to use. She'd keep it in a separate account and deal it out as requested, paying on behalf of the artist. For Cat Stevens, she received $50,000.00 for this purpose."
Before we get into the historic event that was André recording and co-producing John Lennon's and Yoko Ono's antiwar anthem "Give Peace A Chance" at Montreal's Queen Elizabeth Hotel, a word about André's current project, record label 2xHD, which he operates with business partner, friend, and recording and mastering engineer René Laflamme.
"I decided, in my retirement years, to continue to be active in music, in an area that I like a lot—the audiophile market. Because that's a place where you can still create something unique that requires state-of-the-art equipment to accomplish it. I like the sophistication and challenge of it. I see working in this niche market as kind of a gift that I'm receiving because I can afford to do it. I don't have to earn a living anymore. I do it because I'm passionate about it, just as I was with my work at Le Studio. And it allows René and I to explore new technical possibilities.
"Audiophile recording and mixing isn't for every style of music. Using compression in popular music is generally the way to go. In this stage of my life, I chose to concentrate on a different approach to recording, which is to try to get the most natural sound by eliminating the technical part of the recording process. Classical and jazz are best suited for this approach. I must admit that I was greatly influenced by René when it comes to this medium. He's worked in it for years."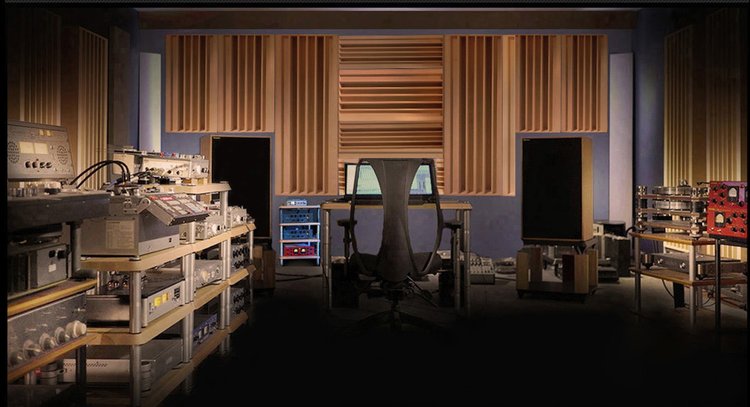 The 2xHD mastering lab and record label has about 450 titles under its belt and produces about a dozen albums a year. It uses what André refers to as Fusion recording technology. As André explained it to me: "I've never given up on analogue. 2xHD is successful because of a philosophy, which is that analogue in its heyday was better than digital today. Now, we're not necessarily pure analogue. What Fusion technology does is put together the best of analogue with the best of digital, and takes away the downfalls of either.
"You know, things haven't really moved forward that much. Everybody today has the same choice of equipment. They buy the same computer, the same software. That might be okay for pop, but for jazz or classical to sound the way they should, you need to have depth of field and the second harmonic. You need to preserve each instrument's harmonic structure. We work with ultra high-resolution DXD-DSD audio, which is 256 times the resolution of a CD. And at 11,200,000 samplings per second, one can hear the difference between a Steinway, Baldwin, Bechstein or a Fazioli piano.
"It means you can hear Bill Evans or Holly Cole singing in your living room. In other words, it's music reproduced in its purest state. This is why our audiophile techniques are better suited for jazz and classical music. Pop is in a different world and market. It usually requires more compression effects and a louder signal in the recording."
Next, the million dollar question: What was it like, that fateful day—June 1, 1969—to record "Give Peace A Chance" in room 1742 of Montreal's Queen Elizabeth Hotel?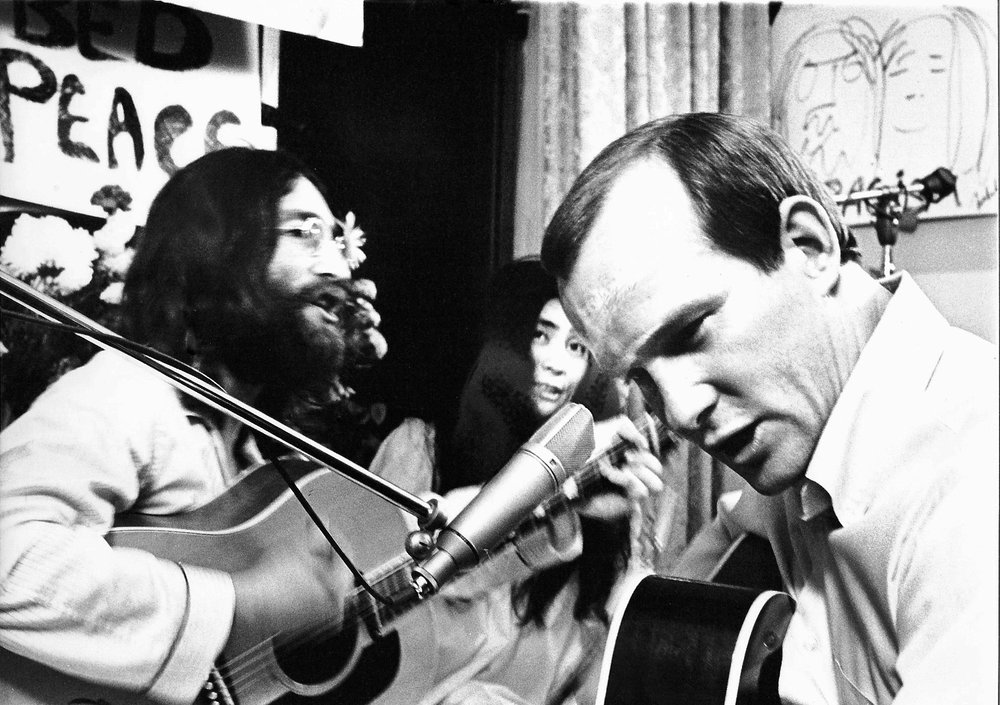 "It's funny, because initially there wasn't even supposed to be a song," André says. "John (Lennon) wanted to send a message to America about the Vietnam War and President Nixon, and everything else that was going on at the time, but he couldn't get enough international media and journalists together to create the impact he wanted. So he got this brilliant idea of making a recording. It took him a day or two to write "Give Peace A Chance" before I got the call. At the time, I used to do a lot of work for Capitol Records, distributor of the Beatles's label, Apple Records, and I must say I was already very much in demand.
"I showed up at their room with a 4-track recorder, which in those days was the size of a small refrigerator, and it was a circus. The room had only a 7-foot ceiling, it had parallel walls made of sheet rock—it was cacophonous. They had the Krishnas singing with their tambourines and humming. And people were banging on doors and banging ashtrays, and singing out of tune. It was terrible. I had four mikes, so I put one about a foot and a half from John's voice and his guitar, and one on Tommy Smothers, who accompanied John.
"We did about three takes. John stopped in the middle of the first one because he decided to change the style of his guitar playing. He added more strumming. Then, we did a full take, and after that the third take was the take.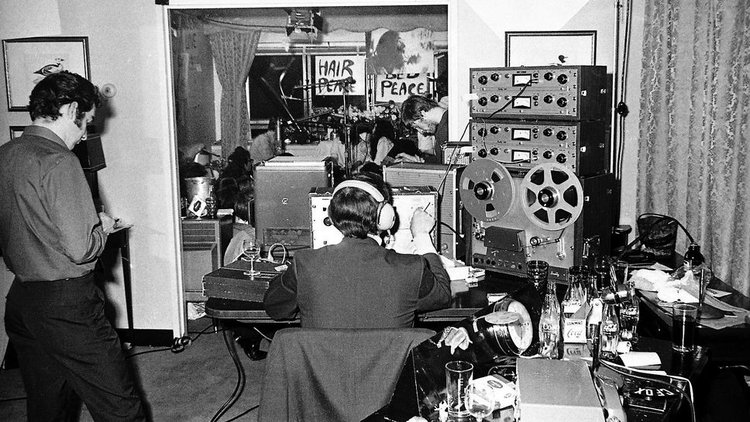 "Then, everybody left and John looked at me and said, 'What do we do now?' I told him I'd go to my studio in Brossard and come back with something the following day. But before I left, I spent another four hours with them recording the record's B-side ("Remember Love"), which Yoko sang marvellously. It was a beautiful moment. Then I went to the studio—by that time it was about 7am—and after I'd taken a shower, I transferred the original 4-track recording to my 8-track recorder, giving me an additional 4 tracks for overdubbing.
"I called some of my local artist friends, including Charlebois, and asked if they wanted to sing on a Lennon record. At first they thought I was hallucinating, but they also knew that John was in town. They all showed up, and I overdubbed their voices. And then I got my Rubbermaid garbage can, and the thump thump that you hear in the song, which had a Beatle-ish feel, was me, overdubbing myself. After, I remixed everything down to two tracks then rushed back to the hotel. John sent everybody out—not even Yoko or the record company rep or the road manager stayed. It was just the two of us, talking privately. So I played the song for him and he said, 'Man, this is f—–g wonderful. I love it.'"
"A few weeks later, the President of Capitol Records called me and said 'André, you won't believe it. It's like you have your own business card printed on the record's label.' I said, 'What do you mean?' He said, 'It says recorded by André Perry, with your full address listed.' That sort of thing was never done before and hasn't been done since.
"We didn't think the song was going to do much, but then the people took it, and now, 55 years later, I'm still doing interviews about it in Europe and America. Especially because of the war now in Ukraine. Recently, about 60 radio stations played the song at a specific time, all together, across Europe. Of course, that made the song popular again.
"A few years after I'd recorded the song, I met John again at a cocktail party after an Elton John concert in New York. He came straight to me—he had not forgotten me—and he apologized for not coming to the studio. He said he couldn't leave the States because if he did, President Nixon wouldn't allow him to return because of his anti-Vietnam War stance.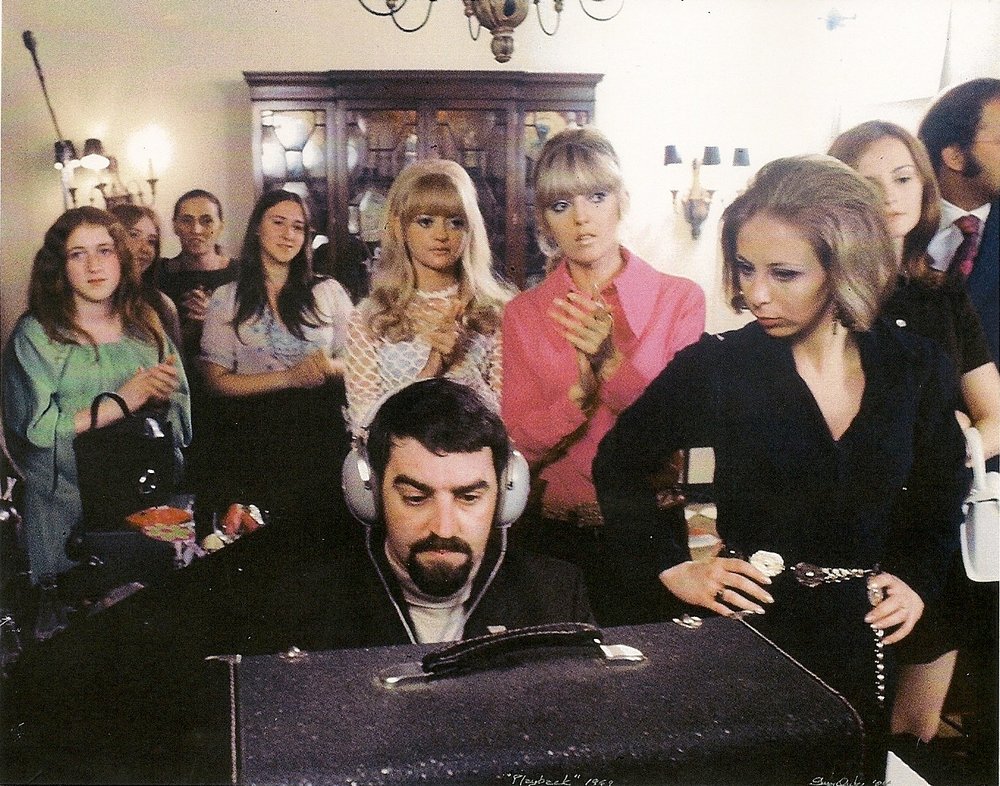 "You know, John was a gentleman. He was an incredibly intelligent person—he could see through people. He gave me total liberty in his room in the Queen Elizabeth, never told me how to do anything. I'm not trying to shower him with flowers, but John was quite a guy and he died so young. It was a terrible, terrible thing."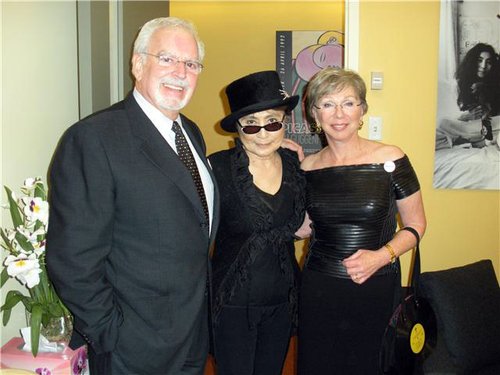 I tell André I didn't even know about the song on side B, or even that there was a side-B song—it had just never occurred to me.
"Yeah, because "Give Peace A Chance" was released as a 45rpm, so it had to have a side B, which was Yoko singing "Remember Love". She sounded beautiful, like an angel. Those were the days when people were knocking her down, saying she broke up the Beatles and she's a screamer and she doesn't know how to sing. She sang the whole song in falsetto with no editing—there was no editing at the time, none of that luxury—and she was great.
"They were such a sweet couple. They had just got married, and they were jumping in bed and would start hugging and kissing. They were really in love."
In 1988, André and Yaël sold Le Studio. In March, 2003, it was shut down, then destroyed by a suspicious fire in August, 2017. It's a dismal end to a historic landmark that touched the lives of so many people, and still does.
I ask André if he has any regrets about selling. "Not really," he says. "I was in the middle of the action in the '80s, at the peak of the peak of the industry. Then bootlegging became huge and I knew it was time for me to get out.
"But it was really wonderful while it lasted."
THE END
A big thank you to Yaël Brandeis Perry for her help in making this interview possible.