Read Part 1 here
"Once upon a time, there was a girl"… and once upon a time there was a singer named Donna Summer and a writer-producer duo by the name of Moroder-Bellotte who, working together, and having already pushed the boundaries of the disco genre, would do so again, this time with the album Once Upon a Time [Casablanca CA. LP 5010 or Casablanca NBLP 7078-2], considered by many to represent the pinnacle of the art. Released on Halloween, 1977, the album is a fairy tale concept album, divided into four acts, and while the disco concept album was, by now, nothing new—Summer had already done it three times—what makes this particular release important is that it is the first of only a handful of double-LPs to exist in the disco genre and only one of two featuring strictly new material by the same artist, the other being another Summer album, Bad Girls, released in 1979. Obviously, the double-LP was nothing new in rock territory, the format harking back to June, 1966, with the near-simultaneous releases of Bob Dylan's Blonde on Blonde and The Mothers of Invention's debut Freak Out. But for disco, it was a special event, one that preceded, by two weeks, the release of the blockbuster Saturday Night Fever soundtrack [RSO RS-2-4001]. Once Upon a Time presented another first for disco, coming with both a gatefold cover and the lyrics and album credits printed on the inner sleeves. When Once Upon a Time first hit the airwaves and the dance floor, it left the Gaynors, Douglases, and Barrys of the era quite far in the dust and I, for one, remember being totally impressed—and a bit shaken, in a good way—upon its release.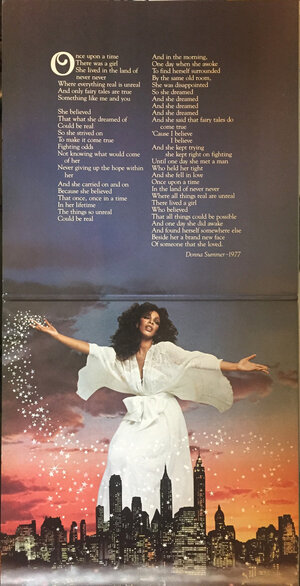 The album's Act One opens with a slow, sweeping, stringed intro to "Once Upon a Time" before the song unleashes into high octane progressive disco. It segues into darker themes with "Faster and Faster To Nowhere", pushing the adrenaline-fuelled frenzy to the limit before the more upbeat "Fairy Tale High" relieves some of the pressure. The mixed side then culminates with "Say Something Nice". Act Two changes style radically with three songs—"Now I Need You", "Working the Midnight Shift", and "Queen for a Day"—that fit firmly in the electro-disco subcategory first expounded on "I Feel Love" and Moroder's own groundbreaking masterpiece, "From Here to Eternity" [Oasis 25 087 OT or Casablanca NBLP 7065] . Act Three is literally the slow, or ballad, side, comprising no memorable hits. Act Four picks things up with a mixed trio of brilliant disco songwriting, including the energetic and mysterious "Rumor Has It", the refined and uplifting "I Love You", the less-known but fine "Happily Ever After," and, finally, "(Theme) Once Upon a Time" , which, in true concept album fashion, neatly ties up this Cinderella story.
After seeing Saturday Night Fever's tremendous success in record sales and at the box office, Casablanca Records and Filmworks, Inc.—in collaboration with Motown Records—placed their bets on releasing their own original motion picture soundtrack, Thank God It's Friday [Casablanca NBLP 7099], with songs by various artists. Released in April, 1978, Thank God it's Friday was presented as a '2-Record Set with Bonus 12-inch Single' (side). Though the film was a flop, the music by a 'Who's Who' of disco artists at the time, contains some good material. Three tracks stand out, including the title track by France-based Love and Kisses, while the other two belong to Summer, "With Your Love", and "Last dance".
In late August of that year, another first for disco was the release of Live and More [Casablanca NBLP 7119-2], one of only two live disco albums ever to be produced; the other being 1979's double-LP In Concert [Malligator 773 809] by French drummer Cerrone. Recorded live at the Universal Amphitheatre in Los Angeles, California, Live and More comprises three live sides plus a fourth studio side. Sides A and C contain the stronger live tracks, while Side B covers more 'classic songbook fare' and newer ballads, presumably as a way for Donna to feel recognized as a real singer as opposed to an overt 'sexual' one. The live sets are for the most part interesting and fully energized with a good mix of acoustic, electric, and electronic instruments, but the crown jewel is the lone studio side that carries a cover of the 1968 Jimmy Webb-penned"MacArthur Park". It is rare that I prefer the cover to the original, but though the latter is excellent, I lift my hat to Summer and her cohorts for turning this song into a monumental classic disco track.
Like "Once Upon A Time", the 17 minute and a half "MacArthur Park Suite" opens with a slow intro, this time mainly with cello and a few solemn verses, before segueing into "One of a Kind", followed by "Heaven Knows", a duet between Summer and Brooklyn' Dreams singer Joe "Bean" Exposito, which became a hit in itself and was later released as a 7-inch single. Finally, the suite comes full circle by returning to the main theme with "MacArthur Park (Reprise)" . This disco masterpiece would in some way mark the end of an era; an end to the 'side-long' suites and an end to the progressive Eurodisco writing style for Pete Bellote, Giorgio Moroder, and Donna Summer.
Coming out at the end of April, 1979, Bad Girls [Casablanca NBLP-2-7150] is, without doubt, Donna's final truly great album. It is also her last double-LP of original material and last concept album. Like previous albums, three out of the four sides run uninterrupted while Side C is the de facto ballad side. The album opens with the crossover hit "Hot Stuff", making Summer the first of only two disco artists to embrace rock influences in their music, the other being Cerrone with his 1979 single "Rock Me" [Malligator 772 814], a song that was—you be the judge—either heavily influenced by or a rip-off of "Hot Stuff". Of course, the reverse situation—that is, rock artists embracing disco influences—had already transpired nearly a year before, first with The Rolling Stones' "Miss You" [Rolling Stones Records 12 EMI 2802 or Atlantic DSKO 119 (promo) or DK 4609], followed by Blondie's New Wave/electro-disco hybrid "Heart of Glass" from Parallel Lines [Chrisalis CHE 1192], Rod Stewart's "Da Ya Think I'm Sexy?" [Riva SAM 92 or the U.S. (Jim Burgess) remix on Warner Bros. WBSD 8727], Kiss's "I Was Made for Lovin' You" [Casablanca NBD 20169], and, not to be outdone, Sparks's Moroder-produced "Beat the Clock" pressed on the B-side of the 12-inch single [Elektra AS-11412]. The heavyish "Hot Stuff" segues into "Bad Girls" and together form the two biggest hits of the album and of Summer's career, surpassing even the #1 "Last Dance"—not surprising given that all three were the closest to accessible 'disco-pop' and the farthest from her prior, more complex, Eurodisco material. The last side places Moroder's talent for electronic instrumentation and innovation at the forefront and contains what I consider to be the best songs on the album, beginning with "Our Love", a song well ahead of its time that served as the main rhythmic inspiration for the biggest 12-inch seller of all time: New Order's 1983 electro-pop bombshell "Blue Monday" [Factory FAC 73], as well as countless others in the '80s. Without skipping a beat, side four passes the torch to another superb composition, "Lucky". Finally, the metronomic tempo is shifted into higher gear with what is Summer's fastest clocking BPM track, the proto-techno "Sunset People".
In October, 1979, Casablanca and Columbia joined forces to pair their all time, top selling female singers in a disco duet, uniting for the first time Summer and Streisand. Written by Paul Jabara and Bruce Roberts, the double-diva collaboration titled "No More Tears (Enough Is Enough)" was released as a 12-inch single [Casablanca NBD 20199], as well as featured, among other releases, on the compilation double-LP On the Radio: Greatest Hits Volumes I & II [Casablanca NBLP-2-7191], whose title track, "On the Radio", gave Summer her tenth top-ten hit in the U.S. These two tracks represent the last disco songs that Donna Summer, with or without her fab duo from Munich, released, as the disco decade came to an end.
'Queen for a day, Queen for a night', Queen for all time… Donna Summer.
For more from Claude Lemaire visit…