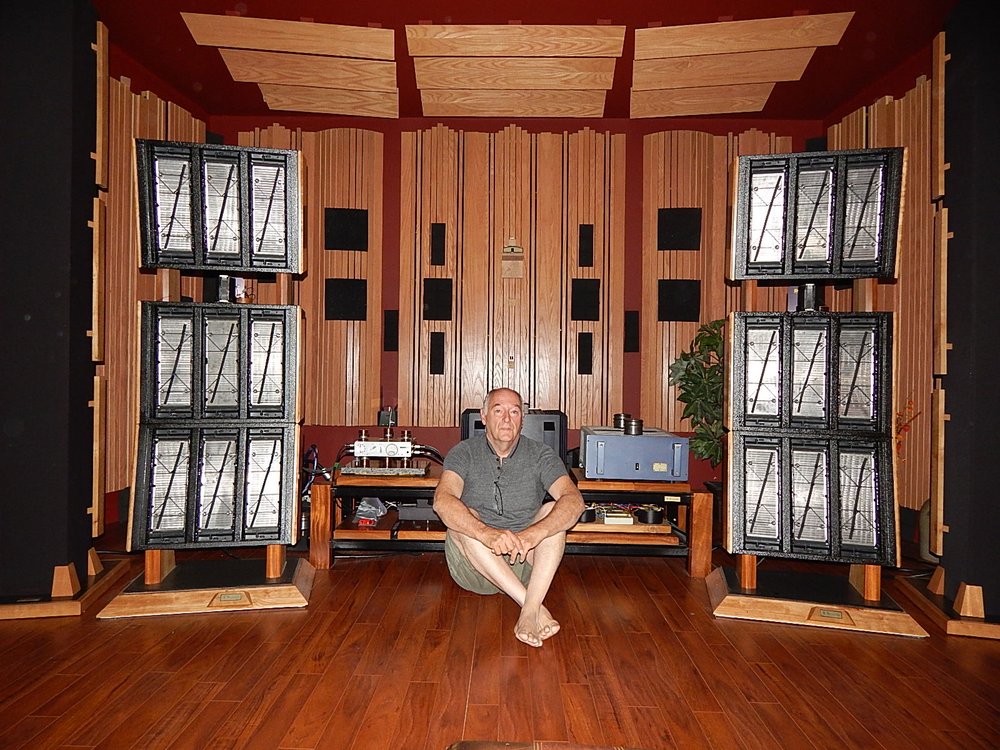 One of my favourite and most memorable listening experiences this year was of the state-of-the-art Dayton Wright Hommage (French for Homage) loudspeaker, a cutting-edge re-imagining and redesign of the Dayton Wright XG-10 of yore. The Hommage uses nine XG-10 electrostatic cells to produce some of the most transparent, lucid, realistic, and breathtaking sound I've ever heard.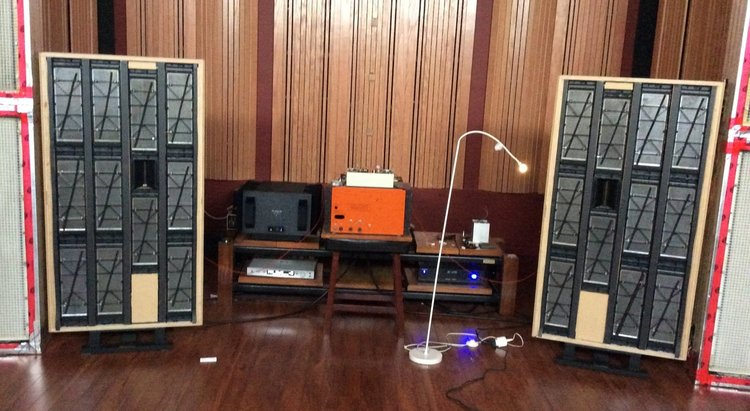 By virtue of being at the right place at the right time, I was lucky to hear the Hommage in three separate setups, including the first one here. Before I get to the other two, a word about the Hommage's conception: The Hommage started off as a project by speaker designer Jocelyn Jeanson to build a reference-quality electrostatic speaker for his home audio system. Jocelyn has been passionate about electrostatic speakers ever since he heard his first pair of Acoustat speakers long ago.
In fact, the initial plan for Jocelyn's speaker was to design it using vintage Acoustat electrostatic panels. But after having bought a few on the used market and experimented with them, Jocelyn's good friend and consulting partner, Tenor Audio founder François Lemay, introduced him to Dayton Wright electrostatic cells. It was a turning point, one that would, following four prototypes of the as-yet unnamed model, result in producing such an exceptional speaker that a handful of Jocelyn's audiophile friends wanted a pair.
The Acoustat panels didn't go to waste, however. They were repurposed for the two subwoofers Jocelyn built for his system. Standing 8ft-tall, each subwoofer is based on an array of four Acoustat panels. Why such large subs? Because it requires a very large electrostatic surface to reproduce the lowest bass notes that a typical dynamic subwoofer can do with relative ease. The downside to that, of course, is size—few listening rooms can accommodate 8ft subs. But that aside, the upside to using electrostatic subwoofers—a product I'd never encountered in my 30+ years as an audiophile—is a seamlessness across the audio band that you can't get with an electrostatic speaker coupled with a dynamic subwoofer that's inherently slower at releasing sound.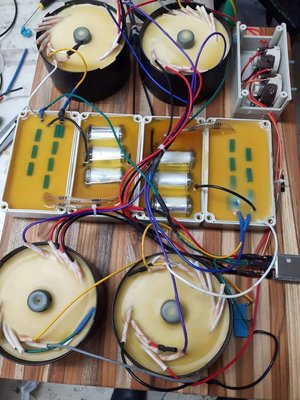 And these subs go low, down to what Jocelyn describes as detectable bass tones at 17Hz. When the bass crosses over to the subs at 60Hz, there's no discernible fracturing of the frequency range. That's because all the sound produced by the speaker/sub system is launched at the same time—there's no incongruous lag coming from the lower registers.
The success of the Hommage model encouraged Jocelyn and his friends to sell a limited run of the speaker to audio aficionados in the general public, for $58,000/pr CA. Let's be clear, the Hommage remains a project driven by passion, not profit; this is no big-business, mass-production enterprise. Pragmatically, it can't be. There are just so many Dayton Wright cells that remain in the world, and those account for some that will be set aside as replacement parts.
But that's almost besides the point. Jocelyn simply loves what he's doing and loves to see people's reactions when they hear his labour of love in action. He is meticulous to a T, and works according to a belief system that adheres to the tenet that everything in the playback chain makes a difference to the sound. He is especially wary of vibrations seeping into the music signal and distorting the music.
Examples of his aversion to vibration can be found in the myriad anti-vibration objects he uses strategically throughout his system: stands, weights, spikes. But perhaps no other object embodies the lengths to which Jocelyn is willing to go to eradicate vibrations as the gel of monocrystalline paraffin beeswax he uses to encase each subwoofer's power supply to absorb diode-originating vibrations.
Jocelyn's system is connected to five dedicated power lines. I listened to it—mouth agape. So much sound and music, at turns delicate and sweet, at others, powerful and dramatic. The stage stood in front of me like a huge, scintillating, colorful tapestry. Vocals had an ultra purity to them that made them sound eerily intimate. Leonard Cohen was there, in an airy, reverberant space, his voice palpably present. When Elvis Presley sang, I was surprised by how technical his singing was—I heard more vocal inflections and control than I thought he was capable of. I thought: "Man, he's a better singer than I suspected." Differentiating instruments was easy. Everything sounded out in the open, naturally exposed and tonally authentic.
On an opera track, the soundstage was multi-dimensional and transiently resplendent. Instruments and choir voices were well delineated and lifelike, their echo-trails offering a clear view of the structure of the hall. Instruments like violins brimmed with rich tone, sounding utterly realistic.
Across the board, highs were sweet, airy, and endless. On certain pop fare, deep bass beats sounded underground deep. They pounded our room. At moments, it was like witnessing a large-scale natural wonder, akin to the feeling of awe one might get from seeing a whale nearby emerge from the water. But the bass was also fast and clean so it never obscured the other sounds.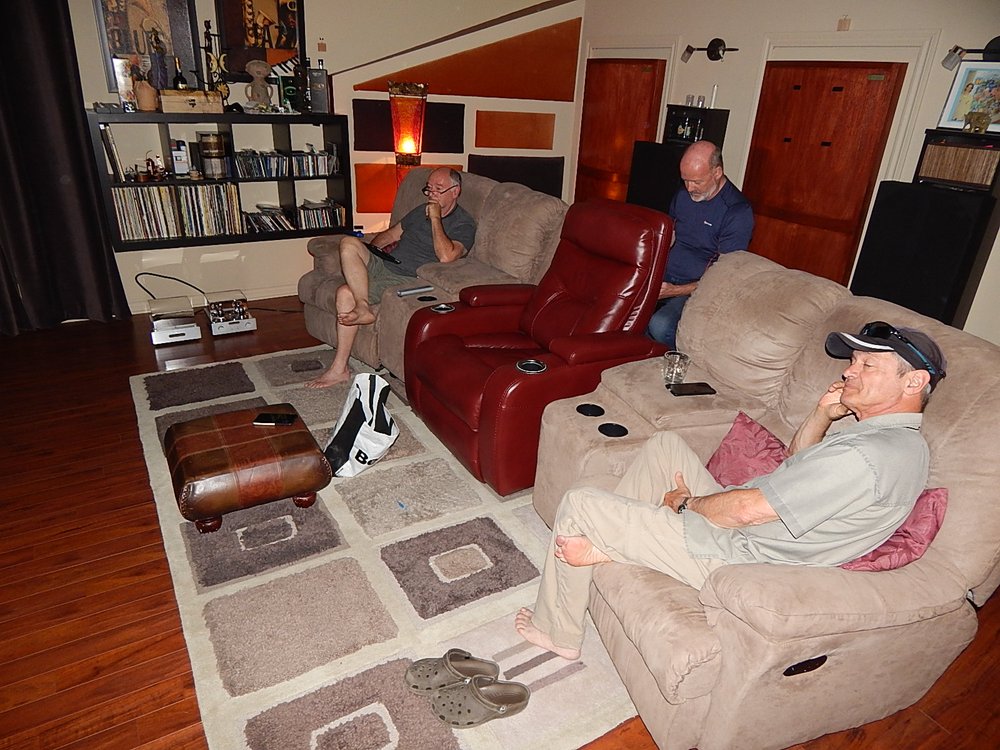 On live tracks, the audience's claps sounded like real claps, distinctly human, flesh on flesh, their intensities and rhythms shifting like waves. The crowd's hoots and howls were also vibrantly and exuberantly human. I felt I was part of the audience, soaking in the live moment with the rest of them.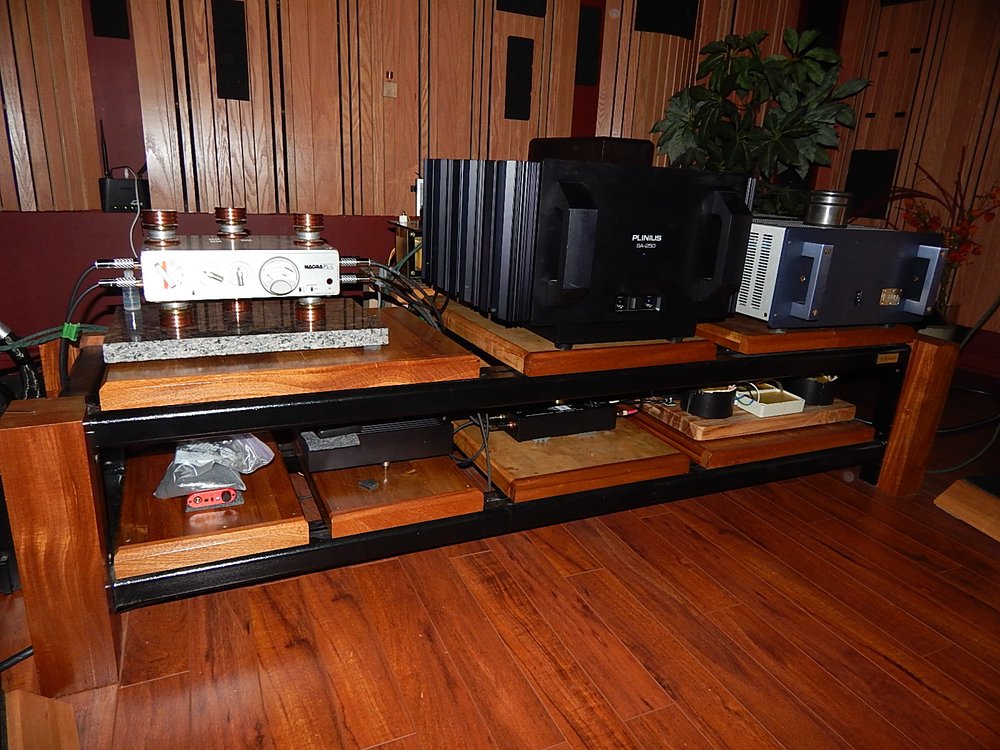 I heard more great sound through the Hommage at Martin Labrecque's house. Martin has ties to Tenor Audio and is part of Jocelyn's and François's clique of friends. Unfortunately, on the day I was there Martin's neighbourhood lost power, so I ended up hearing only a handful of songs. But what a handful. The sound was smooth, tactile, and illuminated. Background vocals flowed like silk. Instruments had body and fine-grained texture.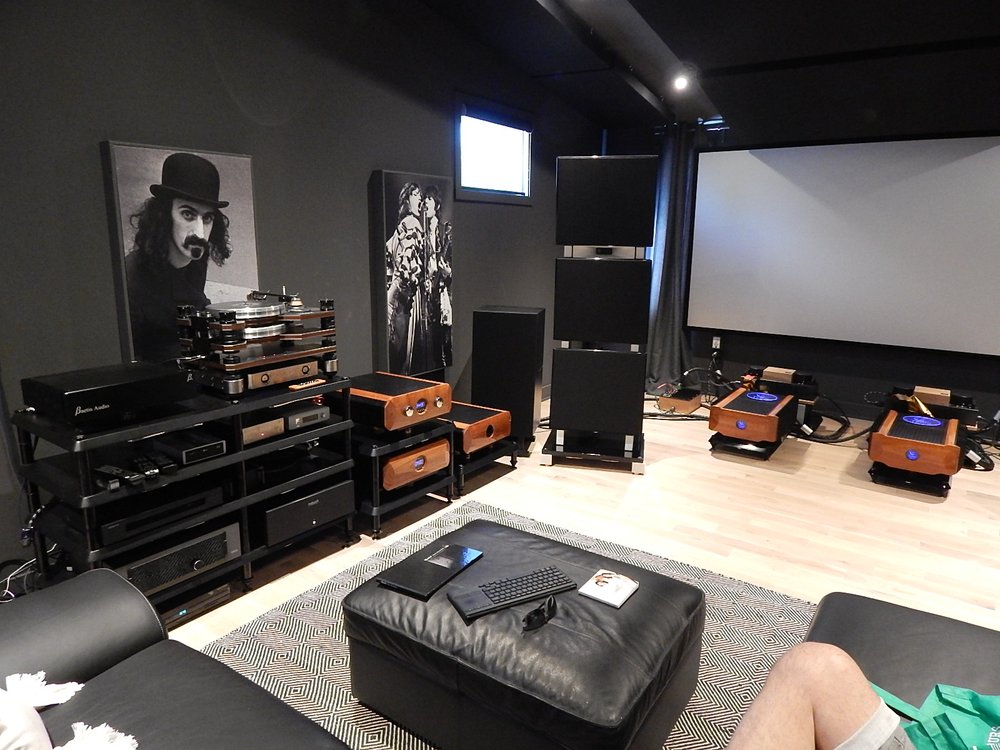 I've always believed in the superiority of the source in the hierarchy of components in a sound system. After all, whatever information the source loses or distorts can't be retrieved by anything that follows it. But having heard three systems fronted by the Hommage, I'd say the Hommage may have been the most sonically influential component in either of those playback chains. I'm not referring to colorations here, or a "house sound", but to the fact that the Hommage's qualities seem so striking with whatever system it's in, it's as if it commandeers the upstream components to showcase its virtues. "Give me a huge soundstage!", "Give me colour!", "Give me detail!", "C'mon guys, sound alive!"
I wish you could hear the Hommage yourself, and the speed and purity of its sound that can only come from an electrostatic membrane and a crossover-less design. These speakers play music in a way that no other speaker I've heard does. Besides being otherworldly transparent, they're uncanny in how they convey the life force in music, that sense that you're hearing a performance played live at this moment. While I listened to them, they seemed to have vanquished the time barrier between the recorded performance and me. There was no past, just the transcendent present.
For more information on the Dayton Wright Hommage, you can click here or email François Lemay.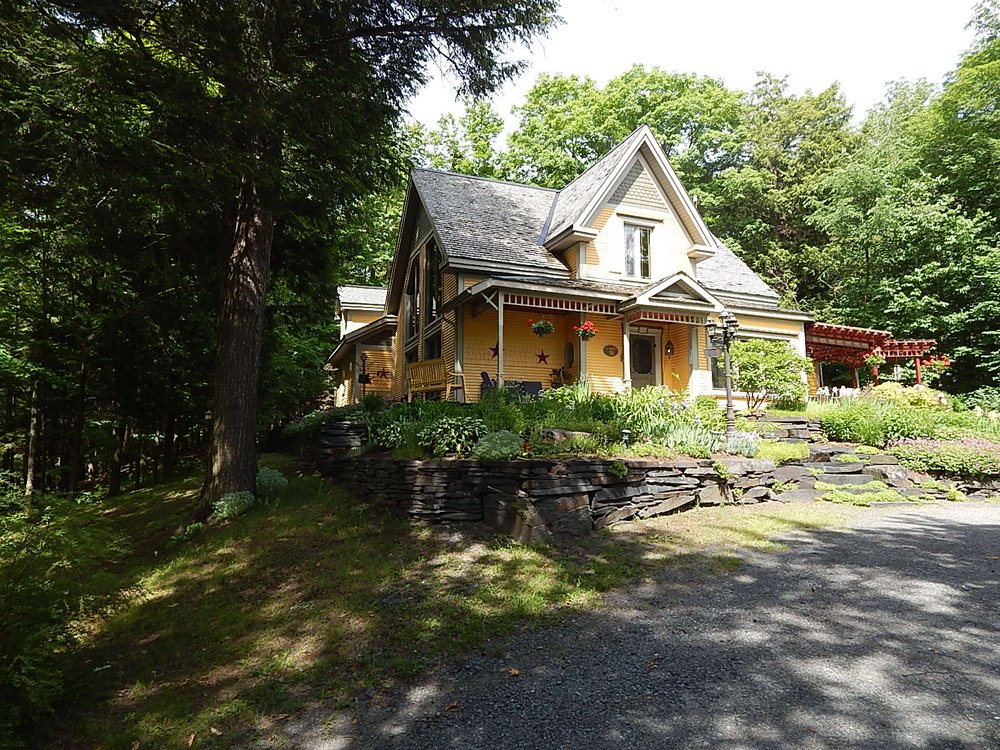 More photos: